EPA awards $500,000 to San Miguel County, Colorado, to clean up and revitalize properties in Norwood, Telluride and Ophir  
Funding will address contamination at dozens of properties, including former mining sites, gas stations, a school and a power plant   
San Miguel County:  Janet Kask, Parks & Open Space Director, 970-369-5469,  janetk@sanmiguelcountyco.gov  
  Telluride, Colo. (May 25, 2023) – The U.S. Environmental Protection Agency (EPA) today announced San Miguel County, Colorado, will receive a $500,000 Brownfields Assessment Grant to conduct environmental site assessments, develop clean-up plans and inventory contaminated sites at locations throughout the county. 
The target areas for this grant includes communities in San Miguel County that have been impacted by gold and silver mining operations. Priority sites include a former mill area, a former silver mine, mining camp, gas stations, a school and a power plant. The EPA grant is among six grants totaling nearly $4.78 million announced today for property cleanup and revitalization projects in communities across Colorado. 
"San Miguel County's leaders are taking a systematic approach to prioritizing sites for cleanup and revitalization," said EPA Regional Administrator KC Becker. "These EPA funds will address contamination at key properties in communities like Norwood, Ophir and Telluride, and will pave the way for their safe and productive reuse."  
"The Bipartisan Infrastructure Law is helping clean up and revitalize communities across Colorado," said U.S. Senator Michael Bennet. "With this funding, Buena Vista, Pueblo, Telluride, Silverton, San Luis and Trinidad can make sure these sites are safe for the families living near them and restore them in ways that meet the communities' needs." 
These funds are part of President Biden's Investing in America Agenda to expedite the assessment and cleanup of brownfield sites in while advancing environmental justice through the Multipurpose, Assessment, Revolving Loan Fund, and Cleanup (MARC) Grant programs. Thanks to the historic boost from the Bipartisan Infrastructure Law, this is the largest ever funding awarded in the history of the EPA's Brownfields MARC Grant programs.     
"I am proud for the county to be the recipient of the EPA's $500,000 Community-Wide Assessment Grant, which focuses on redevelopment planning, community engagement and returning historic sites to productive reuse, including potential affordable housing," said Janet Kask, Director of the San Miguel County Parks & Open Space Department. "One site of utmost focus is the iconic Matterhorn Mill, one of the last historic mining structures still standing. Preservation and protection of the Mill continues to be a priority for San Miguel County and we are thankful to work with the U.S. Forest Service in pursuing conveyance of the structure and surrounding parcel to the county. We look forward to its acquisition."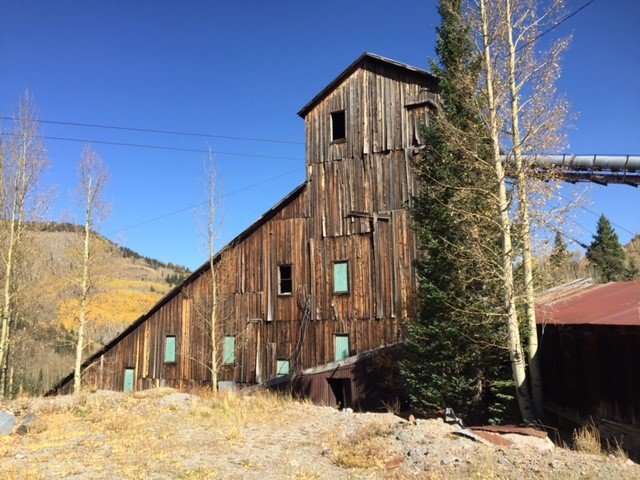 The county will use the EPA funds to target several sites, including the Matterhorn Mill located south of Ophir on Highway 145; smaller mining facilities near Ophir, Ames and Telluride, including the Liberty Bell and Silver Bell Mine; the Pandora Mill/Mining Camp; and the Norwood Gas Station and automotive sites.  
Many of these former mining locations are scattered throughout the county and include mine tailings, buildings and equipment. These areas pose unsafe conditions for residents and tourists, including high levels of metals in tailings, soils and waters. Several potential sites, including the Matterhorn Mill and Silver Bell Mine near Ophir, are located near residential neighborhoods in rural communities where avalanche events and stormwater often transport old mine tailings into roads, drainage ditches and neighborhoods. Contaminants of concern include lead, chromium, asbestos, arsenic, cadmium and mercury, which affect soils and waters.   
Pandora, an unincorporated community in San Miguel County, is another priority location. The site is contaminated with heavy metals and asbestos, and the nearby building site needs to be assessed so housing development can be completed safely. The county has also identified the Norwood Gas Station and nearby repair shops and automotive sites as targeted properties for addressing lingering petroleum and chlorinated solvent contamination concerns and plans for redevelopment.   
Other grantees in Colorado include:   
Watershed NP, Inc.: Buena Vista, $979,222 

The Keating School, Pueblo: $1 million 

The Town of San Luis: $500,000 

The Town of Silverton: $800,000 
Mt. Carmel Wellness and Community Center, Trinidad: $998,700 
Background  
Thanks to the historic $1.5 billion boost from President Biden's Bipartisan Infrastructure Law, EPA's Brownfields Program is helping more communities than ever begin to address the economic, social and environmental challenges caused by brownfields and stimulate economic opportunity and environmental revitalization in historically overburdened communities.  
EPA's Brownfields Program also advances President Biden's Justice40 Initiative to direct 40% of the overall benefits of certain federal investments to disadvantaged communities. Approximately 84% of the MARC program applications selected to receive funding proposed to work in areas that include historically underserved communities. 
EPA's Brownfields Program began in 1995 and has provided nearly $2.37 billion in Brownfield Grants to assess and clean up contaminated properties and return blighted properties to productive reuse. EPA's investments in addressing brownfield sites have leveraged more than $36 billion in cleanup and redevelopment. Communities that previously received Brownfields Grants used these resources to fund assessments and cleanups of brownfields, and successfully leverage an average of 10.6 jobs per $100,000 of grant funds spent and $19.78 for every dollar.