Hurricane season is almost here, and it's time to get prepared.
From Irma to Maria to Ida, we have seen more and more highly destructive hurricanes over the past several years. In fact, last year was the third most active hurricane season ever. As these large storms become more frequent, we know that climate change is a major factor to the increase in these extreme weather events.
At EPA, tackling the climate crisis is one of our top priorities. But we also have a role to play when it comes to preparing for – and helping with the recovery from – hurricanes.
As Hurricane Preparedness Week comes to a close, I want to provide some tips on getting prepared.
Many of us are starting to plan summer vacations, camping trips, or other outings. We're likely organizing the things that we'll need or creating a list to make sure that we don't forget any important items. Some travelers leave contact information with a friend or instructions on what to do in case of an emergency. These plans provide a roadmap to navigate unexpected situations.
These same actions can be used to help your family plan for a hurricane. National Hurricane Preparedness Week is a chance for individuals, families, and communities to prepare for and respond to the impacts of these storms. Whether it's creating an emergency kit or learning how to safely manage household hazardous waste, there are several ways you and your loved ones can reduce risk and better prepare.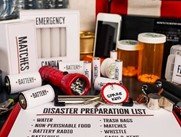 Here are a few tips to get ready for hurricane season:
Make a supplies kit. Having an emergency kit to prepare for natural disasters such as hurricanes is essential. A basic kit may include things such as canned food, first aid supplies, alternative light source, as well as other items. In addition, it is important to include a gallon of water for each person and pet for at least three days.
Develop a family plan. Making an emergency plan that includes all the members of your immediate family is a great way to get organized before a storm. The plan can include alternative ways to contact family members, what to do if you get separated, and important contact information.
Prepare your home. Hurricanes bring inevitable damage to structures, including homes. Making sure that items such as paint or cleaning agents are secured or stored properly can prevent the release of chemicals and substances, which helps to mitigate household hazardous waste (HHW) during hurricanes.
Know who to contact. It's important to know who to call during emergencies. If you have an immediate or life-threatening issue, always call 911. If you witness an oil, chemical, or hazardous substance spill or discharge resulting from a hurricane, call the National Response Center at 800-424-8802.
Spread the word. Be sure to share preparedness resources with friends and family. There are many tools that are available that can increase safety for people and communities.
Hurricane preparedness is extremely important for overburdened and historically underserved communities, which haven't always been provided with the same level of protection from environmental and health hazards or granted equal access to the decision-making process in their communities. Both EPA and the Biden Administration have prioritized addressing these challenges to further protect human health and the environment in these communities. Overburdened and historically underserved communities are often more vulnerable to the impacts caused by hurricanes and other environmental emergencies.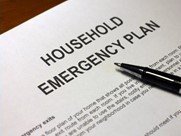 I have spent a large part of my career advocating for those who have been denied equity and access in society. When serving as a lead regional attorney during my first time with the agency, I was able to engage with community members and learn about their concerns. Although I've returned to EPA in a different capacity, it remains very important to me that historically underserved communities gain more equity and access. Environmental justice should be for all people, and it's our duty as any agency to make this a reality.  
EPA's role in preventing, preparing for, and responding to natural disasters and environmental emergencies such as hurricanes is integral to our mission to protect human health and the environment. As an agency, we will continue to find new ways to engage with communities so that they will have the tools and resources needed for hurricane preparedness.
So as a reminder, now is the time for us all to consider planning for a hurricane.
Editor's Note: The views expressed here are intended to explain EPA policy. They do not change anyone's rights or obligations. You may share this article. However, please do not change the title or the content, or remove EPA's identity as the author. If you do make substantive changes, please do not attribute the edited title or content to EPA or the author.
EPA's official web site is www.epa.gov. Some links on this page may redirect users from the EPA website to specific content on a non-EPA, third-party site. In doing so, EPA is directing you only to the specific content referenced at the time of publication, not to any other content that may appear on the same webpage or elsewhere on the third-party site, or be added at a later date.
EPA is providing this link for informational purposes only. EPA cannot attest to the accuracy of non-EPA information provided by any third-party sites or any other linked site. EPA does not endorse any non-government websites, companies, internet applications or any policies or information expressed therein.