Making a difference in people's lives through EPA's Brownfields Job Training Grant Program
For the past 10 years, working in EPA's Office of Brownfields and Land Revitalization has given me the opportunity to see how our programs directly affect people and their communities. It's been great to witness the positive impacts our programs have on individual people's lives – and one of the most rewarding programs I've been a part of is our Brownfields Job Training Grant Program.
Here's what that program does: EPA provides grant funding to nonprofits and other eligible organizations to recruit and train unemployed and under-employed people who often live in areas most affected by environmental contamination. Graduates of this program develop the skills needed to find and secure full-time jobs in the communities where they live. This program is a win-win for everyone: graduates can keep jobs local, reduce environmental contamination, and uplift their own communities!
A shining example of this is Abigail Million. Abigail found a new way of life after participating in the "Green for Greene" job training program through the City of Springfield, Missouri (which received a grant of $200,000 from EPA). Before entering the program, Abigail was working as an assistant manager in a restaurant, earning about $10 an hour. She's a single mom with three kids, and her wages were not enough to support her family, plus she was not feeling challenged in her role at the restaurant. Abigail saw a flyer for "Green for Greene" and decided to apply. After she graduated, Abigail was quickly offered employment and now works for a partner employer with the program, Sunbelt, for $14/hour. Through this program and her new employment, Abigail and her children now have their own place and she's able to reduce the amount of assistance her family needs.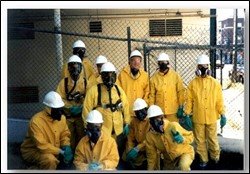 This is just one of many examples of how our job training grant program makes a real difference in people's lives. It's also why I'm excited that EPA is receiving more than $1.5 billion from President Biden's Bipartisan Infrastructure Law to invest in cleaning up brownfield sites! This is a historic investment for communities across the nation.
From that investment, $12 million in brownfields funding is now available for the next round of job training grants! We anticipate awarding approximately 25 grants nationwide at amounts up to $500,000 per award. Applications are due by August 2, 2022, via grants.gov. This means more AND larger grants than before, so we can train more people like Abigail.
Learn more about this and apply for training grants on grants.gov.
Editor's Note: The views expressed here are intended to explain EPA policy. They do not change anyone's rights or obligations. You may share this article. However, please do not change the title or the content, or remove EPA's identity as the author. If you do make substantive changes, please do not attribute the edited title or content to EPA or the author.
EPA's official web site is www.epa.gov. Some links on this page may redirect users from the EPA website to specific content on a non-EPA, third-party site. In doing so, EPA is directing you only to the specific content referenced at the time of publication, not to any other content that may appear on the same webpage or elsewhere on the third-party site, or be added at a later date.
EPA is providing this link for informational purposes only. EPA cannot attest to the accuracy of non-EPA information provided by any third-party sites or any other linked site. EPA does not endorse any non-government websites, companies, internet applications or any policies or information expressed therein.