Using Pesticides Properly Can Protect People, Plants and Animals
Life unfolds in eastern California's Mojave National Preserve. A desert bighorn sheep breaks open a cactus with its curved horns, eating the nutritious pulp within. Desert tortoises emerge from their burrows, devouring wildflowers. Birds, some year-round residents and others passing through, find places to rest and nest in Joshua trees that fill my 'backyard.' 
Desert wildlife and plants are bound together in an intricate food web. But an insidious intruder lurks -an invasive plant called Sahara mustard - that suffocates native plants upon which wildlife depend. Bent over this weed, I help the Preserve's botanist pull out the plants long green dandelion-like stems with tiny yellow flowers at the tips. "We'll need to use herbicides to control this invasive weed and protect native plants," she tells me. 
Controlling Invasive Plants with EPA-regulated Herbicides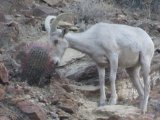 I will always remember those times in the desert as a National Park Service ranger. Now, working for the U.S. Environmental Protection Agency, I think about how herbicides can help protect the desert landscapes I cherish. Herbicides help control invasive plants in national parks across the country. These intruders threaten native species and create fuel for devastating wildfires in the West.
EPA regulates these herbicides, which are pesticides, under the Federal Insecticide, Fungicide and Rodenticide Act, ensuring that no unreasonable risks are posed to either human health or the environment.
Following Pesticide Labels is the Law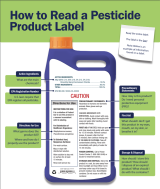 As part of its regulatory role, EPA requires companies to have accurate labels on pesticides, including information on how to properly use the product. For pesticide products, the label is the law. 
When treating Sahara mustard with herbicides, park staff meticulously follow the product label's directions. For instance, they will spot spray the Sahara mustard, targeting the invasive plant, careful not to harm other plants and wildlife. 
People unfamiliar with pesticides may not know the product's label contains key information that ranges from ingredients to safety precautions. To help consumers find what they need and how to use pesticides correctly and safely, EPA developed a How to Read a Pesticide Product Label infographic (pdf).
Protecting Threatened and Endangered Species from Pesticides  
Working for EPA, I think about how using pesticides properly helps protect wildlife, such as desert tortoises. Donning its concave shell, like protective armor, the desert tortoise appears hardy. Yet this iconic reptile is a threatened species - vulnerable to disease, habitat loss, the effects of climate change, and other obstacles. Guarding desert tortoises that got too close to the road and alerting visitors to their presence gave me a special connection to this animal.  
That's why it meant a lot to me when EPA announced their first ever workplan to protect threatened and endangered species. This workplan is a collaborative effort between EPA, the U.S. Fish and Wildlife Service, and the National Marine Fisheries Service to protect vulnerable species from pesticides. Ya-Wei (Jake) Li, Deputy Assistant Administrator for Pesticide Programs in EPA's Office of Chemical Safety and Pollution Prevention emphasizes that "protecting endangered species and their habitats is a priority for EPA and vitally important to restoring the balance of our country's ecosystem."   
Working for Mojave National Preserve and now EPA, I feel my career has come full circle and reinforced my belief that our health hinges on that of our planet. On this forty-ninth anniversary of the Endangered Species Act, I am reminded that by using pesticides properly, we not only protect our environment, and some of our most vulnerable species, we also protect ourselves. 
Editor's Note: The views expressed here are intended to explain EPA policy. They do not change anyone's rights or obligations. You may share this article. However, please do not change the title or the content, or remove EPA's identity as the author. If you do make substantive changes, please do not attribute the edited title or content to EPA or the author.
EPA's official web site is www.epa.gov. Some links on this page may redirect users from the EPA website to specific content on a non-EPA, third-party site. In doing so, EPA is directing you only to the specific content referenced at the time of publication, not to any other content that may appear on the same webpage or elsewhere on the third-party site, or be added at a later date.
EPA is providing this link for informational purposes only. EPA cannot attest to the accuracy of non-EPA information provided by any third-party sites or any other linked site. EPA does not endorse any non-government websites, companies, internet applications or any policies or information expressed therein.