Safe and Sustainable Water Resources Strategic Research Action Plan 2019-2022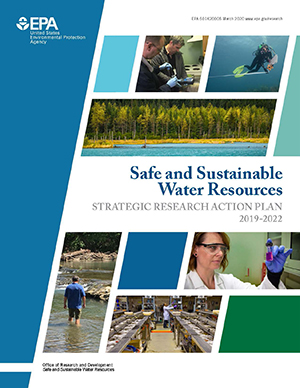 Although tremendous accomplishments have been made, remaining challenges to our water resources are formidable. Solutions are more difficult to find, costlier to implement, and come with potential tradeoffs. New threats are emerging that potentially endanger human health and ecosystems, while, at the same time, persistent issues continue to pose problems for people, wildlife, and the economy.
The 2019-2022 Safe and Sustainable Water Resources (SSWR) Strategic Research Action Plan outlines research that was done to help ensure that when people turn on the tap for a glass of water, swim in a lake, use water at their farm, ranch, or business, or draw upon water in hundreds of other ways, they can count on the water being clean, safe, and reliable. Inextricably tied with that, SSWR also works to protect and restore the Nation's watersheds and aquatic ecosystems, now and for future generations.
SSWR's activities to ensure clean drinking water and to protect and restore watersheds and aquatic ecosystems adhere to the Congressional mandates under the Safe Drinking Water Act, the Clean Water Act, and other legislation. SSWR does this work in partnership with other EPA programs, federal and state agencies, and other stakeholders.
Safe and Sustainable Water Resources Strategic Research Action Plan FY 2019-2022 (pdf) (899.39 KB, March 2020, EPA 601K20005)