Design and Build Approaches for Green Streets
On this page:
Design-Build Process
The Design-Build process is a more comprehensive, streamlined approach to construction, particularly a green street.  According to the Design Build Institute of America Exit.  "Design-Build" is a method of project delivery in which one entity – the Design-Build team – works under a single contract with the project owner to provide both design and construction services – thereby integrating the roles of designer and constructor.  Design-Build is an alternative to the traditional design-bid-build project delivery method which utilizes separate entities and separate contracts for the design and construction of a project. 
Across the country and around the world, Design-Build successfully delivers both horizontal (e.g., roadways) and vertical (e.g., buildings) construction projects with superior results – no matter what the project type. Design-Build successfully delivers office buildings, schools, stadiums, transportation and water infrastructure projects with superior results. Over the past 15 years, use of the Design-Build process has greatly accelerated in the United States, making this delivery method one of the most significant trends in design and construction today. By using the Design-Build approach to create a green street, the end result will ultimately be Faster, Cheaper, and Greener.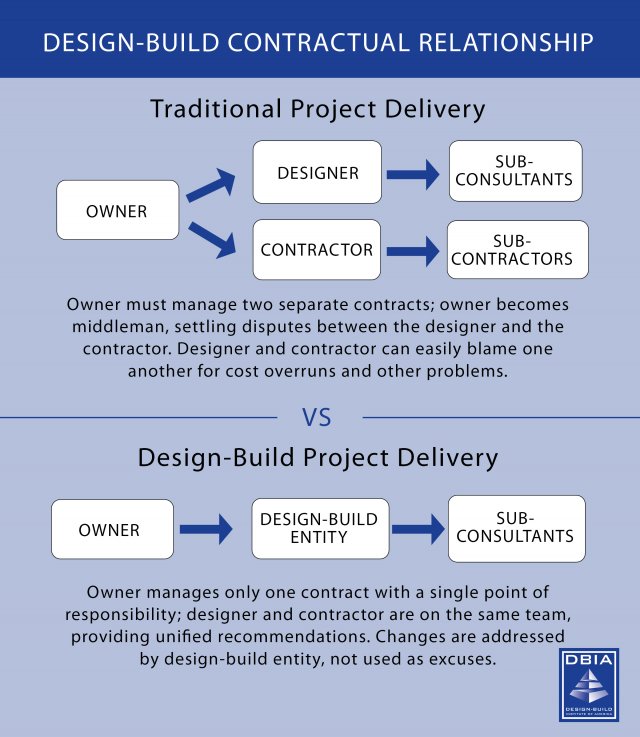 Permission from DBIA for use of this graphic. DBIA's image and information can be found on their "What is Design-Build" page Exit
In addition to being a more comprehensive, streamlined approach, the Design-Build process is uniquely suited to help building projects achieve sustainability goals. In late 2013, the United States Green Building Council (USGBC) reaffirmed this when they released a new version of the Leadership in Energy and Environmental Design (LEED®) v4 green building rating system that includes a credit toward certification for integrative project delivery.  For more information, please read the article entitled "New LEED Integrative Process Credit Encourages Design-Build" published by the Design-Build Institute of America (DBIA) in 2014. 
The Design-Build process has five primary phases:
Selecting a Design-Builder
Pre-construction assessments
Architectural Design
Construction
Post-Construction
Alternative Design Approaches
G3 also encourages the use of green infrastructure design competitions to introduce local designers, engineers, architects, and landscape architects to the integration of sustainable design practices for stormwater management through green infrastructure.  Design competitions are innovative and proven to be successful in teaching professionals that green infrastructure and other sustainable practices can be incorporated in the development of a project with greater costs savings and increased aesthetical value.  Featured design competitions include the City of Philadelphia's "Soak it UP" Competition Exit and Houston's Low Impact Design Competition Exit.
For additional information on green infrastructure designing and building your green street, please visit EPA's Green Infrastructure Design and Implementation page. 
Design with Maintenance in Mind
To maximize the environmental benefits and reduce to the cost of green infrastructure projects over the long-term, green infrastructure projects should be designed with maintenance in mind.  For green infrastructure projects to capture and infiltrate stormwater onsite and perform as expected, there are several factors to consider before project implementation.
Type of maintenance to be performed
Frequency of maintenance and available personnel to perform maintenance
Cost of component replacement (e.g., plants, shrubs, permeable pavement)
Sufficient and dedicated funds to cover operation and maintenance (O&M) activities, including cost of replacement components    
Design and Build Tools and Resources
You may need a PDF reader to view some of the files on this page. See EPA's About PDF page to learn more.
City Design Manuals