About the Administrator for EPA's Region 10 Office in Seattle
Chris Hladick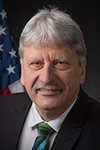 Chris Hladick serves as the Regional Administrator for the Pacific Northwest and Alaska Region. His responsibilities include overseeing the environmental protection efforts for the states of Alaska, Idaho, Oregon and Washington including 271 tribal governments.
Mr. Hladick served as Commissioner of the Alaska Department of Commerce, Community, and Economic Development from 2015 – 2017 where he worked to protect consumers while building a strong economy and healthy communities. During his tenure, he oversaw approximately 500 employees in six divisions and seven agencies. He previously served as City Manager in Unalaska, Alaska for 14 years where he was responsible for the day-to -day operation of city services and programs and long term planning goals for the city. Earlier in his career, Mr. Hladick served as City Manager in Dillingham, Alaska and the City Manager and Public Works Director in Galena, Alaska.
His passion for protecting the environment extends to his involvement in other organizations such as the Alaska Arctic Policy Commission, Northern Waters Task Force, and serving on the working group on the Arctic Marine Protected Areas and the Task Force for Arctic Marine Cooperation.
Mr. Hladick holds a Bachelor of Science in Environmental Biology from Eastern Illinois University. He also studied Geology and Engineering at Ft. Lewis College, University of Colorado.