Children's Health Month
Información disponible en español
October is National Children's Health Month. Children are often more vulnerable to pollutants than adults due to differences in behavior and biology, and these differences can lead to greater exposure and/or unique windows of susceptibility. Children in overburdened and highly-exposed communities may suffer from a reduced ability to recover from harmful environmental exposures, due to lowered resilience. This can particularly affect children in low-income communities, as well as children in communities underserved by education, healthcare, and housing.  
On this page:
---
Children's Health Month 2022 
This Children's Health Month's theme is to protect children at all stages and in all communities. Childhood is made up of a sequence of stages, with each stage facing unique environmental risks.
Learn About Children's Environmental Health
Parents and Caregivers
Teachers
In addition to making sure schools and classrooms are safe using the tips above for parents, EPA has a range of resources specifically for schools and childcare providers.
Healthcare Professionals
•    Where to open a new childcare facility
•    Environmental Health Topics for Child Care Providers
•    Training, Webinars and Resources for Child Care Providers
•    Pediatric Environmental Health Specialty Units 
Spread the word:
Graphics:
Use these infographics to inform others on important children's health topics on social media or the web.
Printable and Sharable Handout
Use this handout to promote National Children's Health Month in your community. These tips can also be used to draft social media content for your accounts.  Protecting Children's Health Tips 2022 (pdf) (1.17 MB)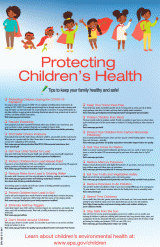 Activities for Kids 
Why is Coco Orange?: Read how Coco and his friends at Lizard Lick Elementary solve this mystery as they learn about air quality and how to stay healthy when the air quality is bad. The picture book and video are for all children, especially those with asthma, and their caregivers.
Why is Coco Red?: In this sequel to "Why is Coco Orange?", Coco and his friends experience another air quality adventure. Read how Coco, his little sister and his friends solve a mystery as they learn about how wildfires can affect air quality and health. This book is for all children, especially those with asthma, and their caretakers.
Dusty The Asthma Goldfish and His Asthma Triggers Fun Book: This educational activity book helps children learn more about asthma triggers.
Live, Learn, Play: Tune into Your Health and the Environment: This colorful, engaging booklet was prepared for youth groups and provides information about how to protect yourself and your friends.
Wood Smoke Activity Book: Children can read the story about best burning practices, color the pictures, and do the activities included in this activity book. 
Help! It's a Roach!: A roach prevention activity web site for kids. 
Join Our Pest Patrol: A Backyard Activity Book for Kids on Integrated Pest Management: This booklet includes fun activities to educate children in grades 1–6 about pest identity, biology, and ecology. It also helps children understand the effects on the environment of decisions about whether or not to use chemicals to control pests.