Federal Green Challenge (FGC)
EPA closes out the Federal Green Challenge
We are grateful for the dedication of our Federal Green Challenge participants and their efforts to reduce and divert waste. EPA is planning to evolve our Sustainable Materials Management partnership programs to align with our new priorities. At this time, we are no longer accepting new Federal Green Challenge participants. 
About the FGC
FGC was a national effort under EPA's Sustainable Materials Management Program, that challenged EPA and other federal agencies throughout the country to lead by example in reducing the federal government's environmental impact.  Federal offices or facilities voluntarily participated and committed to annual improvement goals in six target areas.
FGC is no longer active and EPA no longer updates the FGC webpages, but they may be useful as references or resources.
Challenge Results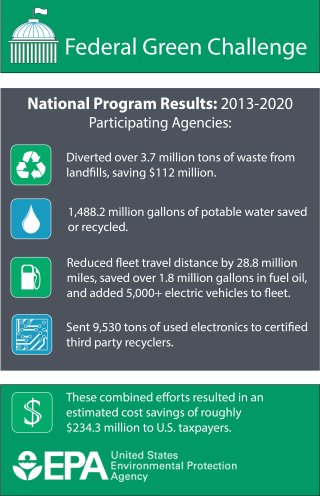 Target Areas