Contact Us About the Federal Green Challenge
If you have a question about the Federal Green Challenge or wish to contact your regional representative, select your state or territory from this map or scroll down the page to find your region.
​You may also complete the contact form to send a message or inquiry.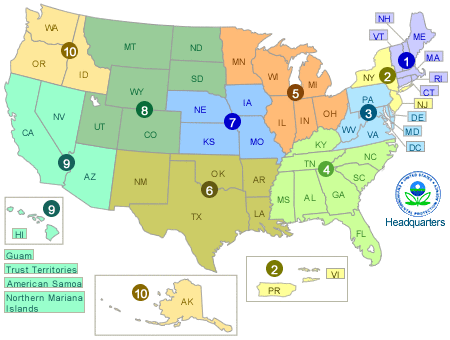 New England (Region 1)
New Jersey, New York, Puerto Rico, US Virgin Islands (Region 2)
Joseph Malki (malki.joseph@epa.gov)
(212) 637-4101
Mid-Atlantic (Region 3)
David Iacono (iacono.david@epa.gov)
(215) 814-3231
Southeast (Region 4)
Thornell Cheeks (cheeks.thornell@epa.gov)
(404) 562-8479
Great Lakes (Region 5)
Chris Newman (newman.christopherm@epa.gov)
(312) 353-8402
South Central (Region 6)
Midwest (Region 7)
John Holmes (holmes.john@epa.gov)
(913) 551-7761
Jim Callier (callier.james@epa.gov)
(913) 551-7646
Mountains & Plains (Region 8)
Suzanne Satter (satter.suzanne@epa.gov)
(303) 312-6614
Pacific Southwest (Region 9)
Pacific Northwest (Region 10)
Theresa Blaine (blaine.theresa@epa.gov)
(206) 553-0257
Please use the form below to send us comments or questions. Be sure to include your e-mail address if you'd like a response.