Let's Talk About Heat Challenge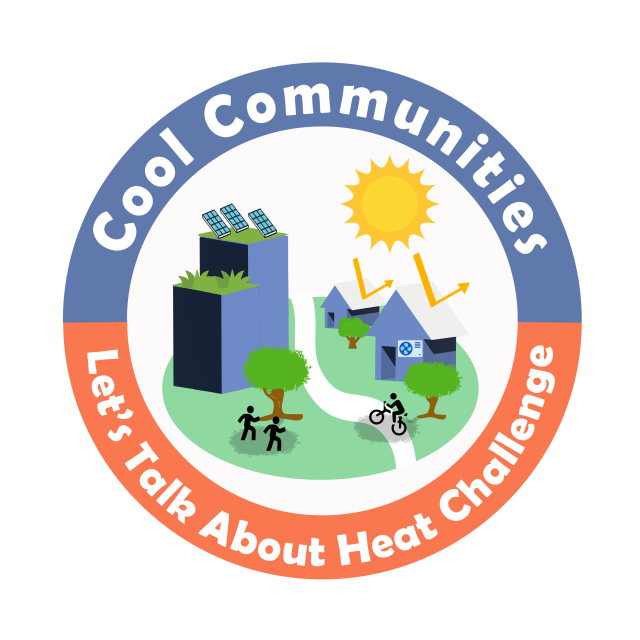 On this page:
Challenge Description
Background
Extreme heat, when temperatures are much hotter than average over consecutive days, is an increasing problem for all parts of the United States. Steadily increasing temperatures due to climate change are intensifying already higher temperatures in heat island areas, where buildings, roads, and other infrastructure absorb and re-emit the sun's heat more than natural landscapes. Warmer temperatures in heat island areas can also lead to increases in air pollutants and greenhouse gas emissions, including higher concentrations of ground-level ozone and fine particulate matter. Ozone can also be transported long distances by wind, so even rural areas can experience high ozone levels. Extreme heat is affecting rural, suburban, and urban areas now and will continue into the future.  
Communities need help developing clear messages about the risks of extreme heat and actions people can take to stay safe and build cooler communities for the long-term. Extreme heat is linked to an increased risk of illness and death and has disproportionate impacts on people who are underserved and overburdened. People of color and people with lower incomes often live in neighborhoods with fewer trees and less greenery, which makes these areas hotter than wealthier areas of the same city. Similarly, many underserved and overburdened people in both rural and urban communities are working outside for hours at a time, increasing their exposure to heat stressors.
The Challenge
To help address this need, EPA and co-sponsors have launched the Let's Talk About Heat Challenge, a national competition to identify innovative and effective communication strategies that inform people of the risks of extreme heat and offer ways to keep safe during the hottest days. The challenge was developed in support of the National Climate Task Force's Extreme Heat Interagency Working Group, which is being led by EPA, the National Oceanic and Atmospheric Administration (NOAA), and the U.S. Department of Health and Human Services (HHS) with support from the White House.
Winning solutions will include identification of and engagement with people known to be most susceptible to extreme heat risks, including but not limited to underserved and overburdened communities. Winners will share suitable messages, strategies used to reach target audiences with those messages, and proposed measures of effectiveness. Communication methods might include social media, billboards, graphics, public service announcements and other forms of communication. The challenge sponsors hope to identify ways to monitor the effectiveness of these heat risk campaigns and messages and share the best practices with communities across the nation. 
Challenge Co-Sponsor Organizations
The below organizations are co-sponsoring this challenge.
How to Enter
Submitting Your Entry
To enter this Challenge, participant(s) must complete the submission form linked below:
Requirements for Your Submission
Please review the information below to determine if you need to submit any of the following forms with your submission.
Consent Form
If your entry is a new campaign created specifically for entry into this challenge, please submit the required paperwork below as attachments to your submission form if applicable to your entry. 
Multimedia Consent Form - If your entry includes images or videos of people, you must submit a completed multimedia consent form for each individual who appears in the photo(s) or video(s) in your submission.
Transcript
If you are submitting any materials in a language besides English, please include a written transcript in English (typed Times New Roman size 12 font) of the submission as an attachment to your submission form.
Important Dates
Challenge Opens: June 6, 2022   
Informational Webinar: June 22, 2022 at 2:00 p.m. ET 
Submissions Due: July 22, 2022 by 11:59 PM ET. 
Winners Announced: Fall 2022
Eligibility
EPA is seeking participants from communities of any size and including all 50 states, U.S. territories, and Tribal communities. Eligible participants include state, regional, Tribal, and local governments, as well as nonprofits and community-based organizations such as faith-based, environmental, public health, or environmental justice organizations that have developed effective communication strategies. Individuals and groups are also eligible to participate. Submissions will be accepted in any language, not just English. 
Prizes
The challenge will award up to 10 prizes from a total prize pool of $120,000.   
Terms and Conditions
Intellectual Property
Winning submissions will be posted on EPA's website and announced in Fall 2022. 
Submissions and winners names may be used by EPA (e.g., on EPA social media accounts, webpages and at events) in connection with this challenge and the production, distribution, promotion, broadcast at public meetings/conferences, and online posting thereof.
Submitters are responsible for complying with applicable copyright and intellectual property laws for any materials used in their submissions. "Fair use" rules may allow the use of copyrighted material in certain circumstances (e.g., see the fair use guidelines on YouTube). Participants should seek legal guidance if they have questions about using copyrighted materials.
Submitters warrant and represent that they are the sole owner of the materials (ex. videos, images, communication campaign materials) submitted for this challenge and/or that they have the legal right to share the submitted work with EPA and grant EPA unlimited, irrevocable, world-wide and royalty-free rights to use the work for all uses and purposes described on this webpage. Submitter shall indemnify, defend and hold EPA and its agents harmless from and against any and all suits, claims, liabilities, demands, costs, expenses, or damages arising out of submitter's use of the works as provided herein or arising out of the breach of warranty or agreement made by submitter herein.
Non-Endorsement
EPA and EPA officials do not endorse any product, service, or enterprise that may appear in submission materials. Furthermore, by recognizing winning submissions, EPA is not endorsing any products, services, or enterprises that may appear in those submissions.
Judging
Judging Panel
Submissions will be judged by a panel of EPA and non-EPA judges with expertise in relevant subject matter areas. The judges will evaluate, score, and rank submissions based on the criteria listed below. 
Judging Criteria
Primary criteria: 
Identification of heat risk, target audience, and need for message and communication strategy.
Engagement with representatives of target audience to form effective communications about extreme heat risks.
Effectiveness of message and communication strategy for reaching target audience, including supportive partnerships.
Transferability of messages to other communities.*
*Note that EPA and co-sponsors will work to share winning messages to other communities. Submitters are not required to transfer messages to a wider audience. 
Additional criteria: 
Use of reliable data to identify target audience and form risk communications.
Creativity and innovation.
Messages and strategies that reach people who are underserved and overburdened.
Metrics for evaluating effectiveness and impact of messages and communication strategy.
Helpful Resources
Questions?
Any questions? Please email us at heatchallenge@epa.gov.