International Efforts on Wasted Food Recovery
The
UN Food and Agriculture Organization estimates
 that around the world about a third of food intended for human consumption is lost or wasted. This amounts to over a billion tons of food and $940 billion in economic losses annually, while one in nine people remain undernourished. In the United States, 40% of food is lost or wasted, annually costing an estimated $218 billion or 1.3% of GDP. Food accounts for 24% of solid waste to U.S. landfills, which are the third largest source of human-related methane emissions in the United States. Reducing this wasted food presents opportunities to increase food security, foster productivity and economic efficiency, promote resource and energy conservation, and address climate change. 
The
Business and Sustainable Development Commission estimates
 that by 2030 reducing food waste will represent a $155-405 billion economic opportunity. Investing $14 billion in cost-effective solutions per year over the next ten years could reduce food waste by 45 million tons for each of those years, which would result in $73 billion in annual net financial benefit for the U.S., reduce greenhouse gas emissions by 75 million metric tons, save four trillion gallons of water, and recover the equivalent of four billion meals for people in need. Over ten years, it would create more than 51,000 jobs, all while achieving the U.S. 2030 reduction goal.  (Source: 
ReFED, "Roadmap to 2030: Reducing U.S. Food Waste by 50% and the ReFED Insights Engine" (2021)
).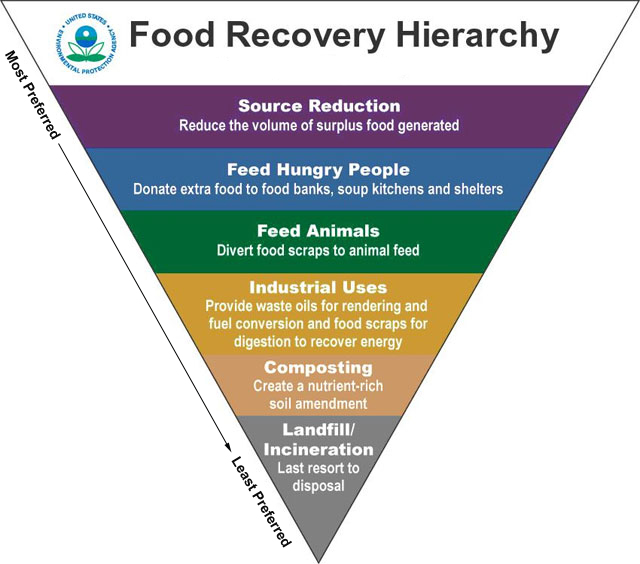 EPA's
Food Recovery Hierarchy
framework provides a basis for many domestic and international food waste reduction strategies. In 2015, EPA and USDA announced a goal to reduce food waste in the U.S. by 50% by 2030. Over 30 businesses have joined the 2030 Champions group by committing to reduce food loss and waste in their U.S. operations by 50% by 2030. In 2016, the U.S. Conference of Mayors adopted a resolution supporting a multi stakeholder partnership to achieve the 50% reduction goal. In April 2019, EPA, USDA, and the FDA announced the release of a federal interagency strategy to address food waste, as part of the Winning on Reducing Food Waste Initiative. To learn more, visit EPA's 
Sustainable Management of Food
 site. 
International Efforts to Address Food Waste
Working internationally, EPA has elevated awareness of and commitments to food waste reduction.  
In September 2021, EPA Administrator Michael Regan and USDA Secretary Tom Vilsack joined Champions 12.3, a distinguished coalition of executives from government, businesses, international organizations, research institutions, farmer groups, and civil society dedicated to inspiring ambition, mobilizing action, and accelerating progress toward achieving Sustainable Development Goal Target 12.3, which calls for cutting in half per capita global food waste at the retail and consumer level, and reducing food losses along production and supply chains (including post-harvest losses) by 2030. 
On September 23, 2021, UN Secretary-General Antonio Guterres hosted the UN Food Systems Summit (UNFSS) which launched bold new actions to deliver progress on all 17 Sustainable Development Goals, each of which relies on healthier, more sustainable, and equitable food systems.
In preparation for the Summit, the U.S. hosted three National Food Systems Dialogues that brought together hundreds of diverse stakeholders to discuss challenges and opportunities for food systems transformation in the United States. In addition to facilitating National Dialogue sessions, EPA has been actively engaged in development of the Food is Never Waste Coalition, one of the Summit deliverables, which elevates food loss and waste challenges on a global scale.
During the Summit, President Biden committed $10 billion in multi-year initiatives to strengthen food security and nutrition for all, accelerate climate change mitigation and adaptation efforts, and expand inclusive food systems at home and abroad, including through addressing food loss and waste, especially for the most vulnerable.
In April 2019, the North American Commission on Environmental Cooperation (CEC) launched two new products.
A Technical report and Practical guide to address food loss and waste throughout the food chain using measurement tools based on scientific, proven principles. The guide provides easy-to-use measurements and information for every segment of the food value chain – from primary production to manufacturing and the food service industry. The Technical Report and the Practical Guide are available in English, French, and Spanish.
The Food Matters Action Kit,  a youth engagement toolkit containing activities designed for youth across North America to prevent food waste in their homes and communities. These twenty activities are arranged for two age groups, one for kids, ages 5-13 and another for youth, ages 14-25. Individuals, teams of friends, or clubs and organizations can register to document their achievements, earn shareable Food Waste Hero badges and challenge others on this site.
EPA, Environment and Climate Change Canada and Mexico's SEMARNAT (Department of Environmental and Natural Resources) have been collaborating since 2015 on preventing and minimizing food loss and waste as a shared North American priority area through the CEC. The CEC efforts continue under the Measuring and Reducing Food Loss and Waste project, which is working to effectively measure food loss and waste in the North American food chain; calculate its environmental and socioeconomic impacts; and provide tools and education to prevent and reduce loss and its impacts on food security, the economy, and the environment in North America.
At the Fourth United Nations Environment Assembly (UNEA-4) in March 2019, a resolution was passed that recognizes the important role that cold-chain solutions and innovative technologies have when prioritizing food loss and waste prevention. This builds upon a 2016 UNEA-2 resolution introduced by EPA on the prevention, reduction and reuse of food waste, which marked the first time this topic was raised as a significant issue in a multilateral environment ministers meeting.  
EPA also supported a report by the UN Environment Programme North America Office titled, "Waste Not, Want Not: Reducing Food Loss and Waste in North America Through Life Cycle-Based Approaches," released during UNEA-4. The report examines how life cycle thinking and related tools such as life cycle assessment can be used to inform effective policy making to reduce food loss and waste. Case studies in the report highlight examples of how lifecycle thinking is already being used successfully to reduce food loss and waste in North America. 
EPA continues to reinforce the importance of addressing food loss and waste in multilateral engagements with organizations such as UN Environment, G7 and G20 fora, World Bank, OECD, UN Food and Agriculture Organization and the World Resources Institute.  
Contacts
For additional information on EPA's work with International Efforts on Wasted Food Recovery, contact:
Elle Chang
U.S. Environmental Protection Agency
Office of International and Tribal Affairs (2670R)
1200 Pennsylvania Ave., NW
Washington, DC 20460