Contact Us About Managing Pests
On this page:
---
Center for IPM Contacts
Center for Integrated Pest Management (IPM)
| Name | E-mail | Area of Responsibility |
| --- | --- | --- |
| Thomas Cook                    | cook.tom@epa.gov  | Center Lead |
| Brad Miller    | miller.brad@epa.gov | Pest Management in Schools |
| Marcia Anderson | anderson.marcia@epa.gov | School IPM Webinars and Publications |
| Shanda Bennett | bennett.shanda@epa.gov | School IPM Webinars, Outreach and Coordination Support |
Regional Office Contacts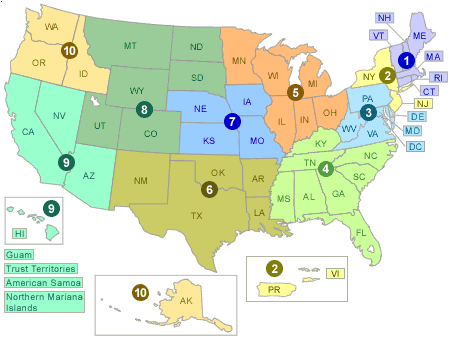 Region 1: Connecticut, Maine, Massachusetts, New Hampshire, Rhode Island, Vermont

Regional IPM: Robert Koethe, koethe.robert@epa.gov; 617-918-1535
Regional IPM: Maya Babu, babu.maya@epa.gov; 617-918-1302
Tribal: Michael Stover, stover.michael@epa.gov; 617-918-1123
Region 2:  New Jersey, New York, Puerto Rico, Virgin Islands
Region 3: Delaware, Maryland, Pennsylvania, Virginia, West Virginia, District of Columbia

Regional IPM: Hannah Bartling, bartling.hannah@epa.gov; 215-814-8186
Tribal: No tribal contact
Region 4: Alabama, Florida, Georgia, Kentucky, Mississippi, North Carolina, South Carolina, Tennessee
Region 5: lllinois, Indiana, Michigan, Minnesota, Ohio, Wisconsin

Regional IPM: Seth Dibblee, dibblee.seth@epa.gov; 312-886-5992
Tribal: Amy Mysz, mysz.amy@epa.gov; 312-886-0224
Region 6:  Arkansas, Louisiana, New Mexico, Oklahoma, New Mexico
Region 7: Iowa, Kansas, Missouri, Nebraska
Region 8: Colorado, Montana, North Dakota, South Dakota, Utah, Wyoming
Region 9: Arizona, California, Hawaii, Nevada, Tribal Nations, Pacific Islands
Region 10:  Alaska, Idaho, Oregon, Washington
Overview
EPA welcomes your comments, especially comments on how we can improve our website. We strive to respond to every comment with an answer or an appropriate referral as quickly as possible.
Send us your questions or comments:
All inquiries from news media must go to EPA's press office.
Via an email: ipm@epa.gov
Subscribe to IPM Email Updates. By subscribing, you sign up to receive timely and helpful information on Integrated Pest Management (IPM) from EPA. Look for interesting IPM content, such as invitations to upcoming webinars, selected highlights and links from IPM-related newsletters, updates on EPA's IPM activities, and other announcements.
Via mail, to this address:
Environmental Protection Agency
Office of Pesticide Programs, Mail Code 7506C
1200 Pennsylvania Ave., NW Washington DC 20460
Via an online form below (such as questions that are not addressed by the links above).
Note: If your comment is related to a specific Web page, please include the page name or URL.