Cherokee County Superfund Site, Cherokee County, Kansas - Fact Sheet, July 2021
Remedial Action Update
Introduction
EPA added the Cherokee County Superfund Site (site) to the National Priorities List in 1983, and removal actions began in 1987 on what would become Operable Unit 1 (OU 01). EPA later divided the site into nine operable units as follows:
OU 01 – Galena Alternate Water Supply
OU 02 – Spring River Basin
OU 03 – Baxter Springs
OU 04 – Treece
OU 05 – Galena Groundwater/Surface Water
OU 06 – Badger, Lawton, Waco, and Crestline
OU 07 – Galena Residential Soils
OU 08 – Railroads
OU 09 – Tar Creek Watershed
This Fact Sheet provides an update regarding EPA's cleanup activities for each operable unit. Lead, zinc, and cadmium are the primary contaminants of concern.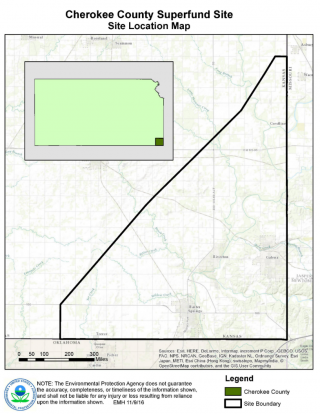 Site Background
The site is in southeastern Kansas and includes mine waste contamination in several former mining areas. (See Site Location Map at right.) The site is located in an area known as the Tri-State Mining District (TSMD), which at one time was one of the world's largest producers of lead and zinc. The district covers a 2,500-square-mile area in Missouri, Kansas and Oklahoma, of which 115 square miles comprise the Cherokee County portion. The TSMD is characterized by a variety of mine waste features that include the following: large piles of sand- and gravel-sized mill tailings, locally known as chat; piles of overburden bedrock materials, locally known as bull rock; tailings impoundments and ponds that contain accumulations of silt- and clay-sized flotation tailings; open and collapsed mine shafts, sometimes filled with water; and subsidence features.
Site Progress
To date, approximately 12.9 million cubic yards of mine waste and contaminated soil have been excavated from the different operable units, and 2,747 acres of mined land have been restored to beneficial use.
EPA completed the Sixth Five-Year Review for the site on Sept. 8, 2020. A Five-Year Review is an evaluation of a site remedy or remedies to determine whether it remains protective of human health and the environment.
Based on the findings in the Sixth Five-Year Review, EPA is obtaining additional information to determine the protectiveness of the site remedies. This Sixth Five-Year Review is available on EPA's Site Profile Page (see Site Documents & Data).
The status of each individual operable unit is as follows:
OU 01 – EPA issued the Record of Decision (ROD) in December 1987, which included the construction of two rural water districts and roughly 60 miles of pipeline to serve about 500 households. EPA completed the remedial action for OU 01 in 1994.
OU 02 – This operable unit is in the site characterization phase and a remedy decision has not been made. Many of the subsites that make up this operable unit drain into the Spring River, so EPA will address this operable unit along with work on the other subsites. For purposes of site characterization, this operable unit has been divided into the Upper Spring River and Lower Spring River basins. Due to the extent of these basins, work is coordinated with the states of Missouri, Kansas and Oklahoma, as well as EPA Region 6 (Oklahoma is part of EPA Region 6).
OU 03 and 04 – The ROD, signed in August 1997, selected a mixture of residential soil remediation and source reduction for the two operable units. EPA modified the remedy in September 2006 to excavate, consolidate, and/or cap surficial mine waste; utilize subaqueous mine waste disposal; encourage source reduction of chat; and adopt institutional controls that would inform future land use and development. In 2019, EPA completed the cleanup of a portion of OU 03 by remediating 400,000 cubic yards of mine waste and contaminated soil. A remedial design is ongoing for the remaining mine waste and distal areas. At OU 04, the cleanup of 530,000 cubic yards of mine waste, contaminated soils, and contaminated sediments of the northwest intermittent tributary of Tar Creek began in September 2020 and is currently being revegetated.
OU 05 – EPA signed the ROD in September 1989 and selected a remedial action to reduce human exposure to the contaminants; reduce the metals contamination in both groundwater and surface water; and protect the deep aquifer. Components included excavation of sediments from the stream near the smelter; excavation and consolidation of wastes surrounding the smelter in Galena, Kansas; and the decontamination of former smelter buildings and the removal of hazards. EPA completed the remedial action for this operable unit in 1995 and is now undergoing operation and maintenance.
OU 06 – EPA issued the ROD for this operable unit in September 2004 to address mine waste in the communities of Badger, Lawton, Waco, and Crestline. The remedial action included the excavation and consolidation of surficial mining wastes; utilization of subaqueous mine waste disposal; abandonment of deep wells; characterization and monitoring of the groundwater flow system for assessment of subaqueous disposal; and adoption of institutional controls that would inform future land use and development. EPA and the potentially responsible parties (PRPs) completed the remedial actions for OU 06 in 2012. Recently, the Kansas Department of Health and Environment has been repairing project areas previously addressed by EPA, due to damage caused by flooding and drought.
OU 07 – EPA signed the ROD for this operable unit in July 1996, which selected the excavation and disposal of residential soils; health education for the community and medical professionals; institutional controls to inform future land use and development in residential areas; and treatability studies to determine the effectiveness of phosphate stabilization as a potential remedial  alternative. EPA completed the remedial action for OU 07 in 2001 and the operable unit is now undergoing operation and maintenance.
OU 08 – EPA signed the ROD for this operable unit in September 2016 to address mine waste used as a ballast on inactive rail lines within the site boundaries. The remedial design is currently underway for a portion of the rail lines and is expected to be completed in 2021. It will be followed by a remedial action.
OU 09 – This operable unit is in the site characterization phase and a remedy decision has not been made. This OU will also address the main channel of Tar Creek in the Treece Subsite under this operable unit.
About the Contamination
Lead is a toxic metal that is harmful if inhaled or swallowed. Children are more sensitive than adults to lead and can develop lifelong learning disabilities and behavior problems from lead exposure. Children can get lead into their bodies by putting their hands or toys in their mouths after touching contaminated soil and dust. Pregnant women and nursing mothers should also avoid exposure to lead.
Lead poisoning can cause adverse health effects in infants and young children, including, but not limited to:
Slowed physical growth
Hearing problems
Nervous system damage
Learning difficulties
Behavioral problems, including hyperactivity (easily excitable or upset, unable to concentrate, short attention span)
Decreased intelligence (I.Q.) scores
Lead exposure and its effects can be reduced by:
Washing hands after playing outside and before meals.
Cleaning floors, window frames, window sills, and other surfaces weekly. Use a mop or sponge with warm water and general all-purpose cleaner.
Thoroughly rinsing sponges and mop heads often during cleaning of dirty or dusty areas, and again afterward.
Keeping play areas clean. Wash bottles, pacifiers, toys, and stuffed animals regularly.
Cleaning or removing shoes before entering your home to avoid tracking in lead from soil.
Making sure that children avoid fatty (or high-fat foods) and eat nutritious meals high in iron and calcium. Children with good diets absorb less lead.
For more information about lead, please visit EPA's website. The Centers for Disease Control and Prevention's Agency for Toxic Substances and Disease Registry (ATSDR) has a series of online summaries about contaminants, called ToxFAQs, where you can find one about lead.
Blood Lead Testing
Children 6 years old and younger are most at risk from the hazards of lead poisoning. It is important that children in this age range be tested every year, because lead-poisoned children typically do not look or act sick.
The only way to know if your child has elevated blood lead levels is through a blood test. EPA encourages parents to have their children tested for lead exposure. You can contact your private physician or the Cherokee County Health Department for a blood test (110 E Walnut, Columbus, KS 66725; phone: 620-429-3623).
Additional Information
EPA keeps site project information and reference materials for the public to read online. You can review the Administrative Records on EPA's website. For more site information, visit the Site Profile Page.
EPA Contact Information
If you have questions or need additional information, please contact:
Elizabeth Kramer
Community Involvement Coordinator
U.S. EPA Region 7 (ORA/OPA)
11201 Renner Boulevard
Lenexa, KS 66219
Phone: 913-551-7186
Toll-free: 1-800-223-0425
Email: kramer.elizabeth@epa.gov
Todd Campbell
Remedial Project Manager
U.S. EPA Region 7 (SEMD/LMSE/MSRS)
11201 Renner Boulevard
Lenexa, KS 66219
Phone: 913-551-7115
Toll-free: 1-800-223-0425
Email: campbell.todd@epa.gov
Elizabeth Hagenmaier
Remedial Project Manager
U.S. EPA Region 7 (SEMD/LMSE/MSRS)
11201 Renner Boulevard
Lenexa, KS 66219
Phone: 913-551-7939
Toll-free: 1-800-223-0425
Email: hagenmaier.elizabeth@epa.gov