About Lake Tahoe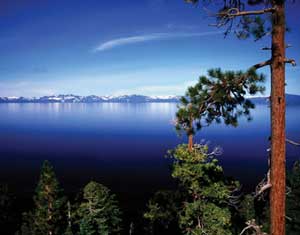 On this Page:
About Lake Tahoe
Ancestral inhabitants of the Lake Tahoe area - the Washoe Tribe - called the Lake "Da ow a ga," which means "edge of the lake." The tribe considers Lake Tahoe a sacred life-sustaining water, and the center of the Washoe world. From the 1860s through the early 1900s, the lake's watershed was extensively logged, and the second-growth forest that has grown over the past century is more dense, making it vulnerable to wildfires.
Since 1950, development of homes, hotels, casinos, ski resorts and urban infrastructure has increased the amounts of sediment entering the lake, causing algae growth and reducing the lake's clarity. Since the early 1970s, wastewater has been treated and pumped out of Lake Tahoe's watershed, preventing a major source of nutrients, which would cause further algae growth, from reaching the lake.
In addition to being a scenic and ecological treasure, the Lake Tahoe watershed is one of the outstanding recreational resources of the United States. It is recognized nationally and globally as a natural resource of special significance, and the lake is designated an "Outstanding National Resource Water" under the Clean Water Act.
Lake Facts
Age: 2 million years old
Size of watershed: 501 sq. miles
Lake surface area: 192 sq. miles
Lake depth: 1,645 ft. deep
Elevation: 6,223 ft. (natural rim)
2 states: California and Nevada
5 counties, 1 city and numerous other communities
50,000 Tahoe Basin (watershed) year-round residents
Majority of private property owners are part-time residents
US Forest Service and state agencies manage almost 85% of land area
Average surface water temperatures: 68° Fahrenheit in the summer and 41° in the winter
63 streams feed into Lake Tahoe but only one, the Truckee River, flows out
Approximately 3 million people visit Lake Tahoe every year
Designated as an Outstanding National Resource Water under the federal Clean Water Act
Second deepest lake in the United States, after Oregon's Crater Lake
Water entering the lake today will take about 650 years to reach the lake's outlet
Water Quality Issues
Lake Tahoe can be differentiated into two zones: deep-water and nearshore. Monitoring data indicate a decline in the water quality of both zones. Between 1968 and 1997, deep-water clarity declined by approximately 30%, from 100 to 64 feet. Since then, clarity has stabilized somewhat, to an average of 65.2 feet between 2016-2020. The nearshore environment has experienced degraded conditions due to proliferation of algae and other aquatic invasive plants and animals, particularly in urbanized areas.
The decline in Lake Tahoe's water clarity is a result of fine sediment particles and phytoplankton (algae). Fine sediment particles are the most dominant pollutant contributing to the impairment of the lake's deep water transparency, accounting for roughly two-thirds of the lake's impairment. Inorganic fine sediment particles less than 16 micrometers (about 1/3 the diameter of a human hair) are the main pollutant that is degrading deep-water clarity. However, nutrients also play an important role, particularly with respect to the nearshore condition.
Because these three pollutants are responsible for Lake Tahoe's deep water transparency loss, Lake Tahoe is listed under Clean Water Act Section 303(d) as impaired by inputs of nitrogen, phosphorus, and sediment. The goal of the Lake Tahoe Total Maximum Daily Load (TMDL) is to set forth a plan to restore Lake Tahoe's historic deep water transparency to 29.7 meters (97.4 feet) annual average Secchi Depth by 2076. Deep water transparency and Secchi depth refers to how scientists measure the lake's clarity: they lower a round disk, the Secchi Disk from a boat into the water until it is no longer visible. At the point it is no longer visible, the length of the line used to lower the disk is recorded.
Primary discharge sources of fine sediment, nitrogen, and phosphorus into Lake Tahoe include:
Urban uplands runoff
Atmospheric deposition
Forested upland runoff
Stream channel erosion
Other issues:
Destruction and alteration of wetlands
Fire suppression and periodic drought resulting in approximately 25% of trees dead or dying
Threat of catastrophic fire and insect infestation; loss of biological diversity
The establishment and threat of aquatic and terrestrial invasive species, such as the Asian clam and quagga mussel
Climate Change
Global climate change is projected to have unprecedented impacts on the health of the environment and economy in the Lake Tahoe Basin. As temperatures rise and more precipitation falls as rain rather than snow, management efforts to protect the watershed's forests, fish and wildlife, and famed water clarity will face unique challenges. The State of the Lake Report 2016 released by the Tahoe Environmental Research Center, at the University of California, Davis indicates that in 2015, "only 6.5 percent of [precipitation] fell as snow, the lowest amount ever recorded," and that: "in the past four years… the lake has warmed at an alarming rate that's 15 times faster than the long-term warming rate." The report introduces the term "climatic eutrophication," which: "…has the potential to affect entire regions by increasing lake water temperatures in both summer and winter. The resulting thermal stratification from these increased temperatures will act as a barrier to winter overturn in the lake and cause nutrients to accumulate in the surface waters, [which] has the potential to fundamentally alter the physics, chemistry and biology of Lake Tahoe."
To address these and other impacts, the Environmental Improvement Program (EIP) partner agencies and numerous other Tahoe Basin organizations and stakeholders established the Sustainable Communities Program and developed a Sustainability Action Plan. A Sustainability Framework is intended to ensure that major planning and regulatory programs at Lake Tahoe are designed to take into account the projected impacts of climate change. For example, future stormwater management and erosion control projects may need to be designed for larger peak flows in the winter, and habitat improvement projects may need to take into account potential changes in the type, location, and distribution of vegetation communities.
In 2021, two significant developments related to both climate change adaptation and mitigation occurred: