Engineering Technical Support Center (ETSC)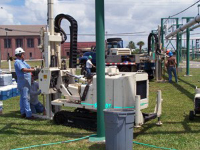 The Engineering Technical Support Center (ETSC) provides technical support for soil, sediment, groundwater and mining-related contamination.
ETSC is one of EPA's technical support and resource centers responsible for providing specialized scientific and engineering support to decision-makers in the EPA's program and ten regional offices. EPA's regional offices work with states, communities, and local businesses within their area. These decision-makers include remedial project managers, corrective action staff, and on-scene coordinators.
Related Information
Contamination Clean-up Information: About Remediation Technologies
EPA Superfund Technical Support Centers
The above leads to a page that contains links to Superfund program research needs, Office of Research and Development research plans and results for Superfund, and sources of technical support for Superfund and RCRA Corrective Action program staff.