Food Waste Research
On this page:
Why research food waste?
Wasted food is a major global environmental, social, and economic challenge. According to scientific research, approximately one-third of the food produced in the U.S. is never eaten. When food is produced but unnecessarily wasted, all the resources used to grow the food – water, energy, fertilizers – and the resources used to transport it from farms to our tables, are wasted as well. Most of the resource inputs and environmental impacts of food waste occur during production, processing, and delivery to our kitchens. When food is deposited in a landfill and decomposes, the byproducts of that decomposition process are methane and carbon dioxide. Methane is a potent greenhouse gas that traps heat and contributes to climate change. EPA estimated that in the United States in 2018, more food was sent to landfills than any other single material in our everyday trash (EPA Advancing Sustainable Materials Management: Facts and Figures).
In 2015, EPA and the U.S. Department of Agriculture (USDA) established a national goal to halve food loss and waste by 2030. Through the sustainable management of food, we can help businesses and consumers save money, provide a bridge in our communities for those who do not have enough to eat, prevent pollution, and conserve resources. Research and development of new science-based solutions are essential to meeting these goals. Below are examples of EPA research to reduce food waste and improve its management.
From Farm to Kitchen: The Environmental Impacts of U.S. Food Waste
EPA prepared the report, From Farm to Kitchen: The Environmental Impacts of U.S. Food Waste, to inform domestic policymakers, researchers, and the public about the environmental footprint of food loss and waste in the U.S. and the environmental benefits that can be achieved by reducing U.S. food loss and waste. It focuses primarily on five inputs to the U.S. cradle-to-consumer food supply chain -- agricultural land use, water use, application of pesticides and fertilizers, and energy use -- plus one environmental impact -- green house gas emissions.
Read the report: From Farm to Kitchen: The Environmental Impacts of U.S. Food Waste.
Emerging Issues in Food Waste Management
EPA encourages the recycling of food waste for several reasons. Recycling food waste can reduce methane emissions from landfills, and it can recover valuable nutrients and energy from food waste. However, there are concerns about the levels of plastic and persistent chemical contaminants, including per- and polyfluoroalkyl substances (PFAS), in food waste streams. Food waste streams consist of food and other items (such as compostable food packaging) that get collected – intentionally and unintentionally – for composting or anaerobic digestion.
EPA recently developed two reports summarizing published science about contamination in food waste streams, the effects of this contamination on composting and anaerobic digestion (two common ways to recycle food waste), and potential risks to human health and the environment of applying compost or digestate (the product from anaerobic digestion) made from food waste streams to land as soil amendments. 
Another EPA report summarized the available data on food waste technologies, such as grinders and biodigesters, used by businesses and institutions to pre-process food waste on-site. The report evaluates whether these technologies encourage food waste recycling or reduce the environmental impact of food waste. These reports are available at the links below.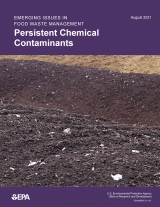 Emerging Issues in Food Waste Management: Persistent Chemical Contaminants
The purpose of this issue paper is to inform policymakers, producers of food waste compost, and potential buyers of compost and digestate about the contribution of food waste streams to persistent chemical contamination in compost and digestate, relative to other common feedstocks, and the potential health and environmental risks posed by land applying compost and digestate made from food waste.
Emerging Issues in Food Waste Management: Persistent Chemical Contaminants (pdf) (3.18 MB, August 18, 2021, EPA/600/R-21/115)
---
Emerging Issus in Food Waste Management: Plastic Contamination
The purpose of this issue paper is to inform federal, state, and local policymakers of the latest science related to plastic contamination in food waste streams and its impacts on food waste recycling, the environment, and human health, and to prioritize research needs in this area.
Emerging Issues in Food Waste Management: Plastic Contamination (pdf) (2.69 MB, August 18, 2021, EPA/600/R-21/116)
Overview: Emerging Issue in Food Waste Persistent Chemical and Plastic Contamination (pdf) (317.13 KB, August 18, 2021)
---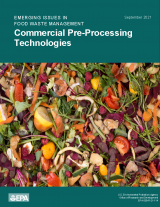 Emerging Issues in Food Waste Management: Commercial Pre-Processing Technologies
The purpose of this issue paper is to assess the environmental value of food waste1 pre-processing technologies (e.g., biodigesters, grinders, and pulpers) used on-site by businesses and institutions that generate food waste.
Emerging Issues in Food Waste Management: Commercial Pre-Processing Technologies (pdf) (3.46 MB, September 13, 2021, 600-R-21-114)
Overview: Commercial Pre-Processing Technologies (pdf) (252.29 KB, September 13, 2021)
Research Highlights
Food Waste Prevention and Reduction
This map displays the locations of nearly 1.2 million potential industrial, commercial and institutional excess food generators, about 5,000 potential excess food recipient locations, and over 200 communities with residential source separated organics programs. The map enables users to learn about potential sources of excess food in their region and potential non-landfill recipients, such as food banks as well as composting and anaerobic digestion facilities. As part of EPA's Office of Research and Development's (ORD) Regional Sustainable Environmental Science (RESES) program, EPA researchers from Region 9, ORD, and the Office of Land and Emergency Management (OLEM) collaborated to develop the map. OLEM currently manages and updates the map. Read a story about the map here.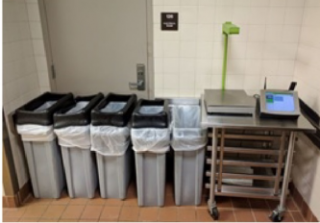 EPA researchers, in partnership with the U.S. Army as part of the Net Zero initiative, conducted a demonstration with the Leanpath food waste characterization technology to assess how overproduction and food preparation practices contribute to food waste in U.S. Army-operated dining facilities. As a result of the project, the Army was better able to understands the drivers of food waste in Army kitchens (primarily over-production), and over five tons of unused food identified in the project was donated to local food banks. This project was part of EPA ORD's Net Zero Partnerships.
EPA scientists identified and analyzed major food waste generators and opportunities to divert food waste from landfills. The study helped inform local and state efforts.
---
Food Waste Processing
Evaluating Processed Food Waste from Kitchen Digester Use and the Downstream Impacts/Benefits
Growing demand for handling food waste in environmentally friendly ways have led to aggressive marketing for and purchasing of a variety of on-site food waste processing systems. EPA researchers are studying pre-processing technologies in use in commercial kitchens in New York City. The results of this research will assess and evaluate food waste pre-processing systems in real-world settings with respect to factors such as performance, capital costs, existing infrastructure, quantity and quality of waste and water streams, and its overall potential to enable organic waste reduction and diversion.
Evaluating De-packaging Technologies
EPA researchers will test the performance of food de-packaging equipment available on the market. Contamination from packaging (including film plastics) in food waste feedstock may complicate composting and anaerobic digestion operations and decrease the market desirability and safety of land application of finished compost and digestate. EPA researchers are characterizing plastics in food waste streams after the use of de-packaging technologies to determine if their use increases plastic contamination in compost and digestate. 
---
Food Waste Management
Initially designed for use at Water Resource Recovery Facilities, CoEAT is a valuable tool for anyone operating an anaerobic digestion system.  CoEAT helps users evaluate the costs and benefits of accepting and processing wasted food, fats, oils and greases (FOG) or other organic materials. The tool generates economic and operational data to help users understand the impacts and costs of digesting more than one type of feedstock at their facility.  EPA-developed tools like CoEAT play a role in the transition to produce clean water and reduce the nation's dependence upon fossil fuel through the production and use of renewable energy at water resource recovery facilities.
Scientists conducted a scenario analysis of upgrading a small community water resource recovery facility to include anaerobic digestion with co-digestion of high strength organic waste. Life cycle assessment and life cycle cost assessment were used to evaluate the net impact of the potential conversion.  The upgraded water resource recovery facility reduced eutrophication impacts by 40 percent compared to the legacy system. 
EPA researchers worked with the U.S. Army Engineer Research and Development Center to assess the feasibility of rebuilding the sewage treatment system at Fort Huachuca, Arizona to include anaerobic digestion to accept food waste and other organics. The research team concluded that co-digestion of food and biosolids would be a win-win scenario for Fort Huachuca because it would help eliminate the largest part of the waste stream (food), reduce biosolids disposal costs, and generate power for operating the installation's wastewater treatment plant.
EPA scientists investigated the potential trade-offs within the context of a Southwestern New York community of upgrading a one million gallon per day conventional activated sludge system to incorporate advanced biological treatment and anaerobic digestion, including co-digesting an increased quantity of the community's high strength organic waste. The life cycle assessment explored methods to upgrade the wastewater treatment plant, while simultaneously transforming it to recover useful energy for heat and electricity, nutrients for compost, and water for irrigation. The research provides guidance for small communities considering upgrades and demonstrates the positive potential of resource recovery strategies to increase effluent quality while reducing other environmental impacts.
EPA researchers evaluated the co-digestion practices, performance, and the experiences of six water resource recovery facilities accepting food waste. The report describes the types of food waste co-digested and the strategies--specifically, the tools, timing, and partnerships--employed to manage the material. Additionally, the report describes how the facilities manage wastewater solids, providing information about power production, biosolids use, and program costs.
EPA researchers evaluated the quality and quantity of liquid and gas emissions from lab-scale landfills (lysimeters) with varying amounts of food waste. In the simulations, those with the least amount of food waste began generating methane the fastest, contradictory to how current models predict landfill methane generation. This finding showed that food waste contributes volatile fatty acids to municipal solid waste, which in turn lowers pH and delays microbial methanogen dominance.