Benton Harbor, Michigan, Drinking Water Study Results
Filter Study
Drinking water was sampled for lead and other metals before and after passing through certified faucet and pitcher filters. Samples were collected from all filter brands currently being provided in Benton Harbor by the Berrien County Health Department. In the unfiltered water samples, the lead concentrations were detected up to 77 parts per billion (ppb).  After the water was run through properly installed and operated filters, all samples had lead results below 5 parts per billion, the level that the filters were certified to reduce lead below.  Most filtered water had no reportable lead in the samples (the detection limit for lead is 0.5 ppb). This means that filters, when properly installed and used, remove lead from drinking water as expected. The interactive viewer below shows lead levels of unfiltered and filtered water at homes in Benton Harbor.  Analysis of other metals will be completed soon, as described in the More to Come section below.
The map on the right shows that when filters are used correctly, lead results were less than 5 parts per billion (ppb), the certification standard for drinking water filters.
Sequential Study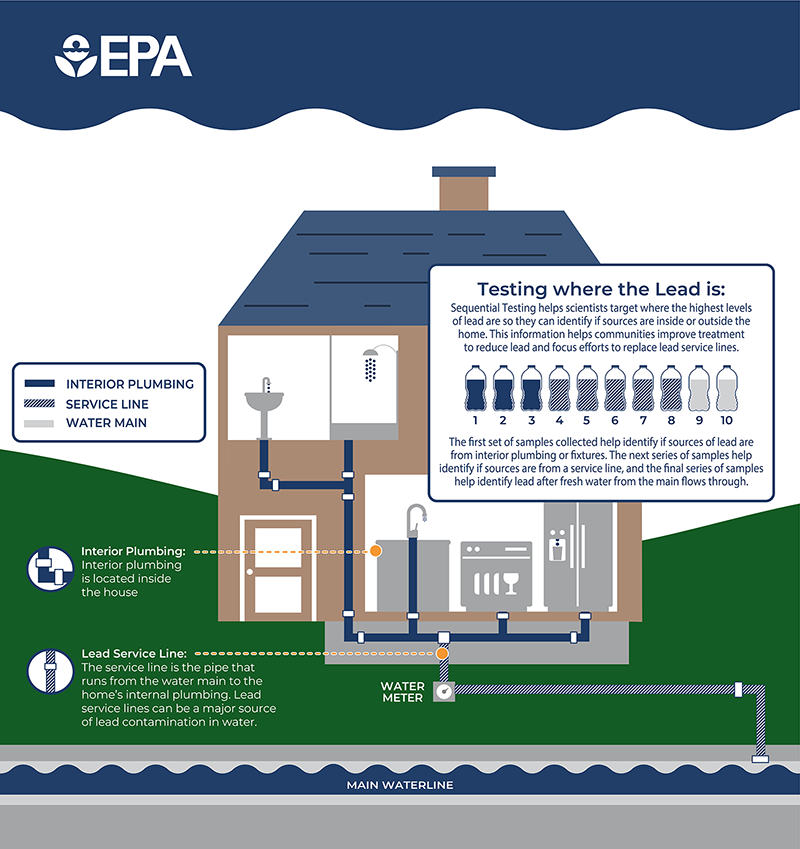 The researchers also applied sequential sampling – taking multiple unfiltered water samples from the customer's tap, one after another, to determine the sources of lead in the home.  The study also helps determine if corrosion control is working.  Corrosion control is a process done at the drinking water plant to help reduce lead from leaching into water. The concentrations of lead in the samples tell us where lead is present in the home's plumbing from the tap through the service line.  Examples of lead products in plumbing include brass fixtures, solder, galvanized water lines and lead service lines.  EPA conducted sequential sampling in 26 Benton Harbor homes.  The result profiles can be viewed in the interactive viewer below. The maximum concentrations in the series of samples ranged from 3 to 391 parts per billion.
The graphic (left) generally describes how and where sequential samples are collected.  In Benton Harbor, the first two samples were collected in 125 milliliter (ml) bottles to examine fixtures and plumbing near the faucet.  The remaining samples were collected in 500 ml bottles.  An additional 1-liter bottle was collected for the particle study.
Testing all of these samples for lead helped us create a profile of lead levels throughout the plumbing at each home. 
Particle Study
The purpose of the particle study was to inform EPA and the community on the types and size of small particles that are present in the drinking water. These samples were collected along with the sequential samples. The analysis showed that when lead was found, it was generally detected in larger clumps of particles.  Extremely small particles, or nanoparticles, were not common.  Generally, larger particles are more easily removed by filters.  Refer to the Filter Study above for more information about filter effectiveness in Benton Harbor.
More to Come
Additional analysis of the samples is underway and will be used to help understand the composition of the plumbing materials.  It will also be used to evaluate the effectiveness of the corrosion control treatment in the Benton Harbor drinking water system. That information will be provided as soon as the analysis is complete.
This study is just one of many ways in which EPA is working with the city, state, county and community to ensure that Benton Harbor residents have access to safe drinking water. EPA continues to work with the State of Michigan to ensure Benton Harbor's water treatment and distribution system meets all health-based standards under the Safe Drinking Water Act.  Long-term solutions will be implemented to ensure a sustainable system and reliable access to safe and clean drinking water.
EPA shared preliminary lead data with all residents who participated in our studies.  Residents were called within a few days then mailed the hard-copy data soon after. Residents were generally called within one business day of receiving elevated lead results. We will send final data to study participants when available. Final results may differ slightly from preliminary results. We will post our updates and reports on EPA's Benton Harbor website.  EPA's full report of these studies should be available this summer.
Data Report: Summary of Lead Water results in Filter and Sequential Studies (pdf) (803.14 KB)
EPA's Final Lead Results (xlsx) (25.11 KB)