Publications about Mold
On This Page:
---
EPA Resources about Mold
Resource for Mold Cleanup and Moisture Control
This one-pager has QR codes to several mold cleanup and moisture control  resources – including guidance for homeowners and renters to better understand how to safely and effectively cleanup mold and control moisture. Emergency management and public health professionals can easily share these resources digitally. Simply scan the QR codes to access the resources.  
---
A Brief Guide to Mold, Moisture, and Your Home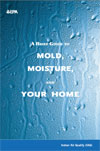 ---
Mold Remediation in Schools and Commercial Buildings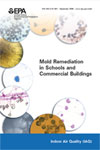 The publication, Mold Remediation in Schools and Commercial Buildings, [EPA 402-K-01-001] reprinted September 2008, is available in:
Infographics
The Key to Mold Control is Moisture Control – Infographic
The mold infographic shows how to take steps to control moisture indoors. Available in both English and Spanish languages.
---
Resources about Mold
NIOSH Dampness and Mold Assessment Tools
 National Institute for Occupational Safety and Health (NIOSH) released:
These tools may help identify and determine the severity of known and unknown areas of dampness and mold, prioritize repair and remediation, and track past and present problems.
AIHA Video Series: Keeping Your Home & Your Family Safe and Mold-Free
The American Industrial Hygiene Association (AIHA) developed this 3-part video series. It provides an overview of mold and how it impacts people's health, what can be done to fix a mold problem, and how to prevent mold problems. Videos in the series include:
---
Other Resources about Indoor Air Quality