Publications about Mold
On this page:
---
EPA Resources about Mold
The publication, A Brief Guide to Mold, Moisture, and Your Home, is available in HTML and PDF.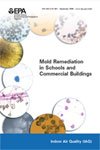 The publication, Mold Remediation in Schools and Commercial Buildings, is available in HTML and PDF.
---
Other Resources about Indoor Air Quality
---
Damp Buildings and Health
For more information on damp buildings and health effects, see the 2004 Institute of Medicine Report, Damp Indoor Spaces and Health,Exit published by The National Academies Press in Washington, DC. You can read a description of the report and purchase a copy. 
The Center for Disease Control and Prevention (CDC)
National Center for Environmental Health (NCEH)
(800) CDC-INFO (232-4636)
cdcinfo@cdc.gov