NPDES Permits Around the Nation
EPA issues all National Pollutant Discharge Elimination System
National Pollutant Discharge Elimination SystemA national program under Section 402 of the Clean Water Act for regulation of discharges of pollutants from point sources to waters of the United States. Discharges are illegal unless authorized by an NPDES permit. (NPDES) water quality permits in Idaho, Massachusetts, New Hampshire, New Mexico, the District of Columbia (Washington, D.C.), U.S. territories, and on federal and tribal lands. All other states have been delegated by EPA to issue their own permits.
---
Find a NPDES Permit
Choose a state or territory from the map below to find NPDES permits for your area, including:
Wastewater permits.
Stormwater permits.
General permits for industries such as aquaculture, mining and pesticide applications.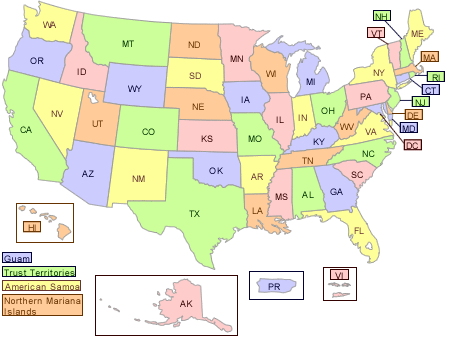 Related pages (Offshore Gulf of Mexico):