EPA's Regulation of Flea and Tick Products
EPA is responsible for ensuring that all pesticides sold in the United States do not cause unreasonable adverse effects when they are used according to label directions and precautionary language is followed.
EPA assesses all active ingredients included in pet products registered by EPA for the following:
Risk from skin contact for adults (dermal assessment)
Risk from skin contact and by mouth for children (dermal and oral assessments)
Risk from breathing in the chemicals from pet pesticide treatments on a case-by-case basis (inhalation assessment)
Risk as a result of transfer from an animal to child's skin from hugging or otherwise contacting a treated animal
All evaluations are based upon assumptions about contact with pets and pesticide transfer to the persons exposed that are designed to overestimate potential exposure. Based on these estimates, we ensure that children should be protected from exposure to pesticides on pets that have been treated when pesticide products are used according to the label directions.
Every EPA-registered pesticide product has an EPA registration number on its packaging. If evidence arises to challenge the safety of a registered pesticide product, EPA reviews scientific data and other information and takes action if necessary to address the risks.
Learn more about the review and actions to prevent pet incidents, including changes in product labels.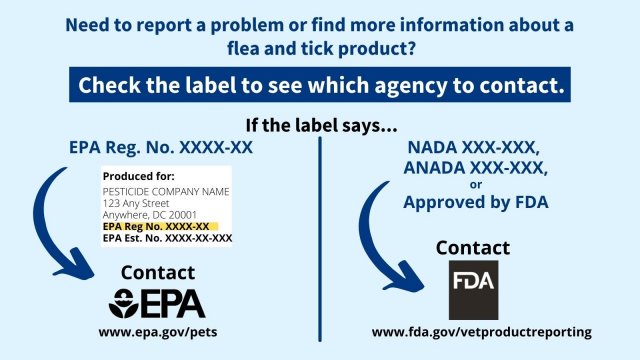 Enhanced Data Collection and Oversight
Consistent with its overall efforts to protect pets under the Federal Insecticide, Fungicide and Rodenticide Act (FIFRA), EPA intends to request enhanced incident reporting and sales data for pet products, including collars. This enhanced reporting aligns with what is already submitted for spot-on products, and would allow the agency to conduct a comparative assessment of pet incidents across registered pet products based on sales data to better determine whether any changes to the pet product registrations and labels are necessary.
EPA is interested in feedback from stakeholders on the most efficient way these data can be provided to the agency and the types of analyses that could be submitted to expedite the agency's assessment. EPA is also considering additional measures that could enhance its oversight of pet products, such as additional targeted studies and monitoring. We welcome public comments on these and other potential measures.  
To provide your feedback on enhanced data collection and oversight measures, please comment on the registration review Proposed Interim Decisions (PIDs) for the pet product active ingredients during their 60-day public comment periods. Such chemicals with active public comment periods include MGK-264 (EPA-HQ-OPP-2012-0415), PBO (EPA-HQ-OPP-2010-0498), pyrethrins (EPA-HQ-OPP-2011-0885) and amitraz (EPA-HQ-OPP-2009-1015). The comment periods for these PIDs end on October 4, 2021. Other registration review cases with PIDs and IDs publishing over the coming year also include active ingredients used in pet products.