National UST Program Cleans Up Over 500,000 UST Releases
As of March 2022, the national underground storage tank (UST) program over the last 34 years has cleaned up nearly 506,000 UST petroleum releases.  This significant milestone of surpassing one-half million UST releases cleaned up means that almost 90 percent of UST releases in the United States are no longer posing the threat of harmful contamination to the public's health and our country's soil and groundwater.  Achieving this milestone is the culmination of significant work by the many partners—states, territories, tribes, industry, and EPA—who are dedicated to managing and cleaning up UST releases.  Cleaned up UST releases foster reuse and redevelopment, and provide community based economic revitalization.  Going forward, EPA and our partners will continue our efforts to clean up the approximately 60,842 UST releases remaining.
Left unchecked, even a small amount of petroleum can contaminate groundwater, a source of drinking water for nearly half of the people living in the United States.  UST releases can present other health and environmental risks, including the potential for fire and explosion.  Underground storage tanks are in almost every community.  There are approximately 542,000 active USTs are in the United States, and they are located at retail and non-retail facilities. At a typical retail facility, such as a service station or convenience store, USTs hold tens of thousands of gallons of fuel.  USTs are also located at non-retail facilities, such as municipal fueling for school buses, police and fire stations; marinas; taxi-fleet facilities; postal and delivery service facilities; and federal facilities like military bases.
EPA is committed to preventing and cleaning up UST releases and equitably protecting human health and the environment of all people living in the United States, including those historically marginalized, overburdened, and underserved.
On this page:
---
Chart Depicting UST Cleanup Progress
This chart depicts the national UST program's cumulative progress, in 3-year intervals, of cleaning up petroleum releases from UST systems. 
---
Infographic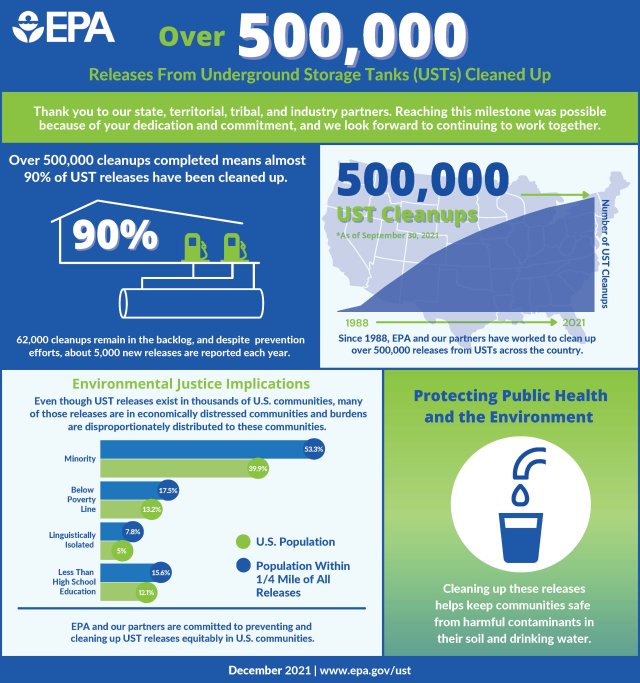 Infographic - Over 500,000 Releases From Underground Storage Tanks (USTs) Cleaned Up (pdf) (572.73 KB)
---
Creating The UST Program
In 1984, Congress added Subtitle I to the Resource Conservation and Recovery Act to protect the public and our environment from underground storage tank petroleum releases. Subtitle I formed the national underground storage tank program and directed EPA to develop a regulatory program for USTs storing petroleum and certain hazardous substances.
---
More Information About USTs