NHDPlus (National Hydrography Dataset Plus)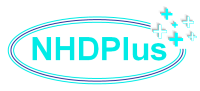 National Hydrography Dataset Plus (NHDPlus) is a national geospatial surface water framework. Geospatial analysts and modelers use this framework to support water resources applications. The U.S. EPA developed and maintains NHDPlus in partnership with the U.S. Geological Survey.
If you would like to receive periodic emails about the availability of NHDPlus data, tools and updates, please send your name, phone number, organization, and email address to NHDPlus Support (nhdplus-support@epa.gov).
You will need Adobe Reader to view some of the files on this page. See EPA's About PDF page to learn more. You may need additional software to view some of the links on this page. See EPA's Free Viewers and Readers page.The links will vary in file size.
Basic Information about National Hydrography Dataset Plus (NHDPlus)
NHDPlus is a suite of geospatial products that build upon and extend the capabilities of the National Hydrography Dataset (NHD), the National Elevation Dataset (NED) and the Watershed Boundary Dataset (WBD). Interest in estimating stream flow volume and velocity to support pollutant dilution (fate-and-transport) modeling was the driver behind the joint U.S. Environmental Protection Agency and U.S. Geological Survey effort to develop NHDPlus.
Since NHDPlus is produced from static snapshots of the NHD, NED and WBD, it includes the features and capabilities of these ingredient datasets. NHDPlus integrates the vector NHD stream network and WBD hydrologic unit boundaries with the NED gridded land surface. This hydrologically-conditioned surface enables the delineation of a catchment (local drainage areas) for each NHD stream segment. The catchments are used to associate precipitation, temperature and runoff data with each stream segment for estimating NHDPlus stream flow.
Elevations along each stream are used to compute stream slope for estimating NHDPlus velocities used in time of travel analyses. In addition to stream flow and velocity, NHDPlus provides additional value-added attributes, including stream order and a group of attributes that facilitate rapid stream network traversal and query. NHDPlus catchments are used to associate other landscape attributes, such as land cover, with stream segments.
These capabilities enable a diverse collection of water-related applications implemented by a large and growing user community. The widespread positive response to initial NHDPlus Version 1 (NHDPlusV1), released in 2006, prompted the multi-agency NHDPlus team to design an enhanced NHDPlus Version 2 (NHDPlusV2) that was released in 2012.
Since the significantly improved NHDPlusV2 is intended to supercede NHDPlusV1, new and existing NHDPlus users are strongly encouraged to use NHDPlusV2. While the NHDPlusV1 data, metadata and documentation remains available from this site, user support for the NHDPlusV1 will be increasingly limited.  The NHDPlusV2 User Guide (PDF)(182 pp, 4.4 MB) Exit describes the differences between the two versions.
Download NHDPlus Version 2 (NHDPlusV2) Data
NHDPlusV2 benefits from significant improvements to its primary ingredient datasets as well as a more robust stream flow estimation process, which incorporates runoff estimates from a USGS national water balance model. There are also new components, such as, excess potential evapotranspiration, major water withdrawals and additions and network-interpolated adjustments to align with gaged flows.
NHDPlusV2 consists of the following components:
Greatly improved 1:100K National Hydrography Dataset (NHD).
Greatly improved 30 meter National Elevation Dataset (NED).
Nationally complete Watershed Boundary Dataset (WBD).
A set of value added attributes to enhance stream network navigation, analysis and display.
An elevation-based catchment for each flowline in the stream network.
Catchment characteristics.
Headwater node areas.
Cumulative drainage area characteristics.
Flow direction, flow accumulation and elevation grids.
Flowline min/max elevations and slopes.
Flow volume & velocity estimates for each flowline in the stream network.
Catchment attributes and network accumulated attributes.
Various grids from the hydro-enforcement process including the hydro-enforced DEM.
NHDPlusV2 attribute and vector data are distributed by hydrologic regions (HUC2) or, in the case of regions 10 and 03, parts of hydrologic regions. These regions or parts of regions are called Vector Processing Units (VPUs). The NHDPlusV2 raster components are distributed by sub-parts of VPUs called Raster Processing Units (RPUs). A national shapefile of the VPU and RPU boundaries is available.
In addition to the user guide and metadata, the release notes that are posted with each VPU contain supplemental information describing data lineage.
NHDPlusV2 Data Map
Select the data region of your choice by clicking on the map below or selecting the name from the list.
Learn More about NHDPlus
We encourage first-time users to familiarize themselves with the following sections of the NHDPlusV2 User Guide (under "Documentation" below), before starting to work with NHDPlus data.
   •  Introduction to NHDPlus
   •  NHDPlusV2 Data Structure
   •  A Guide for Installing NHDPlusV2 Data
   •  NHDPlusV2 Distribution Files and NHDPlusV2 Components
   •  Understanding and Using NHDPlusV2