EPA Investigating Milwaukee Company for Potential Environmental Violations
On November 27, 2017, EPA issued Notices of Violation to three facilities owned and operated by Container Life Cycle Management, LLC, also known as Mid-America Steel Drum Co., alleging violations of the Resource Conservation and Recovery Act and the Clean Air Act.
U.S. Environmental Protection Agency is investigating three industrial facilities in Milwaukee, Oak Creek and St. Francis, Wis., for potential environmental violations. The three facilities are owned and operated by Container Life Cycle Management LLC, but also operate with the name Mid-America Steel Drum Co., (MASD). EPA is investigating these facilities in response to public complaints and Milwaukee-area news reports. Other state and federal agencies are also investigating the facilities, including the Wisconsin Department of Natural Resources, the federal Occupational Safety and Health Administration, and the U.S. Department of Transportation. EPA is investigating each of the MASD facilities to determine compliance with environmental regulations.
MASD reconditions industrial containers. The three facilities in the Milwaukee area accept used containers such as drums or totes from other companies and process them either for disposal or reuse. MASD has capabilities to wash or burn out the residual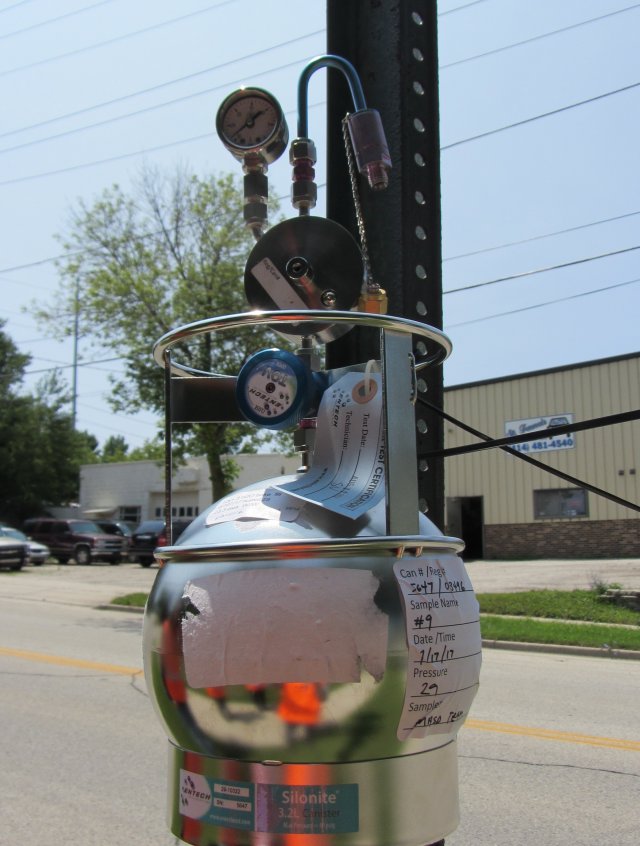 Air canister collects ambient air samples outside the St. Francis facility for analysis.chemicals inside the containers. After processing, MASD may paint the containers and inspect them for defects. The containers that pass inspection are then sold to customers. Containers that do not pass inspection are discarded or sent to a steel or plastic recycler.
Since early 2017, EPA has conducted multiple site visits of the MASD facilities in Wisconsin. These site visits were conducted to evaluate the container reconditioning processes, evaluate compliance with applicable environmental regulations, and to collect different types of samples inside and outside the facilities for analysis.
Soil Sampling
In July 2017, for example, EPA collected soil samples in the area surrounding the MASD facility in St. Francis. EPA took soil samples to determine if metals had contaminated the ground around the facility. Analysis of the soil samples indicates that metals were detected at concentrations that are typical for the Milwaukee region and do not present an immediate concern.
Air Sampling
EPA also collected air sampling in the area surrounding the St. Francis facility in May, July and August 2017. The air samples were collected in response to resident complaints of visible and smelly emissions from the facility. Analysis of these air samples, does show the presence volatile organic compounds associated with industrial activity. EPA is working with the federal Agency for Toxic Substances and Disease Registry to analyze the air samples and determine if the emissions pose a risk to human health. ATSDR is a federal public health agency.