Odor Explore: A Citizen Science Project Using a Mobile App and New Measurement Approaches
On this page:
Background
Many communities are impacted by a variety of unpleasant odors because of their location. Common odor producing sources outdoors include chemical plants, industrial facilities and operations, wastewater treatment plants, landfills, and animal rendering plants.  
Persistent odors from air pollution sources can be a nuisance and also may cause health concerns for impacted communities. Many compounds can cause odors including volatile organic compounds (VOCs), hazardous air pollutants (HAPs), and sulfur compounds (for example mercaptans and hydrogen sulfide). Even if odorous compounds are not considered hazardous to human health, they can impact well-being for community members, causing stress, confusion, and concern about exposures.   
Odors are particularly difficult to address because they can persist indefinitely or can be unpredictable – here one minute, gone the next. Additionally, the technologies currently available to measure the compounds contributing to odors are still mostly nose-based.
State, county and tribal agencies that receive odor complaints face challenges to responding because of the unpredictable nature of odors, limited resources, and lack of tools to investigate and resolve odor complaints.
Research Objectives
EPA scientists are partnering with the Louisville Metro Air Pollution Control District (APCD) to develop an odor reporting tool to capture detailed information about odors. The overall objective is to explore how community science-generated data and complementary next generation emissions measurement (NGEM) approaches can be used to better understand and identify odorous air pollution emissions. Specific research questions include:
How can an odor reporting tool help address community concerns about air pollution emissions?
How can this tool improve transparency between community, state/local governments, and industry on issues related to odors and air pollution?
How can this tool help facilitate the handling of odor complaints?
How can the information gathered on odors help agencies and industry evaluate air pollution and odor control strategies?
Research Approach
EPA is developing an odor reporting tool in the form of a mobile app. This app, called "Odor Explore," will enable the public to report odors in their community and view odor reports submitted by others. The Odor Explore app relies on one of the most powerful technologies that exists – the human nose. The Odor Explore app is being developed for both iPhone and Android mobile devices.
Detailed odor descriptions that can be provided using the app are key pieces of information for agencies responsible for handling odor complaints and investigating possible emission source(s). A common difficulty when reporting odors is describing the smell because everyone responds to and characterizes smells differently. 
To facilitate capturing detailed odor descriptions, the Odor Explore app uses what is called an "Odor Wheel." An odor wheel organizes odors into broad "smell type" categories and then divides those categories into more specific odor descriptions for selection. The odor wheel is a useful feature as it helps provide agreement on predominate odor types.
The wheel can be with input from who experience the odors regularly and are therefore more knowledgeable. Additionally, the wheel can be modified for other cities and locations because different areas have different sources that contribute to odors.
To generate an odor report, the Odor Explore app walks users through four simple questions to gain as much information as possible about the odor:
What are you smelling? Users can click on the odor wheel and select one or more odors from the broad categories and/or more specific odor descriptions.
How strong is the smell? Users can indicate the intensity of the smell by clicking on options including slight (weak), moderate, strong, or very strong.
How long has the smell been happening? Users can indicate the duration of the odor by clicking on options including just started, less than an hour, a few hours, about a day, several days, or not sure.
Any additional information to add? Users can optionally list any additional information related to the odor.
Once submitted, the odor report will be displayed on map for other users to view.
In addition to detailed odor reports, having information on the chemical composition of odors is valuable. EPA scientists are also exploring the use of remotely operated canister samplers (ROCS) they developed to collect and identify odorous VOC measurements. The ROCS can be remotely triggered by a text message. Scientists will investigate how the odor reports submitted to the Odor Explore app can be used to automatically trigger the ROCS system.
Ultimately, scientists hope to evaluate how community science data using the app and new measurement approaches can be combined to understand VOC and other emissions that may contribute to odor problemsinformation can help in managing air pollution and odor control strategies.
Pilot Project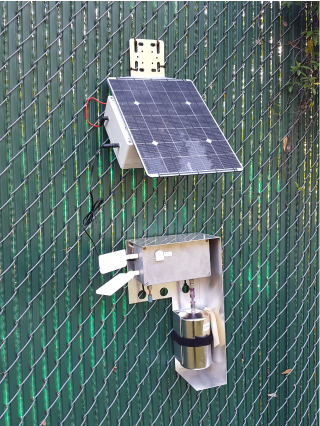 A small pilot project of the Odor Explore app has been planned for 2021 in Louisville, Kentucky, in and around the Rubbertown area. Rubbertown is a historic industrial area in west Louisville that faces ongoing issues with odors and air toxic emissions resulting from sources such as chemical plants, industrial facilities, sewer systems, and many others.
The pilot is a citizen science project that involves community volunteers who will use the Odor Explore app and submit odor reports in the app. Following the pilot, feedback will be gathered about the app functionality, general ease-of-use, usefulness of the odor wheel, and recommendations to improve the app.
The ROCS system will be deployed in Louisville to evaluate how the odor reports can be used to trigger the system to collect VOC measurements associated with odor events.
The pilot will support further development of the app with the goal to make it available to the public in the future.
Project and Community Partners
Louisville Metro Air Pollution Control District
West Jefferson County Community Task Force
Related Resources
Next Generation Emissions Measurement (NGEM) Research for Fugitive Air Pollution
Next Generation Emissions Measurement and Odor Projects in the Rubbertown Area (Louisville, KY) – Presentation on February 27, 2020
Next Generation Emission Measurements Help Understand Air Pollutants in Rubbertown Industrial Area of Louisville, Kentucky -- Science Matters Newsletter article
EPA Air Toxics Monitoring Project in Louisville