Wildland Fire Research to Protect Health and the Environment
The west and other parts of the US have experienced significant forest fires in recent years. These fires have been devastating to infrastructure, yet there is limited knowledge of the human health impacts of smoke emissions — both short term and long term. EPA is using its expertise in air quality research to fill the gaps in scientific information and to develop tools to prevent and reduce the impact of smoke from wildfires and controlled or prescribed burns.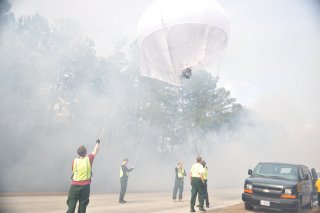 Research activities include:
Study health effects of smoke and evaluate potential solutions to reduce impacts
Improve methods to measure smoke emissions, and improve models that predict smoke exposure
Investigate effects of erosion from burned areas on water quality 
Identify and help protect susceptible human populations and ecosystems
Evaluate communication strategies to find effective ways to reduce risks
Research Areas
Featured Research and Activities
Publications and Other Science Resources
Smoke Sense Study and App
Smoke-Ready Toolbox for Wildfires
The Smoke-Ready Toolbox provides a suite of resources and tools to help educate the public about the risks of smoke exposure and actions people can take to protect their health.