Emergency Response and Management Activities
This page highlights EPA's emergency management activities and accomplishments from around the country. These activities showcase EPA's unique emergency response capabilities through the use of cutting-edge technologies and innovative cleanup strategies.
Fall 2017
EPA'S RESPONSE EFFORTS TO HURRICANES HARVEY, IRMA, AND MARIA
When EPA's response efforts for Hurricane Harvey began in late August, few imagined that two additional major hurricanes would hit the country in the following weeks. Months later, EPA continues to actively respond to the devastation.
Across all impacted areas, drinking water and wastewater systems suffered. EPA teams assessed over 5,900 drinking water systems and nearly 1,200 wastewater systems. Efforts included includes sampling, analysis and lab support, and getting wastewater treatment systems up and running.
EPA completed assessments of nearly 250 National Priorities List (NPL) sites, EPA removal and oil sites, as well as at more than 1,300 regulated facilities.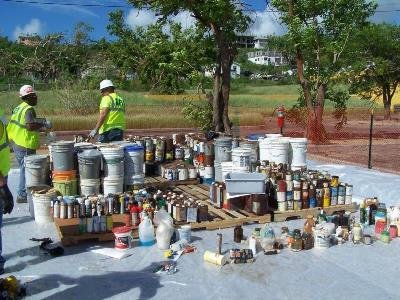 EPA coordinated with the Federal Emergency Management Agency, the U.S. Army Corps of Engineers, and local governments on an overall debris management strategy to keep hazardous waste out of the environment. These actions maximized recycling efforts by segregating debris piles and minimized the amount of waste going to landfills. EPA assisted with the handling and disposal of:
household hazardous waste,
medical waste,
e-waste, and
orphan containers, including more than 1,500 containers displaced by the hurricane found floating in or washed up near waterways.
EPA also conducted air monitoring at collection areas and during all hazardous materials operations.
In Puerto Rico, U.S. Virgin Islands, and Florida, EPA and U.S. Coast Guard teams collaborated to recover more than 1,800 sunken vessels. EPA's role included recording the vessel's location and collecting information such as:
the name of the vessel and identification number,
condition,
impact to surrounding areas and/or sensitive/protected habitats (e.g. mangroves, coral reefs) for future recovery missions and owner notifications. 
EPA prioritized the recovery of vessels found to be actively leaking fuel or hazardous materials, placing containment and absorbent booms to decrease contamination. Once the damaged vessels arrived onshore, EPA handled various hazardous materials for recycling and disposal, including petroleum products (oil, gas, or diesel fuel), batteries, and e-waste.
In Texas, communities worried about Hurricane Harvey's impact at NPL sites and other industrial facilities. Material at the Arkema Chemical Plant caught fire, and local officials requested EPA's help. EPA monitored smoke and air quality, deploying ASPECT to monitor for airborne toxic chemicals and the potential for additional fires in the area. EPA also collected downstream surface water samples at four locations outside the evacuation zone, to analyze for volatile and semi-volatile organic chemicals.
For each event, EPA mobilized quickly, deployed personnel, activated Emergency Operations Centers, and established incident command posts. In Puerto Rico, EPA personnel were the first responders of any kind to reach some rural communities.
EPA remains focused on environmental impacts and potential threats to human health, as well as the safety of those in the affected areas.
---
Summer 2016
On June 3, 2016, a 96-car train carrying crude oil derailed near Mosier, Oregon, a small town along the Columbia River. The Columbia River serves as a major transportation route for barge, rail, and truck traffic carrying goods to the west coast and beyond. 
The derailment occurred near Rock Creek, a direct tributary about 400 feet from the Columbia River. The location of the derailment is considered culturally and historically important to Native American tribes like the Confederated Tribes of the Warm Springs in Oregon and the Yakama Nation in Washington.
Sixteen cars derailed and three caught on fire. The derailment ripped off a sewer manhole cover, causing oil to spill into Mosier's wastewater treatment plant. Local law enforcement evacuated more than 140 residents from a nearby residential area that was adjacent to the spilled oil and resulting forest fire. Residents of the City of Mosier were placed on evacuation alert in case things got worse.
This derailment had all of the markings for a potentially large environmental disaster. An estimated 47,000 gallons were released from these train cars. However, EPA has been training on this very scenario. EPA's earlier exercises tested the coordination
procedures needed among many state and local groups that would be involved in the cleanup. It included representatives from four Tribal nations, and about 100 representatives from all levels of government in Washington and Oregon.
EPA Region 10 personnel integrated into a diverse response group including:
15 fire departments from across Oregon and Washington,
The Oregon Department of Environmental Quality,
The Washington Department of Ecology,
Yakama Nation, and
Union Pacific Railroad. 
Boom was deployed along the Columbia River and Rock Creek to prevent the spread of oil. Foam was used to extinguish the fire. Soil contaminated by oil was excavated to a nearby site. The evacuation order for Mosier residents was never issued because the situation did not worsen.
On April 25, 2016, the EPA received an anonymous complaint about unsafe handling and disposal of asbestos during the demolition of a burned-out mobile home in Oregon. The mobile home was in Pleasant Hill, a rural, residential community near Eugene in western Oregon. Asbestos is a hazardous substance commonly found in building materials. When inhaled, it can lead to a number of diseases, including lung cancer, mesothelioma, and asbestosis. 
The county-run Lane Regional Air Protection Agency found asbestos and asbestos contaminated debris at the demolition site, the home of a demolition crew member, and a local landfill. County officials specifically instructed the demolition crew member not to move any asbestos or debris from the demolition site. 
On May 4, EPA Region 10 response personnel went to Pleasant Hill to determine what kind of cleanup was needed. 
Working hand-in-hand with Lane County health officials, EPA informed local residents of the health risks of asbestos and their plan for cleaning it up. Community members were given an opportunity to provide their concerns and feedback on the cleanup plan. Those in attendance were supportive of EPA clean-up efforts. 
This cleanup involved the removal of about 193 cubic yards of asbestos – or roughly 39,000 gallons – from the demolition site, the crew member's home, and the landfill. Household hazardous materials containers and electronic waste – like televisions and computer monitors – were also cleaned of asbestos before recycling.
---
Spring 2016
EPA exercises various response scenarios as a critical part of its strategy for preparing for emergencies. On September 22, 2015, EPA Region 10 hosted an exercise involving a hypothetical train derailment that released 150,000 gallons of crude oil into the Columbia River in Portland, OR. The derailment would have significant impacts to the local environment and tourist economies and regional commercial transportation.
Four Native American tribes have fishing rights and culturally-significant sites in the Columbia River and on its shorelines. The Yakama Nation, Umatilla Tribe, Makah Tribe, and approximately 100 representatives from different levels of government participated in the exercise. It focused on the coordination that would be an essential part of any response of this magnitude.
Three collaborative sessions were held to establish an understanding of how federal and state governments respond to oil spills. There was also discussion about the operation of a hydroelectric dam on the Columbia River and the cultural and economic importance of the river's natural resources to the tribes. Input from area tribes was critical to the success of the response and ensuring that their treaty rights are protected
In late December 2015, a major weather system dropped approximately ten inches of rain over three days across much of the central United States. The Meramec River basin hit record flood stages in the St. Louis area, and 14 people died. More than 9,500 customers
lost power. Many area roads and highways were closed, and several thousand homes and businesses were flooded in four counties in the St. Louis area.
A federal emergency disaster declaration was made for the flooded areas. The Federal Emergency Management Agency tasked EPA Region 7 with  curbside collection and disposal of household hazardous waste, freon-containing household appliances, electronic goods, and orphaned hazardous material containers. EPA also collected and disposed of all flood related demolition debris, sand bags, and wood debris from homes and public areas in the flood zone.   
From January to late February 2016, EPA's work resulted in the recycling, treatment or disposal of more than 2,200 dump truck loads of residential flood debris. EPA's response teams collected more than:
300 drums,
20,000 assorted small containers,
100 large containers,
170 propane tanks,
260 compressed gas tanks,
1,000 major appliances such as refrigerators and stoves,
400 batteries,
170 small engines, and
6,000 other electronic items.
Field teams outfitted with mobile geographic information system (GIS) apps collected and updated target information while on collection runs. Geotagged photos, impacted areas, and waste target data were captured and streamed near real-time to a web site that was used by responding agencies. This enabled EPA and its federal and state partners get a better picture of response operations, direct response crews, and track progress.
---
EPA Leads Coordinated Response to Local Mercury Spill in North Dakota
On June 4, 2015, an emergency call reported children playing with a jar of mercury that spilled onto a sidewalk in Grand Forks, ND. The spill occurred adjacent to storm drains less than a half block from a local elementary school. The Grand Forks Fire Department discovered that the mercury had been tracked through area homes and possibly into the school. EPA assistance was requested, and an EPA On-Scene Coordinator (OSC) was mobilized.
Once the OSC arrived, the first steps were to remove visible mercury and determine the levels of mercury vapor. Fire department personnel recovered approximately three pounds of elemental mercury in a jar at one of the homes, and a family with four children was evacuated. The Grand Forks Health Department worked with school authorities to notify parents and neighbors.
After the mercury was removed, an assessment was conducted, and the list of potentially contaminated properties was reduced to a few residences. Air monitoring in one of the homes measured at 7,500 ng/m³, much higher than the action level of 300 ng/m³. Six children and an infant were sent to the hospital for checkups. The OSC coordinated with the Centers for Disease Control to review the children's lab results and consult with county health officials.
The cleanup involved up to 10 lbs. of elemental mercury. The kitchen floor, a dozen rugs, and 38 bags of miscellaneous household items were removed and disposed. Two 55-gallon drums of contaminated soil and several cubic yards of sod were also removed. Another home required heating and ventilating for several days to reduce mercury vapors to acceptable levels.
EPA Prepares Nearly 1,000 Containers of Chemicals for Disposal in Rural Community in Oregon
In February 2015, EPA and the Oregon Department of Environmental Quality (ODEQ) performed an inspection of a rural residence near Dexter, OR. Approximately 1,000 containers of various sizes were strewn across the property, and EPA was in charge of characterizing and disposing the containers.
Most of the containers were sitting on bare ground, and a majority of them were damaged and leaking or ruptured. The contents of many of the containers were unknown, and some were labeled to contain acids, corrosives, electrical-insulating fluid, flammable liquids, and various solvents. EPA personnel dressed in chemical protective suits to conduct an entry into a recreational vehicle that was used to store more than 250 containers of chemicals.
Over the course of two weeks the contents of all of these containers were characterized, segregated, packaged, transported, and disposed off site. Additionally, the top layer of contaminated soils was removed from the surface, and prepared for disposal. With support of EPA contractors, more than 888 containers were removed from the site, and 16,000, small glass ampules of chromic acid were consolidated into 55-gallon drums for disposal.
---
Past Activities
2015

EPA Protects Yellowstone River from Oil Spill

In January 2015, approximately 1,200 barrels of oil were released into the Yellowstone River when a 12-inch pipeline buried beneath the river was compromised.

Temperatures had dropped to minus 5 and ice, as much as 5-feet thick, covered the Yellowstone near Montana's border with North Dakota. The location of the spill and the frigid temperatures made this response particularly challenging.

The frozen water prevented the oil from coating the banks of the river but also made the sheen difficult to track by sight or smell. As soon as pressure gauges revealed that a release had occurred, Bridger personnel shut off valves on either side of the Yellowstone, isolating 900 barrels of oil. Bridger was able to recover a large portion of that oil, which was trapped in the lines.

EPA arrived on-scene and began working with the State of Montana and Bridger personnel. Crews worked on the ice, tethered to wind powered boats that skated on the frozen surface. They collected what oil they could but were only able to clean up 60 barrels of the spill.

Another challenge was the condition of water coming from the Glendive water treatment plant, which is 6.5 miles downstream on the Yellowstone. Customers were complaining of bad taste and odor, but there was no visible oil or odor. Water sampling revealed elevated levels of hydrocarbons.

A "do not consume" advisory was issued, and bottled water was distributed to area residents. Work began to flush the plant's distribution system, and instructions were sent to area residents on how to flush their homes. The entire distribution system flush took about 36 hours, and soon after, an all-clear was issued. A fish consumption advisory was also issued immediately after the release, but testing indicated that volatile organic carbon (VOC) levels in the water had declined.

Within a few weeks, temperatures began to soar, and the ice became too thin to safely support work crews. EPA anticipated that oil trapped in cracks in the ice would cause a surge of off-gassing at the plant when the ice break-up occurred. The City of Glendive took measures that enabled them to provide treated water to the city for roughly 2.5 days without adding any water to the system.

On March 14, the ice on the Yellowstone River upstream of the plant began to break very quickly because of the rising temperatures. The City shut down its water intake and issued a request for residents to conserve water while adjustments were made and bottled water was made available.

The ice broke, and as expected, concentrations of VOCs spiked. EPA and the other responding agencies, in consultation with the City of Glendive, decided to add an aeration unit to strip VOCs and aid filtration. The following day, with additional treatment in place, the City of Glendive resumed pumping water from the Yellowstone River.

EPA Cleans Up Abandoned Biodiesel Plant in Odessa, WA

In March 2015, EPA Region 10 deployed to assess and clean up an abandoned biodiesel plant in Odessa, WA after the Washington State Department of Ecology requested assistance.  They were concerned that uncontrolled hazardous wastes, chemicals containers, and other unsecured hazardous substances could pose a threat to human health and the environment. The site was abandoned in June 2014 and encompasses approximately four acres with a large facility building and exterior tanks.

The interior of the building contained several unsecured large tanks and chemical totes that had not been drained and decontaminated. Many drums and totes were leaking and in poor condition. Several incompatible chemicals were stored together and posed risk of a spontaneous chemical reaction or explosion. EPA found approximately 1,000 chemical containers ranging from large above ground storage tanks to totes and buckets in various states of integrity.

Chemicals found onsite included:

methanol,
sodium methylate,
glycerin,
sulfuric acid, and
sodium hydroxide. 

Many totes of sulfuric acid were found leaking, and valves on storage tanks appeared to be corroding with crystals forming on them. Immediate action was necessary to stabilize and clean up the site. All chemicals were processed and segregated into appropriate waste streams for disposal, and all tanks were emptied of product. It took ten days to stabilize the numerous chemical totes, sacks, and other containers located on the property and treat and dispose of the wastes.

EPA Cleans Up Radiological Contamination in Boise, ID

In October 2014, EPA Region 10 responded to an apartment in Boise where radioactive materials and radiological contamination were found. The Idaho Department of Environmental Quality and the Nuclear Regulatory Commission (NRC) discovered that a resident collected radiological materials, including items containing Americium and Uranium. The resident was processing some materials, which resulted in loose radioactive material contaminating the apartment and the sidewalk outside.

EPA's response team included two On-Scene Coordinators and other support personnel.  Cleanup preparations included:

temporary relocation of the two apartment residents and several meetings with the apartment complex residents;
a radiological survey of adjoining apartments and outside areas;
development of communications materials; and
clean up of two vehicles belonging to the apartment residents, garages and storage units.

EPA was supported by an 8-person radiological emergency response team headed by the Department of Energy.  An assessment of the area revealed 102 radiological sources or radiologically contaminated items, which were removed from the apartment, vehicles, and storage unit. An additional 36 non-radiological hazardous substances were removed.

In December 2014, EPA was notified by the NRC that the apartment resident had also potentially contaminated a metal fabrication facility in Boise. According to the shop owners, the resident asked them to cut a block of depleted uranium into smaller pieces, which may have resulted in contamination.

EPA found and cleaned up uranium contamination on the facility's metal grinder. EPA also coordinated with the U.S. Agency for Toxic Substances and Disease Registry and the Idaho Department of Health and Welfare to answer questions and educate potentially exposed workers at the metal shop.

EPA Responds to Train Derailment and Crude Oil Release in Galena, IL

On March 5, 2015, EPA responded to the derailment of a Burlington Northern Santa Fe (BNSF) train approximately three miles southwest of Galena, IL. The derailment happened adjacent to the Galena and Mississippi Rivers. Twenty-one cars derailed, and twelve burned and released more than 300,000 gallons of crude oil to the ground. More than 400 personnel from federal, state, and local agencies were involved in the initial response. 

Responding to the incident took considerable coordination and planning. EPA's monitoring and response efforts had to be conducted in conjunction with the Federal Railroad Administration's accident investigation and BNSF's repair of the rail line.

More than 50 trains run on this line daily, and a bike path was the only way to access the site. During the initial phase of response, EPA conducted air monitoring to assist in documenting the potential threat to the community from the ongoing fire.

EPA, Jo Daviess County, Illinois EPA, and BNSF then addressed the threat of release of crude oil to Harris Slough, which runs west of the derailment site. EPA's response team provided:

oversight of site safety;
sampling of air, soil, and water; and
direction on appropriate response activities.

Response activities included:

removing the remaining oil from the  de-railed cars and from the surrounding area;
removing pooled oil and water from a nearby wetland between the tracks and Harris Slough; and
installing containment to prevent contamination of Harris Slough.

EPA and the response team recovered more than 260,000 gallons of crude oil and oil-water mix. Approximately 217,000 gallons of contact water were treated, and more than 3,500 tons of contaminated soil were excavated.

EPA Cleans Up Lead Contaminated Soil in Terre Haute, Indiana

In 1997, Indiana's Department of Environmental Management (IDEM) discovered hazardous wastes from a metal scrapping facility in approximately 28 acres of wetland near downtown Terre Haute.  Foundry sand and furnace bag house dust, which are used to make metal castings, were disposed of improperly throughout the facility.  Lead contamination was also found.  Lead poisoning can cause abdominal pain, fatigue, difficulty concentrating, and headaches. 

IDEM performed initial cleanup. However, EPA was needed for additional work before the City could begin construction on a new walking path and improvements to the local sewer system. The City documented various wastes including:

abandoned drums,
aboveground storage tanks,
automobile salvage,
foundry sand,
coal ash, and
cinders in areas of the wetland that were not addressed by IDEM.

EPA began cleanup in May 2014. Activities included assessing the drums and tanks, determining the extent of the lead contamination in the soil, and stockpiling and disposal of waste. Approximately five acres of the site were evaluated for elevated metals in waste piles and surface soil, and elevated lead was found throughout the site.

Waste piles and approximately 2,000 tons of contaminated soil were excavated. Barriers were placed around the contaminated areas and were backfilled and graded with clean soil. Cleanup was completed in August 2014, allowing the City to begin construction of the sewer improvements and walking path.

EPA Removes Asbestos and PCB Contamination from School in Tazlina, Alaska

The Copper Valley School in Tazlina, Alaska was boarding school for native Alaskan children that closed in 1971. A fire swept through the main school building in 1976, and the resulting debris pile remained unattended for almost 40 years.

Many hazards existed throughout the property including:

exposed asbestos fibers;
polychlorinated biphenyls (PCBs);
unstable buildings;
dumpsites;
open well shafts and pits;
underground storage tanks; and
containers of unknown substances.

The asbestos and PCBs were the main hazards that were addressed by EPA. Exposure to asbestos increases risk of lung disease and mesothelioma. PCBs have been linked to cancer and other effects on the immune, reproductive, nervous, and endocrine systems.

EPA began cleanup in August 2013. Cleanup activities performed included:

surface pickup of asbestos containing materials (ACM) from around site structures;
removal of ACM, with sorting of demolition debris;
investigation and cleanup of various dumpsites throughout the site;
a property-wide search for other potential dump sites; and
off-site transportation and disposal of hazardous materials.

Approximately 900 bags of exposed asbestos fibers and 3,400 cubic yards of asbestos were transported for disposal. Two drums of PCBs and various batteries and greases were also disposed. Approximately 12,000 cubic yards of concrete and metal debris and seven underground storage tanks were also removed from the site. Cleanup was completed by October 2014.
2014

EPA Cleans Up Abandoned Drum Reconditioning Facility in Gloucester County, NJ

On August 29, 2013, the New Jersey Department of Environmental Protection (NJDEP) requested assistance from EPA in investigating a former drum reconditioning facility in Gloucester County. Within hours, EPA On-Scene Coordinators (OSCs) responded and found thousands of deteriorated and unlabeled containers. Most of them were 275-gallon totes and 55-gallon drums located along a public road and in the woods, wetlands, and elsewhere throughout the unsecured property.

Containers were stacked several high in multiple locations with many leaking, bulging, rusting, or missing tops. Others were damaged by gunshots, placed on their sides, or stored improperly in open and damaged trailers. The OSCs used thermal imagery to determine the majority of the containers were full. EPA obtained a warrant to assess the site after the property owner refused access and collected soil and surface water samples. Material from approximately 250 containers was also collected.

Results indicated that many of the drums contained hazardous materials, including flammable, corrosive and oxidizing liquids as well as cancer-causing volatile organic compounds. To protect the public, EPA provided:

24-hour security guards,
repackaged leaking containers,
installed fencing along the public road and protective berms, and
monitored the air quality of the site.

EPA also set up an on-site laboratory and sampled more than 2,100 containers to determine their contents. EPA and its mobile Portable High-throughput Integrated Laboratory Identification System (PHILIS) laboratories were used to conduct off-site analysis of materials. Similar materials were grouped for off-site transport and disposed by September 2014.

EPA Cleans Up Oil that Threatens Wildlife Area in North Dakota

Flooding from melting ice dams damaged an oil well pad that sent more than 170 barrels of crude oil into the waters of the Yellowstone River in March 2014. The oil threatened multiple endangered species in the Big Oxbow wildlife area in North Dakota, including the pallid sturgeon, piping plover and least tern.

As the ice melted, the well pad became inundated by rising water.  The water lifted a tank and broke a valve, destroying connected piping. One of the well pad's berms failed, releasing the oil and sending a plume of petroleum toward the point where the Yellowstone meets the Missouri River.

Frigid temperatures and heavy snow presented problems getting to the site. The Big Oxbow is only accessible by boat, and an EPA On-Scene Coordinator (OSC) and State OSC had to navigate around icebergs. Motorized vehicles were not allowed on the island wildlife area, so the entire response had to be conducted by boat or on foot.

Under EPA and State direction, the oil company's contractors deployed boom to prevent spread of the oil, and they removed heavily-stained vegetation. A bathtub ring of crude oil was cleaned from the Big Oxbow embankments and more oil was recovered downriver.

One of the biggest concerns was that clean up needed to be finished before the pallid sturgeon spawning season began, and the birds returned to Big Oxbow for nesting. The cleanup was completed by early May in time for spawning and for a local paddlefish tournament to kick off uninterrupted.

EPA Removes More than 3,000 Containers of Chemicals from House in Seattle, WA

In March 2014, EPA Region 10 was notified by the Seattle Fire Department about a residence in Green Lake neighborhood with a large amount of improperly stored chemicals. The house was occupied by an elderly former research chemist and his sister. Numerous containers of chemicals were stored improperly inside the home and in the yard. 

An EPA team, including two On-Scene Coordinators (OSCs), was sent to deal with the chemicals. Preparation included: 

obtaining of an administrative warrant, 
coordinating entry into the home with the US Marshals Service, and
coordinating with the local fire department.  

Cleanup activities took nine days. The response presented many challenges, including: 

relocating the residents during cleanup, 
removing highly dangerous substances in a densely-populated neighborhood, and 
obtaining sufficient labor with very short notice.

EPA, the Washington Department of Ecology, and the Washington National Guard analyzed, categorized, and removed more than 3,600 containers of chemicals, more than 2,000 were unlabeled. As many as 25 workers spent more than 2,200 labor hours to assist with chemical removal. Chemicals identified on site included strong acids, oxidizers and reactives. Waste shipped off site included many different types of hazards. 

On June 4, 2013, EPA Region 8 responded to state and local requests for assistance in dealing with a massive amount of improperly stored chemicals and debris in a residential area of North Salt Lake, UT.

Hazardous material containers were stored in small enclosures, such as refrigerator boxes, sheds, and recreational vehicle trailers. Not only were the containers deteriorating, but the enclosures were in such poor shape that there were safety concerns that limited an in-depth investigation. Huge amounts of debris on the property also hindered cleanup.

Local responders were not equipped to handle the large number of deteriorating and bulging containers of unknown waste. Assessments were conducted, but a call was made to EPA once they realized that the situation required a larger response.

EPA arrived and began cleanup immediately. Safety was a primary concern for response personnel and nearby residents. The site contained large trailers and storage sheds packed with containers, many of which had deteriorated over time. Other chemicals were stored in the open, and identifying the containers was a challenge. Some containers had missing labels, outside containers had labels that were unreadable, and often incompatible chemicals were stored together.

Containers were sorted into compatible groups or hazardous categories such as flammables, explosives, toxics and corrosives. The containers were re-packaged into large, insulated chemical-resistant drums, so that they could be safely transported. During the cleanup process, some explosive materials were found, and the North Salt Lake City bomb squad removed them safely from the scene.

By the time site cleanup was completed in December 2013, more than 22,000 containers were removed and transported to disposal facilities.

Long-Burning Fire at Tire Recycling Facility Extinguished in Peñuelas, Puerto Rico

On August 21, 2008, a fire broke out at a tire recycling facility operated by Integrated Waste Management (IWM) in Peñuelas, Puerto Rico. The smell of burning tires was noticeable throughout the surrounding community. The fire was partially extinguished, but it continued to smolder for the next several years. After several unsuccessful attempts to extinguish the fire, the Puerto Rico Environmental Control Board (EQB) asked EPA to take over on March 13, 2014.

EPA collected air, soil, and surface water samples and also conducted air monitoring. Two EPA On-Scene Coordinators (OSCs) identified potential hazards involving:

polycyclic aromatic hydrocarbons,
benzene,
butadiene,
heavy metals,
pyrolytic oil, and
semi-volatile organic compounds.

The OSCs determined the best course of action was to dismantle the burning tire pile. EPA developed a work plan with the Puerto Rico EQB, Fire Department (PRFD), Department of Natural and Environmental Resources (PR DNER), and the PR National Guard.

EPA removed and quenched the smoldering material, relocated it to staging areas, and sampled it to determine how best to dispose it. EPA also provided information to the community about the potential dangers of the fire. Puerto Rico EQB conducted air monitoring in the communities and removed the remaining tires. PRFD suppressed the fire, and PR DNER and National Guard supplied equipment for road clearing and creating fire breaks.

After three weeks of work and coordination with Puerto Rico agencies, the fire was officially extinguished on April 24.

EPA Partnership Leads to Groundbreaking Discoveries and Cleaner Drinking Water

A strong partnership between EPA and the Pennsylvania Department of Environmental Protection (PADEP) has helped lead to a new understanding about MTBE (methyl tertiary-butyl ether). At one time, it was believed that MTBE contamination could not be removed from groundwater, but new information developed by EPA and PADEP has developed a promising fix.

The partnership began when PADEP requested EPA assistance to address the contamination of private drinking water wells in Lehman Township, PA. The drinking water wells contained MTBE and another contaminant known as BTEX (benzene, toluene, ethylbenzene, and xylenes). MTBE and BTEX are gasoline additives.

The pollution source was not initially clear, but an EPA investigation determined that both contaminants came from a leaking underground storage tank at a gas station in the area.  The investigation also showed that MTBE-contaminated groundwater travelled ahead of the BTEX contamination.

This information led to a treatment plan that involved PADEP installing and operating a large scale treatment system that used carbon treatment and air stripping technology. Bacteria and solids were removed from the water using settling tanks and filter presses prior to treatment.

PADEP utilized this process to treat the groundwater for 10 years, and in 2013, EPA monitoring wells confirmed the cleanup of MTBE and BTEX from the groundwater. This was one of the first successful treatments of MTBE in groundwater.

EPA Region 9 Partners with State and Federal Agencies to Clean Up Abandoned Wrecks in Oakland Harbor

In September 2013, EPA led a federal and state effort to address oil and hazardous substances that were released from abandoned wrecks in the Oakland Estuary in Oakland, CA. More than 50 abandoned wrecks and other marine debris were the focus of the clean-up effort, including docks, piers, pilings, and four sunken commercial vessels.

The biggest challenge was getting oil and hazardous material off of sunken vessels. The vessels were evaluated using underwater video, side-scanning sonar, and professional divers to determine if they could be salvaged.

Once the vessels were raised from the water, EPA took the lead on hazardous substance assessment, removal, and disposal. Asbestos, polychlorinated biphenyls, which are known to cause cancer, and heavy metals were detected after samples were taken from the vessels. The State of California handled solid waste disposal and the U.S. Coast Guard was in charge of oil clean up.

Through this partnership, more than 100 tons of hazardous materials were disposed of in March 2014, including:

Approximately 98 tons of asbestos and waste paint,
more than 1,000 gallons of flammable liquids and waste oils,
160 pounds of acidic and toxic liquids,
60 units of expired marine flares and batteries, and
1,700 cubic yards of contaminated sediment and debris.

EPA Called to Respond to Colorado's Epic Flood

Heavy rain began falling in Boulder County, Colorado, on September 9, 2013. Over the next five days flooding would claim four lives, knock out bridges, destroy homes and cars, displace thousands of residents, and ravage the Colorado countryside.

Boulder and Larimer Counties had to reckon with potential leaks from thousands of containers of unknown chemicals. In addition, cars full of oil and gas, refrigerators leaking Freon, and propane tanks dislodged into raging waters had to be managed.

Our first task was to address the hazardous materials releases. On-Scene Coordinators were deployed in helicopters to get aerial views of the two-county area, where they witnessed oil spills and broad devastation. Response crews recovered 35 cars, 329 propane tanks, 259 refrigerators and freezers, 47 batteries, 198 drums, more than 9,000 containers, and many other items.

EPA also had to make sure that flooding didn't damage two cleanup sites in the Lefthand Creek Watershed, approximately 20 miles northwest of Boulder. The site improvements at Elysian Park Tailings were partially destroyed by raging waters that carved out sections of the main road and sent tailings into James Creek. EPA brought in heavy equipment to restore the channel, armored the banks, and restored the cap.

Further upstream, the storm threatened the second cleanup site where mine tailings lined the banks of James Creek. A previous effort from 2005, stabilized the creek banks with cement pillow armoring, preventing heavy metals-laden mine waste from entering the stream. The armoring endured the floods, but required stabilization and restoration, saving Jamestown from being inundated by an estimated 25,000 cubic yards of mine remnants.

EPA's repair of these old clean-up sites and its response to the dangerous flooding provided critical support that the counties needed to recover from the storm.

EPA Protects Mississippi Community from Toxic Ricin

In April 2013, letters containing ricin addressed to the President, a Mississippi United States Senator, and a Mississippi county judge were intercepted at a mail handling facility.

Ricin is a toxin extracted from castor beans. There is no antidote and even small doses can cause severe respiratory distress, lung damage, and death.

The Federal Bureau of Investigation arrested a suspect and found more ricin at a martial arts studio and a trailer house in the Tupelo, Mississippi area. Before those spaces could be re-occupied, the Mississippi Department of Environmental Quality requested assistance from EPA Region 4 to evaluate and decontaminate the locations.

EPA dispatched On-Scene Coordinators (OSC), who drew upon expertise from other EPA OSCs, EPA's Consequence Management Advisory Team and National Homeland Security Team. EPA's good relationship with the State of Mississippi enabled effective lab support and fast-tracking of waste disposal. Through these resources, EPA evaluated and completed the decontamination of the locations in only three days.

EPA Tackles Historical Radiation Contamination in Ridgewood, NY

The Wolff-Alport Chemical Company operated a facility in Ridgewood, New York, near the border between Brooklyn and Queens. Around 1940, the company began importing monazite sand, processing it to extract and sell rare elements to various companies. Monazite sand residues contain thorium and uranium, to a lesser degree. The byproducts from these substances were disposed into a nearby sewer, and other wastes might have been buried on the property until the facility closed in 1954.

Investigations confirmed surface radiological contamination, as well as radiation inside portions of buildings on the site. Deep soil contamination, thoron gas, and radon gas were also found, and there were indications that contamination had spread off site.

These results prompted EPA to address the health risks of exposure to the radiation. Beginning in 2012, EPA focused on areas with the highest levels of radiation, including a rail spur behind the buildings, spaces inside, and nearby sidewalks and streets. EPA found increased radon levels in one of the businesses and installed a remediation system.

By December 2013, construction of thick raised concrete and lead floors was completed in a warehouse bay and a neighboring auto body shop to protect workers. EPA helped the warehouse and auto body shop owners move and store their equipment to minimize impacts.

Testing was also performed at a nearby daycare center and school, but no heightened radiation was found. The project was completed after a fence was installed around the rail spur and shielding was constructed around the sidewalk outside.

EPA Helps Restore Historic Tribal Site Near Eureka, CA

Indian Island is located in Humboldt Bay near Eureka, CA. Only accessible by boat, the island is historically significant because it was the location of the Tuluwat Village of the

Wiyot Tribe. A six-acre area on the island is made of shells and sand deposited over thousands of years and contains tools, artifacts, and human remains dated to 900 A.D.

The site is also the location of the Wiyot Annual World Renewal Ceremony. The tribe has been unable to resume the historical use of the island since a massacre occurred there in 1860. In 1870, a ship dry dock and repair facility was constructed and operated sporadically through the 1970s. Ships were pulled ashore on steel rails, and a variety of chemical wood preservatives and paints were used.

EPA came to the Tribe's aid in July 2013 and was granted unprecedented access to the site.  EPA then graded and installed a cap to prevent contaminated debris and sediment from entering Humboldt Bay and endangering human health. This allowed the Tribe to begin reconstruction of the site.  Now that the contamination threat has been mitigated, the Tribe plans to hold the World Renewal Ceremony in February 2014 for the first time in 150 years.  This would not have been possible without the assistance provided by EPA.

Historical Pollution Concerns Spring EPA into Action in Oakland, CA

Lead contamination is a problem affecting many communities across the country. It's often at its worst in the oldest neighborhoods in urban areas. Communities have been dealing with the legacy of these historical problems for decades. South Prescott in West Oakland is one example of a neighborhood that has dealt with the long-term effects of pollution.

Lead poisoning can cause many symptoms, including abdominal pain, fatigue, difficulty concentrating, and headaches. South Prescott is one of the worst neighborhoods for lead poisoning in Alameda County.

Lead contamination from nearby rail yards, industry, freeways, port activities, and mass transit presented challenges that required an innovative solution. EPA started cleanup efforts by sampling the soil at more than 50 homes and found that 80 percent contained high lead levels.

The next step was to meet with individual residents and community groups to share the findings. EPA worked with the community to develop a cleanup plan that incorporated three goals:

protect high risk populations from lead contamination;
minimize impacts to the community and the environment from the cleanup; and
use local resources, including the talents of local workers, to perform the cleanup.

The plan was a "treat, lock, and cover" cleanup approach that used readily available phosphate to reduce risk of exposure and installing a "green cap." This was received with great enthusiasm by the residents because it minimized the disruption to their community.

Local workers also got involved in the cleanup after we trained them in hazardous waste cleanup techniques. By the time cleanup was done, EPA addressed contamination at more than at 150 homes.

EPA and Oregon State University Improve Chemical Safety in Labs

In June 2013, EPA responded to a serious threat of release of hazardous substances at several labs at State University (OSU) in Corvallis, Oregon. The problems were discovered by EPA and the Oregon Department of Environmental Quality after a waste compliance inspection. Haphazard storage of very old, dangerous, and unstable chemicals could have

easily caused fire, explosion, health risks, and release of hazardous materials to the environment.

Under EPA direction, OSU began addressing the chemicals and allowed inspection and chemical handling procedures at the laboratories for the first time. Five new lab and safety inspectors were hired, and a chemical audit program was developed for the labs.

EPA's involvement prompted OSU to address threats to human health and the environment on its campus. It also helped push some fundamental changes, so these kinds of conditions would not occur in the future. CFD thanked EPA for helping to bring important changes and a safer environment for students, faculty, and staff at OSU.

TCE is one of the most common contaminants of groundwater in the United States. It is known to cause cancer, and it has been associated with birth defects and developmental problems in young children. TCE is not only a drinking water hazard, but exposure also occurs through inhalation during common household activities such as showering and bathing.

Within 24 hours of receiving the request, EPA delivered bottled water to residents with impacted water supplies. By September, drinking water samples had been collected for more than 100 homes to determine the extent of the contamination. TCE was present at levels more than 65 times what is considered safe. EPA also installed whole-house water filters at the impacted homes and conducted additional sampling to ensure the filters were working properly.

EPA then collaborated with NCDENR, the county health department, the North Carolina Department of Transportation, and a private water company to find a permanent solution.  By June 2013, a community water line was extended to the 22 homes impacted by the contamination.

The success of the project was a direct result of EPA working together with several state agencies and the privately-owned water system. Their support made this government-private partnership work, and resulted in a permanent solution that addressed the potential dangers of TCE in Stony Hill.
2013

School in Wyoming Reopens Quickly After Mercury Spill

On Thursday, February 28, 2013, more than 150 students and staff were evacuated from Big Piney High School in Big Piney, WY, after high concentrations of mercury vapor were discovered near the school's entrance. Approximately seven pounds of elemental mercury were spilled in a storage closet the previous day. The spill was not reported immediately, and mercury was spread to other parts of the school. 

Mercury is a liquid at normal room temperature, but it easily becomes a vapor as temperature rises and is extremely toxic when inhaled.

EPA arrived at the school and confirmed the high mercury reading inside the school's main entrance. Classes were canceled for the following day, and extensive cleanup efforts over the weekend led to the school's partial reopening on Monday. Although a portion of the school remained sealed off with plastic sheeting while decontamination efforts continued.

Cleanup efforts of the storage closet and classroom next door included:

cleaning or disposing of the contents of the storage closet,
removal of ceiling and floor tiles, and
vacuuming and washing surface areas with mercury soap, applying sealant to the walls and epoxy on the floors.  
Desks and stools were taken to a heated area to drive off the mercury vapor and were then washed.

The building was vented strategically to enable the flow of air to the outside.

EPA also attempted to decontaminate some of the school's equipment, including a telescope, microscopes, human skeletal and anatomy models, laptop computers and other electronics.  After multiple cleanings and ventings, the telescope and microscopes were still not safe to use, but the other items were successfully decontaminated. By the morning of March 6th, mercury readings were at acceptable levels in all sections of the school.

Sublette County School District sent a letter of appreciation, commending EPA's quick response that protected students and faculty from harmful mercury vapors.

EPA Removes Perchlorate Contamination in Barstow, CA

In November 2010, the Golden State Water Company detected perchlorate in the drinking water supply of Barstow, CA that exceeded safety limits set by the state.  Golden State advised its customers against drinking the water until further notice, and the Governor declared a state of emergency for San Bernardino County.  In December 2010, California requested assistance from EPA to investigate sources of the perchlorate contamination. 

Barstow was also home to Mohave Pyrotechnics, a pyrotechnics manufacturing company that used perchloric acid, a chemical used in rocket fuel, fireworks, flares and explosives.  Perchlorate can interfere with the thyroid gland.

EPA began assessing the situation in March 2011, focusing on the residential property of the former owner and operator of the Mohave Pyrotechnics manufacturing facility.  Perchlorate sampling was conducted at two distinct areas on the property, extending to groundwater. EPA collected more than 200 soil samples from the residence and uncovered a layer of highly concentrated perchlorate in a garden adjacent to the residence.

Thanks to considerable planning efforts, EPA was able to begin removing contaminated soil in December 2012 and complete the process in less than a month. More than 1,000 tons of perchlorate contaminated soil was excavated, transported and disposed. The excavated areas were lined before being backfilled with clean soil.

Abandoned Drums Found and Removed near Poplar Bluff, MO

In March of 2012, EPA responded to a citizen's tip that there were leaking drums at a facility operated by the Southern Machine and Tool Company (SMT). SMT was founded in 1968 and was permitted by the Missouri Department of Natural Resources (MDNR) as a generator of hazardous waste. However, SMT never submitted details of any waste disposal activity, and MDNR deactivated the permit. The facility was later left unattended for years.

EPA tracked down the current owner of the property and found more than 600 bulging and leaking drums and containers of hazardous substances. In addition, sheds that once protected the drums had fallen, creating additional hazards.

As EPA's cleanup began in June 2012, crews spent a lot of effort removing debris and decaying structures just to get to the hazardous materials. Once the containers were accessed, EPA removed and consolidated the contaminated liquids they contained. EPA then crushed the empty drums for disposal as solid waste. By the end of July, the liquid and solid wastes were removed from the site for safe disposal.

With the waste removed, the next step was to investigate the underlying soil for more contamination. EPA collected soil and water samples from the surface and below the surface, and determined that soil needed to be excavated up to two feet in six areas. As a result, more than 60 tons of contaminated soil and approximately 20,000 gallons of hazardous materials were removed from the site. By February 2013, EPA completed the disposal of soil and restored the site to nearly original conditions with clean soil.

EPA Cleans Up Hazardous Chemicals at "Mad" Chemist's Site in Canton, OH

In January 2013, local law enforcement responded to a residential break-in at a duplex located in Canton, OH. While investigating the break-in, local police noticed chemical containers inside the apartment.

The local fire department, Summit County Hazardous Materials Team (HAZMAT) team, Ohio EPA, FBI, and the Canton bomb squad were called in to respond. Ohio EPA and the Summit County HAZMAT team requested EPA's help with identification and disposal of the chemicals. EPA worked with the local and state agencies and coordinated with the FBI to inventory and document the chemicals, perform air and radiation monitoring, and gather additional information from surrounding neighbors.

EPA's response, assessment, monitoring, cleanup, and off-site waste disposal were completed in one day.

EPA Removes Illegally Stored Chemicals in Cedar Falls, IA

EPA completed the removal of thousands of gallons of toxic liquids and hundreds of tons of hazardous soil waste at the Cedar Valley Electroplating facility in Cedar Falls, IA. Cedar Valley Electroplating was formerly involved in electroplating zinc onto carbon steel parts. The company operated an 8,500 square-foot facility in an industrial park adjacent to a day care center and a technical college satellite location.

EPA conducted compliance inspections under the Resource Conservation and Recovery Act (RCRA) and found illegal storage and disposal of electroplating waste chemicals normally considered hazardous waste because of their corrosive and toxicity characteristics. In October 2011, the Cedar Falls Fire Department reported to EPA that the facility had apparently ceased operations, abandoning a large quantity of hazardous waste, including caustic and chromate plating and rinse baths as well as numerous containers of process and waste chemicals.

In February 2012, EPA executed a search warrant at the facility and seized business records and samples from on-site containers. Several containers and

tanks had leaked chemicals onto the building's floor and into the soil outside the building, threatening health and safety at the nearby day care center and technical college. The site was referred to EPA in May after the owners failed to properly respond to a RCRA order. EPA conducted a 13-week clean up that began in the summer and lasted into fall. EPA categorized and disposed of 48,000 gallons of toxic liquids and more than 250 tons of hazardous solid waste to eliminate threats to human health at and near the site.

EPA Orders Disposal of Highly Reactive Zirconium Drum Waste

On December 17, 2011, an explosion killed an employee of Heritage ATI and severely injured a second in East Liverpool, OH, as they were transferring waste from shipping containers to feed into an incinerator.  The waste was turnings from the milling of zirconium metal and generated by the responsible party, ATI Wah Chang.

The reactive milling waste was packed in 55 gallon drums, which was then over-packed in 85-gallon drums saturated with water soluble oil.  Zirconium metal is highly flammable and may ignite in air when dry.  The drums were not known to contain any zirconium metal, and six of the 40 drums were transferred and treated without incident.  Treating the seventh drum resulted in the explosion, and the remaining 33 drums were secured and not processed.

Over the next several months, ATI Wah Chang and Heritage WTI were unable to come to an agreement on how to address the remaining drums.  In April 2012, EPA was contacted by Heritage WTI to coordinate disposal and proper handling of the 33 remaining drums.  In May, EPA ordered ATI Wah Chang and Heritage WTI to properly manage and dispose of the remaining drums of highly reactive zirconium waste.   EPA ensured that the responsible parties completed the necessary actions and worked with the U.S. Department of Transportation Pipeline and Hazardous Materials Safety Administration (DOT-PHMSA).

EPA oversaw the drum stabilization and loading procedures of all remaining drums in July to ensure that they were safely secured for transport to the disposal facility.  A contractor specializing in handling reactive materials stabilized the drums by remotely puncturing the drums and saturating the material with a sodium silicate solution.  The drums were then prepared for shipment and transported to Chemical Waste Management in Arlington, OR for disposal.

EPA Cleans Up Abandoned Uranium Mine Site in Navajo Indian Country

In November 2012, EPA completed the cleanup of radium contaminated soil at the Section 32 Site, an abandoned uranium mine near Grants, NM, in Indian Country on the Navajo Nation. The Section 32 site, located near Navajo residents of the Casamero Lake Chapter, includes an unfenced deep mineshaft, uranium ore transfer station, and mining waste piles covering approximately 20 acres.

EPA conducted an assessment of the radioactive wastes, which pose significant radiation hazards if inhaled, using correlated gamma scanning and collected significant high-quality contamination data. EPA also reached out to the Navajo community using Navajo translators and translated fact sheets to discuss cleanup options. Working closely with the Navajo Nation Environmental Protection Agency, Casamero Lake Chapter officials and the Navajo Nation tribal government, EPA quickly implemented the cleanup plan.

The cleanup consisted of excavation, consolidation and stabilization of almost 30,000 cubic yards of soil contaminated with uranium, radium 226 and radon, spread over more than 550,000 square feet. The vertical mine shaft was backfilled, and the excavated areas were restored with regraded slopes, sediment basins and repaired drainages. Seven water weirs were installed in the excavated area to reduce erosion due to storm water runoff and promote vegetative growth. During the cleanup, air monitoring was conducted to ensure that fugitive dust emissions were minimized. Nearby residents were temporarily relocated to eliminate their potential exposure.

EPA completed the cleanup on November 20, 2012, and will inspect the soil stockpile and storm water controls in the spring of 2013 to ensure they are operating as designed. The cleanup of the Section 32 Site represents a significant achievement in eliminating human exposure to dangerous radium contaminated dusts and is another step toward addressing the harmful legacy left by abandoned uranium mines on the Navajo Nation.
---
Emergency Management on EPA's Greenversations Blogs
EPA Makes a Big Bang in Baton Rouge
CAMEO: A Starring Role in Chemical Emergencies
No Big Red Fire Trucks But We Still Fight Fires
EPA Responds Quickly to Protect Tribal Community
EPA Stands Ready to Protect the Public from Everyday Emergencies
EPA's Mobile Lab Helps Clean Up Vermont Community
---
Regional Newsletters
Region 8 Preparedness Unit Newsletter (PARatus)