Southeast Region's Pollution Prevention Recognition Awards
Pollution Prevention (P2) is any practice that reduces, eliminates, or prevents pollution at its source. EPA's P2 Program is a non-regulatory approach to conserve energy and water, reduce the use of toxic materials, reduce harmful air emissions at the source, and save money.
The EPA P2 Recognition Awards Program is an annual, voluntary, and non-monetary awards program that recognizes organizations whose P2 successes and practices exemplify environmental excellence and innovation.
Organizations that would like to be considered for a P2 Recognition Award should complete the online application questionnaire during the open nomination period every year. 
Check back here for the 2023 online application. (Available Spring 2023) 
Visit EPA's P2 Resources for Businesses to find P2 technical assistance providers in your area.
Who is Eligible?
Organizations—including both nonprofit and for-profit businesses and facilities—located within EPA Region 4 are eligible for a Region 4 P2 Recognition Award. EPA Region 4 includes Alabama, Florida, Georgia, Kentucky, Mississippi, North Carolina, South Carolina, Tennessee and six federally recognized Tribes. Governmental organizations, EPA P2 grant and cooperative agreement recipients, and EPA P2 contractors are not eligible for this award program. However, organizations assisted by Region 4 P2 grant recipients may apply.  
P2 Recognition Awards are awarded to organizations that have implemented pollution prevention projects and/or process improvements at their facilities. Pollution prevention technologies on the market or pollution prevention consultant services are not eligible. EPA does not endorse the products, services, or enterprises of non-federal entities. 
EPA will conduct a compliance screening for all eligible award applications. 
You may be eligible for other EPA P2 awards, which include but are not limited to:
What Projects Are Eligible? 
Projects eligible for the awards must have taken place within the past three years within Region 4. Eligible projects must also meet the goals of the P2 program, which include but are not limited to:
Eliminate or reduce greenhouse gas generation.
Conserve natural resources and materials, including water and energy.
Prevent spills and accidental releases to air, land, and water.
Reduce hazardous materials use.
Promote the purchasing and use of less hazardous or more efficient products and equipment.
Implement green chemistry practices.
Increase a business's efficiency while increasing sustainable practices.
Examples of P2 activities or projects:
Substituting hazardous chemicals with safer alternatives.
Conserving water and/or energy.
Equipment or technology modifications, process or procedure modifications, reformulation, or redesign of products.
Reducing use of raw or virgin materials. 
Reducing chemical use.
Case studies and additional examples of P2 activities and projects can be found in EPA's P2 Resources Search Tool. 
Projects that are not eligible include recycling of discarded materials, waste cleanup or disposal activities, composting, processing non-hazardous solid waste (e.g., paper, aluminum, etc.), or activities that do not reduce the use or release of hazardous substances, greenhouse gases, energy or water.
Applying for an Award
Organizations that would like to be considered for a P2 Award should complete the online application during the open nomination period. P2 efforts must have taken place within the past three years.
The type of information requested on the application questionnaire includes a description of the organization, the P2 practice or project implemented, and the measurable results from the P2 action. The application also provides the opportunity to describe the organization's commitment and leadership in P2, how the P2 efforts benefited the organization and affected communities, and the organization's future P2 goals. 
Scoring: Point values for each question are listed in the application questionnaire. Award recipients will be selected based on their responses to the application questions. Each response has a character limit. Applicants may include relevant photographs, news articles, or other media for consideration. EPA reserves the right to contact the applicant to clarify any questions regarding the application.
For additional information or questions, please contact:
Maggie Reynolds
EPA Region 4 Pollution Prevention Coordinator
reynolds.margaret@epa.gov 
This collection of information is approved by OMB under the Paperwork Reduction Act, 44 U.S.C. 3501 et seq. (OMB Control No. 2008-0004). Responses to this collection of information are voluntary 85 FR 35652. An agency may not conduct or sponsor, and a person is not required to respond to, a collection of information unless it displays a currently valid OMB control number. The public reporting and recordkeeping burden for this collection of information is estimated to be 19.5 hours per response. Send comments on the Agency's need for this information, the accuracy of the provided burden estimates and any suggested methods for minimizing respondent burden to the Regulatory Support Division Director, U.S. Environmental Protection Agency (2821T), 1200 Pennsylvania Ave., NW, Washington, D.C. 20460. Include the OMB control number in any correspondence. Do not send the completed form to this address.
2021 Region 4 Pollution Prevention Recognition Award Winners
Siemens Energy Inc | Richland, MS
Siemens Energy is a manufacturer of high voltage circuit breakers and voltage regulators for the power transmission industry.
Motivated to reduce energy consumption internally, in 2019 Siemens Energy completed a multi-factor project that improved process efficiency and reduced electricity use. Siemens Energy identified two areas within the climate-controlled facility that were losing conditioned air each time equipment entered or exited the building. The facility replaced the traditional roll up doors with high-speed doors, reducing energy consumption by over 60,000 kWh. The company also identified and implemented opportunities of automation and air flow improvements related to compressed air systems, realizing an energy reduction of over 200,000kWh.  The energy reduction project resulted in over 260,000 kWh of annual electricity savings and 239,000 pounds of annual CO2 equivalent avoidance.
Siemens Energy is actively involved in state-led P2 projects through the Mississippi Department of Environmental Quality as well as employee-led environmental initiatives to promote recycling and waste reduction. Siemens Energy's participation in the MDEQ enHance program has challenged them to focus on internal practices and product design to reduce waste at the source.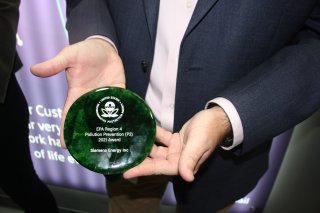 ---
Shutterfly, LLC |Fort Mill, SC
The Shutterfly family of brands together make up an online retail and manufacturing platform for photography and personalized products.
In 2021, Shutterfly changed their process and workflow configuration for card production to decrease waste and materials used. All of the Shutterfly manufacturing facilities increased product batch sizes run by the digital printing presses across each manufacturing facility. This improvement helped Shutterfly achieve their sustainability goals for year-over-year waste reduction and reducing costs by eliminating the use of 267,000 sheets of large-format paper. This is roughly the equivalent of 100 trees. Shutterfly plans to expand this process change to a greater number of products in 2022, further reducing waste produced during the printing process. In 2021, Shutterfly also replaced many of their older presses with newer models that reduce energy usage and VOCs emitted. In 2019, the header sheets were redesigned to reduce ink coverage by 60% per sheet, demonstrating that this approach to production is a key part of the business. 
Shutterfly's P2 activities have contributed to a 24% decrease in waste produced, 7% decrease in energy usage, and reduced impact on natural wood resources through saving thousands of B2-size sheets of paper.
Ford Motor Company | Louisville, KY Assembly Plant
Ford designs, manufactures, markets and services a full line of connected, increasingly electrified passenger and commercial vehicles.
In 2020, Ford began implementing a pollution prevention project to reuse treated wastewater treatment (WWT) effluent in the paint pretreatment process. The goal was to reduce the volume of water sent to the Publicly Owned Treatment Works (POTW) and reduce the amount of freshwater being used in the manufacturing process. First, the pre-treated WWT effluent is filtered with an ultrafiltration system to further remove suspended solids and total organic carbon. Then, the effluent is further clarified by a reverse osmosis system producing a high quality permeate that is used in the paint pretreatment process. 
During the first year of project implementation, the facility reduced over five million gallons of city water, which equates to over 22 gallons/vehicle. This equates to a savings of approximately $50K. The full potential of the system is expected to further increase as production stabilizes from the effects of the COVID-19 pandemic.