Rochester Embayment AOC
On this page:
Overview
Rochester Embayment is one of the 31 United States Areas of Concern (AOCs) designated under the 1987 Great Lakes Water Quality Agreement.
The Rochester Embayment is a broad bay on the south shore of Lake Ontario at the mouth of the Genesee River. The Rochester Embayment AOC is defined as the approximately 35 square mile portion of Lake Ontario between Nine Mile Point in the Town of Webster (Monroe County, Lake Ontario Central Basin) and Bogus Point in the Town of Parma (Monroe County, Lake Ontario West Basin). The AOC also includes the approximately six-mile reach of the Genesee River, from the Lower Falls to the mouth, that is influenced by water levels in Lake Ontario.
Before the onset of modern-day environmental laws, manufacturing facilities located in and near the AOC contributed to the contamination of its watersheds. That historic contamination also caused serious degradation to an unnamed tributary of Brockport Creek and sediment found within the Rochester Embayment contained:
Polychlorinated Biphenyls
Cyanide
Dioxins
Furans
Silver
Beneficial Use Impairments
An interim success of remediation and restoration work is removing Beneficial Use Impairments (BUIs). BUIs are designations given by the International Joint Commission, representing different types of significant environmental degradation. As cleanup work was completed, partners conducted comprehensive assessments of fish, sediment, and aquatic animals. Results demonstrated that the Rochester Embayment's resources are improving, and BUIs are gradually being removed. The list below shows which BUIs have been removed and which remain. Once all BUIs are removed, the process of delisting the AOC can begin.
Remediation and Restoration Work
The federal, state and local governments, working with their partners, have made significant progress in addressing the environmental challenges in the Rochester Embayment, particularly in the areas of protecting and restoring fish and wildlife habitat, and reducing algae around Charlotte Beach. As of September 2018, all remediation and restoration projects necessary for delisting the AOC have been completed. 
Restoration Project Highlight: Braddock Bay
The Braddock Bay habitat restoration project focused on restoring 340-acres of wetland habitats and re- establishing a barrier beach, serving as a breakwater to protect the bay and newly restored habitats. Restoration crews dug channels and potholes throughout surrounding wetlands of Braddock Bay to enhance fish and wildlife habitat features - increasing the plant and animal diversity in the area. These channels and potholes were created strategically to reopen surface waters to wildlife and allow fish species to better navigate through the wetlands by establishing varied depths to accommodate fishes of varying sizes and foraging preferences. These features also allow fishes to navigate into spawning habitats that were once inaccessible due to invasive species and overgrowth. With the establishment of historically native vegetation, reopened surface waters enhanced habitat features throughout Braddock Bay. Several species have been documented returning to the area to make use of the natural enhancements, including the federally endangered piping plover.
The re-established beach provides added protection to the restored habitats and wetlands and it also creates a safe harbor for vessels on Lake Ontario. The increased protection for boaters and recreation activities will help revitalize economic opportunities by attracting visitors to the area to take advantage of the new barrier beach and restored habitat. Through partnerships with U.S. Fish and Wildlife Service, U.S. Army Corps of Engineers and EPA, this habitat restoration project will advance Rochester Embayment AOC towards delisting by addressing the Loss of Fish and Wildlife Habitat BUI.
Restoration Project Highlight: Buck Pond Restoration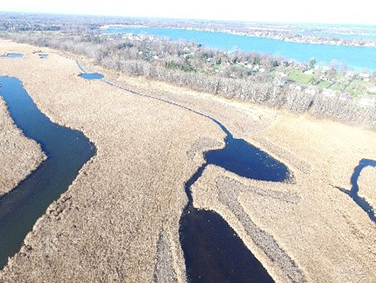 The Buck Pond complex marsh system had become inundated with invasive vegetation that grew too thick for wildlife to navigate and changed the size and shape of the wetland. Through a Great Lakes Restoration Initiative (GLRI) grant in 2014, Ducks Unlimited and SUNY Brockport were able to restore Buck Pond's native vegetation throughout the 205-acre wetland. The restoration project created over 7-acres of pothole formations, 20-acres of sedge meadow and over 6,654 linear feet of channeling throughout Buck Pond, restoring crucial wildlife habitat.
Cattail debris removed to create the potholes and channels was then used to build 15-acres of small habitat mounds in the wetland for native grasses and sedges to establish. Wildlife can once again make use of Buck Pond wetland; muskrats and northern pike have already moved back into areas that were once too dense to navigate.
By removing invasive species and restoring habitat, the Buck Pond project will have a significant impact on the delisting of the Rochester Embayment AOC by addressing the Loss of Fish and Wildlife Habitat BUI.
Partners
Ducks Unlimited
SUNY Brockport 
Town of Greece