Advanced Septic System Nitrogen Sensor Challenge Phase II: Prototype Testing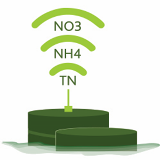 EPA selected Battelle Memorial Institute (Battelle) to support the Prototype Testing Program by developing a Test/Quality Assurance Plan (T/QAP) and Verification Plan and overseeing the testing of the sensors. The T/QAP is based on the International Organization for Standardization Environmental Technology Verification (ETV) Standard - ISO 14034. Funding for the testing program is from the US EPA Office of Research and Development and the Office of Water/Wastewater Management.The Challenge
Sensor testing will be conducted at the Massachusetts Alternative Septic System Test Center (MASSTC), a National Sanitation Foundation (NSF) certified test facility in Barnstable, Massachusetts in 2018-19. Under the new schedule, sensor developers will have the opportunity to test their sensor twice during the one-month tests, which will be held in October 2018 and January 2019. Each one-month test will include the one-week screening test during the first 7 days.
Developers whose sensors are judged to be capable of meeting minimum performance goals based on their one-week screening results will be invited to participate in an extensive 6-month field performance test. Battelle will verify the results of the field performance tests based on the VerifiGlobal Performance Verification Protocol and the requirements of the ISO 14034 ETV standard.
Informational Webinar 
An informational webinar was held on Monday, July 16, 2018. The Challenge is open to all who wish to enter! 
Challenge.gov Page
Visit the Challenge.gov posting here.
Timeline for Phase II
Sensor Performance Goals
Prize: Verification Report and 2019 Market Stimulation Opportunity
Following the release of the verification reports in early 2019, an external technical panel and The Nature Conservancy (TNC) will review the results. TNC and others are seeking funding for an order of 200 units, not to exceed a total cost of $300,000. The order would be presented in the summer of 2019 to the best performing sensor/s that completes the 6-month field performance test and meets or exceeds the performance goals.