Caney Residential Yards National Priorities List (NPL) Superfund Site, Montgomery County, Kansas – Fact Sheet, May 2022
Proposed Plan for Residential Yard Cleanups
Public Comment Opportunity and May 12 Public Meeting
Introduction
The U.S. Environmental Protection Agency (EPA) Region 7 is seeking public input on a Proposed Plan to clean up lead contamination at residential properties, including child high-use areas, at the Caney Residential Yards National Priorities List (NPL) Superfund Site (site) in Caney, Kansas. (See site map below.) The Proposed Plan (plan) summarizes potential cleanup choices (also known as alternatives) of how to best address lead-contaminated soils and smelter waste at residential properties within the site under Operable Unit 1 – Residential Properties (OU1) (see map on Page 3/online). The plan describes EPA's recommendation for the preferred alternative, Number 3 – Excavation with Off-Site Disposal. Lead is the main contaminant of concern at this site.
Public Comment Period Overview
Public comments on the Proposed Plan will be accepted from Thursday, May 5, 2022, through Monday, June 6, 2022. On May 5, the Proposed Plan and Administrative Record file (AR file) for this action will be published online for public review on EPA's Site Profile Page (see Site Documents & Data). Upon timely request, the comment period can be extended by an additional 15 days. See the related Public Notice.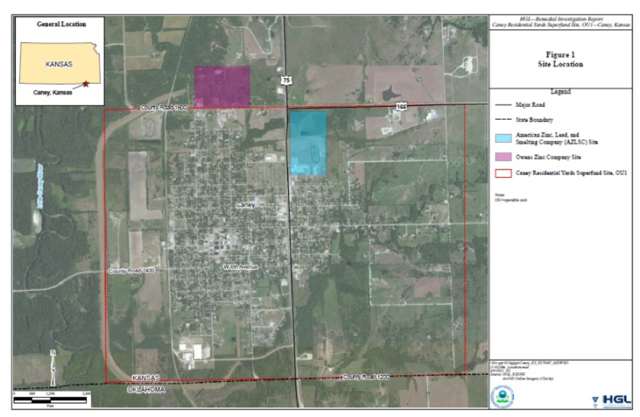 If you don't have internet access, the documents will also be available online during normal business hours at these locations:
Caney Public Library
211 W. 5th Ave.
Caney, KS 67333
620-879-5341
EPA Region 7 Records Center
11201 Renner Blvd.
Lenexa, KS 66219
1-800-223-0425
Copies of the Proposed Plan can be mailed upon request, and will be available at Caney City Hall, 100 W. 4th Ave., Caney, KS 67333 (620-879-2772).
Virtual Public Meeting
Thursday, May 12, 6:30 to 8 p.m. Go to this weblink to join at time of event. To register for this meeting, click here.
EPA is committed to providing reasonable accommodations to individuals with disabilities. Captioning will be provided during this virtual event. If you require special accommodations, including live translation into a language other than English, or other reasonable accommodations at the event, please contact Elizabeth Kramer (contact information below) one week prior to make arrangements.
On Thursday, May 12, EPA will hold a Virtual Public Meeting to share information and offer an opportunity for the public to provide oral and written comments on the plan for the site. The event will be hosted by EPA with a presentation at 6:30 p.m., followed by an opportunity for oral and written comments to be transcribed into the record. Please check the link above for updates.
Written comments, questions about the plan, or requests for site information can be directed to Elizabeth Kramer (contact information below). EPA encourages community members to report any site concerns.
About Lead and Public Health
Lead is a toxic metal that is harmful if inhaled or swallowed and can pose serious health risks, particularly to children under 7 years old, as well as pregnant women and nursing mothers, who should also avoid exposure to protect their children. Lead is classified by EPA as a probable human carcinogen and is a cumulative toxicant that affects multiple body systems. Lead is dangerous to children because their growing bodies absorb more lead than adults do, and their brains and nervous systems are more sensitive to the damaging effects of lead. Lead exposure can cause a range of adverse health effects, including behavioral disorders, learning disabilities, and seizures, putting young children at the greatest risk because their brains and nervous systems are still developing.
Annual Blood Lead Testing
It is important that children under 7 years old have their blood lead level tested annually, because lead-poisoned children do not always look or act sick. It is also important to know that even exposure to low levels of lead can severely harm children. The only way to know if your child has an elevated blood lead level is to have his or her blood tested. Talk to your pediatrician, general physician, or local health department about testing your child. For more information on blood testing for children, you can contact: Montgomery County Health Department, 604 S. Union, Coffeyville, KS 67337; phone: 620-251-4210.
Overview of Proposed Plan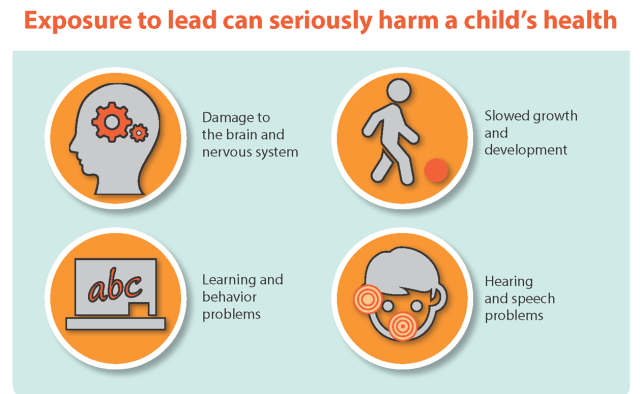 The Proposed Plan includes summaries of cleanup alternatives evaluated for use in OU1 and is based on Remedial Investigation (RI) data from surface soil investigations at the site conducted between 2016 and 2020 at approximately 1,100 residential properties, one abandoned rail line, and 30 city alleys. EPA Region 7 is the lead agency for site activities, and the support agency is the Kansas Department of Health and Environment (KDHE).
After reviewing and considering all information submitted during the 30-day public comment period and public meeting, EPA, in consultation with KDHE, plans to develop an Interim Record of Decision (IROD). The IROD will include a Responsiveness Summary that responds to substantive public comments received. EPA has determined that an IROD is appropriate until its updated Soil Lead Policy is released. The results of the interim remedial activities will be used to inform the final cleanup decision for the site. As of December 2021, EPA Region 7 has adopted a Regional Interim Lead Policy for all Superfund sites without an approved Record of Decision. The new policy utilizes the most recent Integrated Exposure Uptake Biokinetic (IEUBK) model (version 2) calculations, based on a target child blood lead level of 5 µg/dL.
The remedial alternatives being considered for this IROD are:
Alternative 1:

No Action – this alternative is included to use as a baseline for comparison to other alternatives and is required by regulation.

Alternative 2:

Vegetated Soil Cap and Institutional Controls

Alternative 3: Excavation with Off-Site Disposal

Alternative 4:

Reduction in Lead Contamination via Plant Phytoremediation and Institutional Controls
EPA's preferred alternative is Alternative 3, Excavation with Off-Site Disposal, and represents the same activities performed during previous removal actions at the site where residential properties had quadrants greater than 400 parts per million (ppm) of lead. EPA is also proposing to remediate residential properties with lead contamination greater than 200 ppm, based on the best available science from the IEUBK version 2 model (described above).
If selected, the preferred alternative will result in an interim remedial action (RA) for the site to address all residential properties with quadrants greater than 200 ppm of lead. Determination of a final remedy will be reviewed during implementation of the interim remedy.
The Proposed Plan also highlights key information from the Remedial Investigation, which includes the Baseline Human Health Risk Assessment and the Ecological Risk Assessment for public review.
EPA is interested in receiving public comments on all the alternatives evaluated and on the rationale for the preferred alternative, such as the new 200 ppm cleanup level.

New information that EPA receives during the public comment period could result in the selection of an interim remedy that differs from the preferred alternative.
Site Background
Historically, two smelters were located and operated in Caney, Kansas, from approximately 1904 to 1922. The American Zinc, Lead and Smelting (AZLS) Company Smelter operated in Caney at the site of the current high school building. The Owens Zinc Company (OZC) operated in Caney between 1915 and 1931. Caney also had two separate brick manufacturing plants during the same time frame as the smelter operations. Smelter deposition and manual relocation of waste resulted in contaminated properties within the city of Caney. 
To date at the site, EPA has sampled 1,041 residential properties, 344 of which were remediated because they demonstrated lead contamination in soil greater than 400 ppm. Only 32 residential properties have not yet been sampled for lead contamination. The Caney Residential Yards Site was listed on the National Priorities List (NPL) on Sept. 1, 2020.
Technical Assistance Grant
In an effort to help affected communities understand the technical information related to a Superfund site, EPA has established a Technical Assistance Grant (TAG) Program. The program provides up to $50,000 for a qualified citizens' group to hire an independent technical advisor. The advisor can assist citizens in their interpretation of technical data, site hazards, and the different scientific technologies used to support site actions. (For more information, see EPA contact information below.)
Information Repository and Administrative Record Available
Site project information is available to the public at web repositories. The Administrative Record (AR) is the official site file that contains technical documents with respect to response actions. EPA has developed document collections to form a clear understanding of the decisions to take actions at the site. To view cleanup documents, including the AR for the site, visit EPA's Site Profile Page.
Additional Information on Lead
EPA Contact Information
EPA encourages community members to ask questions and report any concerns about this site. Questions, comments, or requests for site information can be submitted to EPA:
Elizabeth Kramer
Community Involvement Coordinator
U.S. EPA Region 7 (ORA/OPA)
11201 Renner Boulevard
Lenexa, KS 66219
Phone: 913-551-7186
Toll-free: 1-800-223-0425
Email: kramer.elizabeth@epa.gov
Kim Burr
Remedial Project Manager
U.S. EPA Region 7 (SEMD/LMSE/MSRS)
11201 Renner Boulevard
Lenexa, KS 66219
Phone: 913-551-7069
Toll-free: 1-800-223-0425
Email: burr.kimberly@epa.gov