Cherokee Zinc-Weir Smelter National Priorities List (NPL) Superfund Site, Weir, Cherokee County, Kansas – Fact Sheet, October 2021
EPA Announces Placement of Site on National Priorities List and Public Availability Session
Site Overview and Virtual Event

The Cherokee Zinc-Weir Smelter Superfund Site, located on the north side of the city of Weir, Cherokee County, Kansas, has been added to the federal Superfund National Priorities List (NPL). The NPL is a list of the nation's hazardous waste sites with the highest priority for cleanup.
The Chicago Zinc Works Company and several other companies owned and operated a primary zinc smelter from approximately 1872 until 1920 in Weir. They chose it as the location due to nearby commercial coal deposits available to fuel the smelter and the proximity to the Tri-State Lead and Zinc Mining District. According to historical information, smelting operations closed in approximately 1918 when natural gas wells in other areas of Kansas made smelter operations using coal less profitable.
The U.S. Environmental Protection Agency (EPA), Region 7 will hold a Public Availability Session to provide information and answer questions about the NPL listing, Superfund remedial process next steps, and technical assistance resources. Following an EPA presentation, EPA and state agency representatives will be available to take questions in a virtual format.
Public Availability Session
The virtual event will be hosted online on Tuesday, Nov. 16, 2021, from 6 to 7 p.m. Click this link to join the event on Nov. 16.
EPA is committed to providing reasonable accommodations to individuals with disabilities. For reasonable accommodations during the Public Availability Session, please contact Jonathan Cooper at 1-800-223-0425 or cooper.jonathan@epa.gov.
Lead is the primary contaminant of concern at this site. Lead is a toxic metal that is harmful if inhaled or swallowed and can pose serious health risks, particularly to children 7 years old and younger, as well as pregnant women and nursing mothers. See Page 2 for more information about lead risks.
Site Background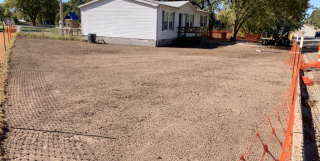 Between 2004 and 2013, the Kansas Department of Health and Environment (KDHE) conducted soil testing at the former smelter, as well as nearby properties. This sampling identified several properties with elevated lead levels, and KDHE requested that EPA further evaluate residential lead contamination in Weir associated with the former Cherokee Zinc smelter.
Metal smelting operations have often been associated with area-wide elevated levels of metal contamination. This is due to air deposition from their smokestacks, and from the reuse of the abundant waste material generated from ore smelting that often contains residual contaminants. Due to health risks, this required EPA removal actions to remediate (clean up) residential properties, including child high-use areas. To date, the EPA Region 7 Removal Program has remediated 54 residential properties with lead above the Removal Management Levels. Additional investigation is needed. Legacy lead contamination from this smelter has contaminated surface soils in multiple residential yards.
Annual Blood Lead Testing
EPA encourages parents to have their children tested for lead exposure annually. The only way to know if your child has an elevated blood lead level is to have his or her blood tested. Talk to your pediatrician, general physician, or local health department about testing your child. For more information, contact the Cherokee County Health Department, 110 East Walnut, Columbus, KS 66725; phone: 620-429-3087 (blood lead testing by appointment). Visit their website.
Future Site Actions

The NPL listing for the site was effective on Sept. 9, 2021. Listing of this site makes it eligible for response action money authorized by Congress under the Comprehensive Environmental Response, Compensation and Liability Act (CERCLA), commonly known as the Superfund law. Now that the site is listed on the NPL, a Remedial Investigation (RI) will be performed to fully define the nature and extent of the contamination. The RI will include additional sampling at the site and an evaluation of risk to human health and the environment. Following the RI, a Feasibility Study (FS) will be prepared. The FS includes evaluations of technologies capable of treating the contamination. It also includes an assessment of the cost and performance of technologies that could be used to clean up the site. EPA will work to inform the community about site progress throughout all phases of the cleanup.
Once the RI/FS stage is complete, EPA will issue a Proposed Plan to address the contamination with opportunities for public comment. A graphic of the Superfund Process is in the online version of this Fact Sheet. Fact Sheets for Kansas cleanup sites are available online.
Technical Assistance Grant
Inclusion of the site on the NPL guarantees the public an opportunity to participate in cleanup decisions.
EPA wants to help affected communities understand the technical information related to a site. EPA's Technical Assistance Grant program provides up to $50,000 for a qualified citizens group to hire independent technical advisors. Advisors can help citizens interpret technical data, understand site hazards, and become more knowledgeable about the different technologies used to clean up sites. For additional information about technical assistance resources, contact EPA.
Information Repository and Administrative Record Availability
EPA keeps site project information and reference materials online. The Administrative Record (AR) file is the official site file that contains technical documents with respect to response actions at this site. To review the AR files for this site, access cleanup documents on EPA's Site Profile Page (see Site Documents & Data).
For more information about lead, visit:
For a prior Fact Sheet about the site, visit EPA's website. Additional information is available online.
EPA Contact Information
If you have questions about this Fact Sheet and would like to receive site updates, and/or need additional information, please contact EPA:
Elizabeth Kramer
Community Involvement Coordinator
U.S. EPA Region 7 (ORA/OPA)
11201 Renner Boulevard
Lenexa, KS 66219
Phone: 913-551-7186
Toll-free: 1-800-223-0425
Email: kramer.elizabeth@epa.gov