Tribal Governments' Environmental Projects Grow in Region 7
– EPA Region 7 Feature –
By Olivia Bailey, Office of Public Affairs
Tribes have historically played an important role in environmental issues, including air and water quality, land preservation, and climate change. EPA Region 7 is committed to assisting tribes strengthen their abilities to manage environmental programs in Indian Country, and to ensure that tribes have a voice in decisions that affect their land, air and water.
PBPN Stabilizes Bank Through 'Buffalo Bridge'
In December 2022, buffalo in the Prairie Band Potawatomi Nation (PBPN) Reservation near Mayetta, Kansas, began to make their annual crossing through Little Soldier Creek to their winter pasture.
"We call it the 'Buffalo Bridge' because it's between two separate buffalo pastures where our Land Management Department practices rotational grazing," said Virginia LeClere, environmental manager for the Prairie Band Potawatomi Nation.
Although rotational grazing is an important part of the sustainable land management plan for the PBPN, Tribal authorities had observed degradation of the creek as a result of buffalo foot traffic. Loose soil created water quality and sedimentation issues in the Soldier Creek watershed during high-flow events, when the sediment is picked up by fast-moving waters and carried downstream. The steep ledge of the creek created additional concerns, as many of the buffalo experienced significant trouble scaling the creek's bank in order to access water.
The PBPN's Planning and Environmental Protection, Tribal Land Management, and Tribal Road and Bridge departments, along with Wildhorse Environmental, developed a plan to address these issues through a grading and stabilization project.
In January 2021, the PBPN's project plan was selected by EPA to receive a competitive Clean Water Act Tribal Section 319 Grant, with the aim of bolstering the Tribe's vision for this project through an award of $100,000. As part of the grant process, the PBPN further created an EPA 319 nine-element plan, which outlined their future water quality goals and featured a subplan for obtaining and meeting those objectives that included leveraging future funding opportunities.
"The area was a degraded area and we decided to install best management practices and a stream bank stabilization on the site," LeClere said. "We did a lot of clearing, excavation, and regrading of the banks and then we installed around 2,000 tons of rock, according to the engineered plans."
This project is one of many that are growing and developing within Region 7 through the efforts of our tribal partners. EPA works with tribal governments in a variety of ways to support the achievement of environmental goals, like the PBPN's efforts to improve water quality for those in their community.
Omaha Tribe Water Quality Improvements
In the northern part of Region 7, the Omaha Tribe of Nebraska has worked closely with EPA Region 7's Enforcement and Compliance Assurance Division and Office of Regional Counsel to address and resolve utilities issues, as part of a Consent Decree served by EPA and the U.S. Department of Justice (DOJ) in 2015.
In 2022, EPA representatives met every other week with Tribal officials to serve as a resource on the Safe Drinking Water Act, Clean Water Act, and Resource Conservation and Recovery Act, while addressing any compliance issues or concerns from the Tribe. Since the Decree, the Omaha Tribe of Nebraska has successfully built its technical, managerial, and financial capacity in their utilities operations to the extent that the Tribe is currently working with EPA and DOJ to terminate the 2015 Consent Decree.
Jerry Henscheid serves as utility operator and manager of Omaha Tribal Utilities and continues to fill an important role in the Tribe's improved drinking water system. In 2021, Henscheid was recognized by the National Tribal Water Systems Program at the Inter Tribal Council of Arizona Inc. (ITCA) as the Water/Wastewater Operator of the Year. Under Henscheid's leadership, the Tribe is in the process of designing a new drinking water treatment plant, with assistance from the Indian Health Service. The new plant is expected to begin operating by 2024, and will replace the current plant which is over 40 years old.
Region 7 Climate Change Adaptation Implementation Plan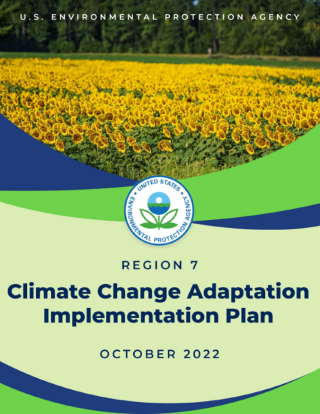 Water quality and utilities issues were not the only environmental challenges tribal nations tackled in Region 7 in 2022. The extreme summer heat waves sparked a conversation about the importance of climate change adaption planning across the Midwest, particularly among tribal leaders.
At one of the quarterly Regional Tribal Operations Committee (RTOC) meetings between EPA Region 7 and tribal officials, representatives from the nine tribal nations in the region shared with EPA's Air and Radiation Division their top climate adaption challenges in the coming years. These included:
Colocation air monitoring

Mold and air conditioning

More reliance on air conditioning

Exceeding ozone limits

Adapting to heat
In September 2022, EPA representatives met again with tribal government officials at the Region 7 Tribal Climate Retreat held at the Prairie Band Casino. This meeting extended the climate change collaboration discussion, and plan development continued in preparation for the effects of climate change in Region 7.
Through these and many other meetings between tribal officials and EPA representatives, tribal governments in Region 7 have played a pivotal role in shaping EPA's Region 7 Climate Change Adaptation Implementation Plan, released in October 2022. These meetings included the RTOC Assembly at Haskell Indian Nations University in November 2022, where EPA officials shared upcoming opportunities for climate funding through the Inflation Reduction Act.
Underground Storage Tank and Pesticides Environmental Projects
Future collaborative efforts are underway in other areas of environmental protection in the region. Tribal underground storage tank operators meet regularly with each other and with EPA representatives to workshop solutions to environmental problems related to the maintenance of underground storage tanks, which has helped to prevent the release of regulated substances that would contaminate soils, surface, and groundwater on tribal lands.
Multiple tribal officials, including representatives from the Kickapoo Tribe in Kansas and Prairie Band Potawatomi Nation, have expressed interest in outreach and education through EPA Region 7's Pesticides Program, in order to establish pollinator-friendly plants in tribal native prairies and increase pollinator protection in their respective communities.
In collaboration with the PBPN, Santee Sioux Tribe of Nebraska, Kansas Department of Agriculture, Nebraska Department of Agriculture, and EPA Region 7 Office of Regional Counsel, several memorandums of understanding were drafted for the certification of pesticide applicators in Indian Country.
Amid a landscape that provides opportunities for environmental improvement, tribal governments have continued to build momentum toward higher levels of stewardship and healthier communities for the region as a whole. Each additional environmental project undertaken in Indian Country resonates with EPA's mission to protect human health and the environment, improving the lives of those who live in the tribal nations of Region 7.
Learn more at these EPA links: