Great Lakes Nearshore Waters: National Coastal Condition Assessment 2015
View NCCA 2015 results for other regions
Great Lakes Nearshore Waters
Setting
The Great Lakes basin ecosystem covers 295,000 square miles, with nearly 11,000 miles of shoreline. The Great Lakes nearshore and embayment area assessed as part of the NCCA 2015 totals approximately 7,118 square miles. The Great Lakes are the largest system of fresh surface water on earth, containing an estimated 18% of the world's total supply. Because of the large size of the watershed, physical characteristics such as climate, soils, and topography vary across the basin.
To the north, the climate is cold and lies under a generally thin layer of acidic soils. Conifers dominate the northern forests and the area is sparsely populated. In the southern areas of the basin, the climate is much warmer and the original deciduous forests have been replaced by agriculture and sprawling urban development.
Although parts of a single system, each Great Lake is different. Lake Superior is the largest by volume and surface area, and its basin is mostly forested and sparsely populated. The temperate southern basin of Lake Michigan, the second-largest Great Lake by volume, is among the most urbanized in the system and is home to Milwaukee, Wisconsin, and Chicago, Illinois. Lake Huron is the third-largest Great Lake by volume and includes Georgian Bay and Saginaw Bay. Major urban industrial centers (including Hamilton and Toronto in Ontario) are located on the shores of Lake Ontario, the fourth-largest Great Lake by volume. Lake Erie, the smallest Great Lake by volume, is the shallowest, warmest, and most biologically productive of the Great Lakes. It is the most densely populated of all the Great Lake basins and has several large cities within it, including Detroit, Michigan; Toledo and Cleveland, Ohio; and Buffalo, New York. Agriculture is the predominant land use (66%) in Lake Erie's Western Basin.
The Great Lakes and surrounding shorelines support recreation, tourism, and freight transportation for the region. They are ecologically important, providing spawning grounds, shelter, and food for fish, shellfish, and wildlife.
The shoreline counties of the U.S. Great Lakes region represent the third-largest shoreline population in the nation; however, it also has the smallest rate of increase from 2010 to 2020, at under 2%. About 60% of Great Lakes shoreline county populations either didn't change or decreased from 2010 to 20201.
Biological Condition
The NCCA found that in 2015, biological condition was good in 31% of the Great Lakes nearshore waters according to the oligochaete trophic index. This represent a statistically significant increase of more than 10% over the proportion of Great Lakes nearshore waters rated good in 2010. Care must be taken in interpreting these results because during the same time period, there was also a statistically significant decrease in unassessed area.
Eutrophication Index
The eutrophication index, which examines the potential for estuarine area to undergo social eutrophication based upon measurements of nutrients, chlorophyll a, dissolved oxygen and water clarity, found that 54% of Great Lakes nearshore area was in good condition, 22% of area was in fair condition and 24% in poor condition. The proportion of area rated poor increased by a statistically significant margin of 5% from 2010 to 2015. Continued monitoring of Great Lakes nearshore waters will help to determine if this is a downward trend. However, with almost one-half of all Great Lakes nearshore waters in degraded condition in 2015, efforts to reduce nutrient pollution to the Great Lakes must continue.
Sediment Quality Index
About 62% of Great Lakes nearshore area had good sediment quality based on measures of chemical contaminants found in sediments and laboratory tests of toxicity. This result is a statistically significant increase in Great Lakes nearshore area rated good for sediment quality when compared to 2010. Great Lakes nearshore area rated fair for sediment remained decreased slightly since 2010; area rated poor did not change, and not assessed area declined slightly to 21%, but this is not a statistically significant change and field crews in the Great Lakes face challenges collecting sediment because of hard substrate or the presence of invasive mussels. Continued attempts to improve sediment sample collection in Great Lakes nearshore waters will help to determine whether the increase in area rated good represents will continue as trending improvements in sediment quality in the region.
Ecological Fish Tissue Contaminants
Ecological fish tissue contamination was degraded in Great Lakes nearshore water in 2015 with only 17% of the area rated good. A similar amount of area was rated fair (19%), while 47% was rated poor. The proportions of area rated good and fair were both represent statistically significant increases (about 9% each) since 2010. However the area not assessed in the Great Lakes nearshore waters also decreased by a statistically significant margin of more than 25% (from 42% to 17% unassessed) during the same period and the changes in assessed conditions may be due to improvements in fish collection success in 2015. The NCCA is continuing to improve sampling success in areas where fish were difficult to collect. It is important to note that this assessment of potential for adverse effects applies only to wildlife that eat fish and does not apply to people.
Human Health Indicators
More than 99% of Great Lake Nearshore waters have low levels of bacteria and microcystins and are safe for recreation.
Because field crews were unable to catch fish that were suitable for human consumption, 29% of the Great Lakes nearshore area was unassessed for mercury contamination in fish fillet plug samples; no estimate of area with mercury contamination either above or below the 300 parts per billion human health consumption benchmark is available for that proportion of Great Lakes nearshore waters. Fish fillet plug samples from 6% of the area have fish with concentrations of mercury in fillet plug samples exceeding the human health benchmark while fish from 65% of the area posed little to no risk for human consumption. In order to address the large proportion of area that was unassessed, the NCCA implemented new fish fillet plug sampling procedures in 2020.
A fish fillet "plug" is a small biopsy sample taken from a live fish. The fish is released after sampling.
PCBs and PFOS in whole fish fillets were only assessed in Great Lakes nearshore waters.
Recreational anglers should consult local fish consumption advisories before eating their catch.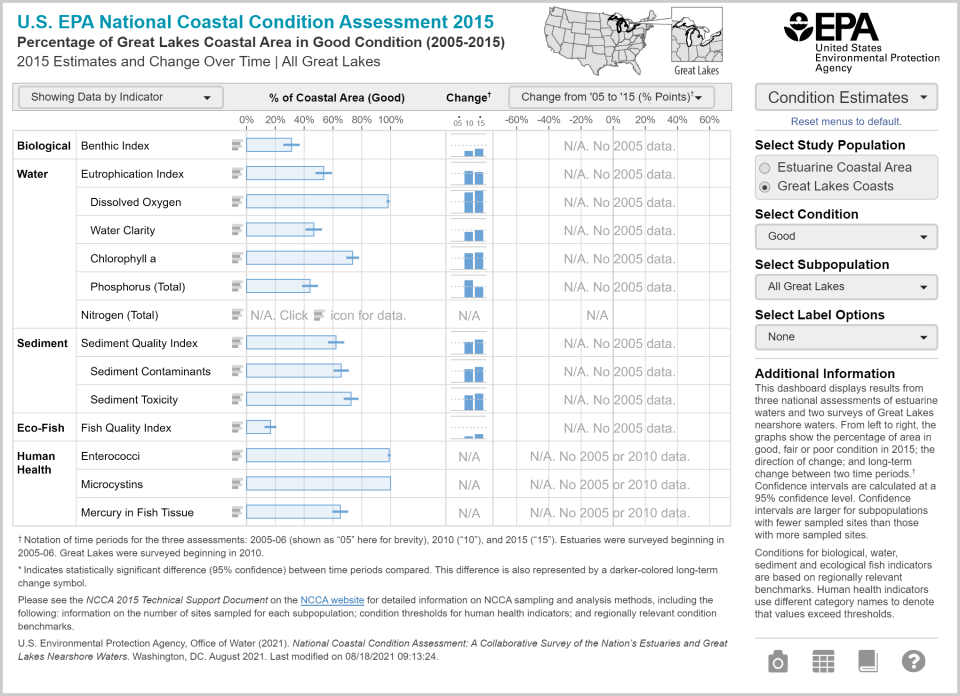 To access more indicator graphics please visit the interactive NCCA dashboard.​
---