East Palestine, Ohio Train Derailment Emergency Response
EPA is committed to protecting the health and safety of the East Palestine, Ohio community. EPA personnel have been on the ground since the onset of the train derailment, working alongside federal, state, and local partners with response efforts.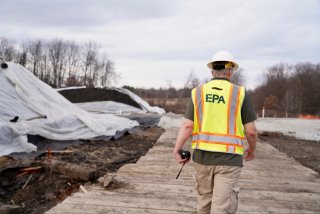 On this page:
Latest Updates
March 23, 2023
This evening, EPA hosted a community open house at East Palestine High School. Staff from EPA, Ohio EPA, Columbiana County Health District, and other supporting agencies provided residents with information about soil sampling, air monitoring, and other aspects of the response.
This week, EPA published the East Palestine Train Derailment Response Newsletter, 03-21-2023 (pdf) for communities in Ohio and Pennsylvania. The newsletter will also be mailed to area residents.
EPA has reviewed preliminary data from some of the soil sampling related to the controlled burn that occurred during response actions to the train derailment in East Palestine. While final results will be available in the coming weeks, EPA's review of the preliminary data indicates levels of semi-volatile organic chemicals and dioxins in the samples are similar to typical background levels.
At the derailment site:
Increased truck traffic along designated trucking routes
Taggart Street is still closed to the public
Continued excavation and construction work at the site
Trucks continue to take soil off site
Two street sweepers will continue around truck traffic, and crews continue to clean trucks before leaving the site
In the greater community:
Air monitoring continues at 23 locations around the community
EPA's Trace Atmospheric Gas Analyzer (TAGA) mobile laboratory will continue to sample
Soil sampling crews in right of ways:
Crews made up of 4-5 people wearing high visibility safety vests and scooping soil into jars
If your property is nearby the sampling area and the sampling crew sees signs of soot or ash, a member of the sampling team may ask to sample your property
River agitation and aeration will continue
Response By the Numbers
8,442 tons est. of contaminated soil shipped (+49 tons from yesterday)
7.8 est. gallons of liquid wastewater shipped (+181,347 gallons from yesterday)
623 indoor air screening
The Welcome Center has received 386 visitors
Read the Updates from East Palestine Response (pdf) (162.46 KB, Mar. 23, 2023) for  a more detailed report of the day's activities.
Monitoring and Sampling
Air Monitoring and Sampling
Air sampling and air monitoring are two different methods of looking at air quality. Air sampling involves collecting an air sample over a period of time that is the sent to a laboratory for analysis to identify and quantify specific compounds. Air monitoring uses electronic devices to provide real-time readings of airborne contaminants.
Air Monitoring
U.S. EPA has deployed mobile detection equipment and stationary equipment to conduct air monitoring in the East Palestine community. U.S. EPA collected field measurements for lower explosive limits (LEL), total volatile organic compounds (VOCs), hydrogen sulfide, benzene, hydrogen cyanide, hydrogen chloride, phosgene, and particulate matter.  
Air monitoring locations were selected: at the schools, residential areas, several government buildings, upwind of the derailment area, in the derailment area, and downwind of the derailment area as well as mobile teams to collect general readings throughout the community. EPA is also deploying another mobile laboratory – a Trace Atmospheric Gas Analyzer (TAGA) mobile laboratory – that performs real-time air-monitoring and sampling analyses during the cleanup phase.
Air Sampling  
U.S. EPA is collecting outdoor air samples for VOCs (target contaminates of concern list and tentatively identified compounds), including vinyl chloride, n-butyl acrylate and ethyhexyl acrylate. 
Air sampling locations were selected upwind of the train derailment area, work area and downwind areas.
Explore air sampling data and map
Indoor Air Screening 
U.S. EPA has assisted indoor air screening of more than 500 homes under a voluntary screening program offered to residents within the evacuation zone.
---
Water Sampling
Sampling Locations
U.S. EPA collected surface water samples for analysis of including volatile organic compounds (VOCs), butyl acrylate and ethylene glycol monobutyl ether. U.S. EPA continues to support water sampling efforts collected by  Ohio EPA ,  ORSANCO , and Norfolk Southern. 
U.S. EPA surface water sample locations were selected based on site observations and how water flows and from the site to nearby creeks. Samples were collected in Sulfur Run, Leslie Run, and other waterways downstream to the Ohio River. 
Explore water sampling data and map
---
Soil and Sediment Sampling
U.S. EPA collected soil and sediment samples at the derailment site for analysis for extended VOCs (target contaminants of concern list and tentatively identified compounds), semi-volatile organic compounds (target contaminants of concern list and tentatively identified compounds), gasoline range organic compounds, diesel range organic compounds, and oil range organic compounds.  
EPA soil sample locations were selected near the derailed train cars that contained hazardous materials. EPA sediment sample locations were selected near surface water sample locations in Sulphur Run.  
Explore soil and sediment sampling data and map
Slideshow of East Palestine Train Derailment Response
EPA contractors conducting air monitoring during rail excavation activities

Aeration equipment deployed within Leslie Run

Aeration equipment deployed within Leslie Run

EPA and Ohio EPA conduct water quality assessment of Leslie Run to assess conditions as part of a monitoring routine to ensure protection of surface waters

Excavated soils from beneath the rail line are staged and covered in preparation for transportation and disposal

U.S. Coast Guard Atlantic Strike Team providing support to EPA for oversight and documentation of disposal activities

Norfolk Southern removing contaminated soil and ballast from beneath the south rail line

Norfolk Southern and EPA conducting soil sampling beneath the excavated rail track area.

EPA contractor carrying air monitoring equipment for indoor air screening on Feb. 9, 2023

Waste stockpiles, prepped for offsite transportation and disposal, are covered and lined to ensure protection from wind and rain.

NS removing contaminated soil and ballast from beneath the south rail line

Crash site recovery operations.

EPA Administrator Michael Regan visits the site of the train derailment with EPA on-scene coordinators.

Norfolk Southern contractors removing a burned tank car (benzene, residual) from the crash site.

EPA on-scene coordinators discuss EPA's advanced air monitoring technology with Administrator Regan.

Oil product leaking from an upside-down damaged tank car and pooling on the ground.

Photo taken by EPA's ASPECT (Airborne Spectral Photometric Environmental Collection Technology) system on Feb. 7, 2023.

Photo taken by EPA's ASPECT (Airborne Spectral Photometric Environmental Collection Technology) system on Feb. 7, 2023.

Air monitoring equipment.

Photo of train in flames taken by drone.

Boom deployed at Leslie Run near Jimtown Rd.
Background
A train derailment occurred at approximately 8:55 PM EST on February 3, 2023 in East Palestine, Ohio. 
Norfolk Southern reported the incident at 10:53 PM ET to the National Response Center.  At that time, it was reported that an unknown number of the 150 train cars had derailed, but 20 of the cars were listed as carrying hazardous materials.  Approximately 50 cars were affected by the derailment with the rest being uncoupled and removed from the scene. 
EPA Region 5's number one priority is – and will always be – the health and safety of communities across the region. That's why as soon as EPA was notified of the Norfolk Southern train derailment on Friday, February 3, EPA personnel were on-site by 2 a.m. Saturday morning to assist with air monitoring. Since then, EPA has been boots-on-the-ground, leading robust air-quality testing – including with the state-of-the-art ASPECT plane  and a mobile analytical laboratory – in and around East Palestine.
Read the Preliminary Summary Report for Airborne Data Collected: 
ASPECT Summary Report -- East Palestine Derailment (Version 3) (pdf) (3.11 MB)
The state of Ohio, in partnership with local health agencies and local public water systems, is leading water sampling efforts. EPA is continuing to provide the state with additional support. According to state and local officials, the Village of East Palestine's municipal water sample results show no water quality concerns. The Columbiana County Health District continues to sample private water wells. Until test results are received, the Ohio Department of Health has recommended that residents use bottled water.
EPA Region 5 also issued a general notice of potential liability letter to Norfolk Southern to document the release of hazardous contaminants. The letter outlines EPA actions at the site and the potential to hold the railroad accountable for associated costs under EPA's CERCLA authority.
Community residents should monitor the East Palestine Information Facebook page for updates and information about how to stay safe.
Documents 
Accessibility Support
If you need assistance accessing materials on the EPA East Palestine, Ohio emergency response webpages, please contact (r5_eastpalestine@epa.gov)
Newsletters
East Palestine Train Derailment Response Newsletter, 03-21-2023 (pdf) (710.17 KB)
Joint Information Updates
Updates from East Palestine Response (pdf) (162.46 KB, Mar. 23, 2023)

Updates from East Palestine Response (pdf) (161.94 KB, Mar. 22, 2023)

Updates from East Palestine Response (pdf) (149.24 KB, Mar. 21, 2023)

Updates from East Palestine Response (pdf) (167.92 KB, Mar. 20, 2023)

Updates from East Palestine Response (pdf) (191.69 KB, Mar. 19, 2023)

Updates from East Palestine Response (pdf) (187.27 KB, Mar. 18, 2023)

East Palestine Cleanup By the Numbers (pdf) (145.47 KB, Mar. 16, 2023)

East Palestine Cleanup "By the Numbers" (pdf) (136.7 KB, Mar. 15, 2023)

EPA Shares Step-by-Step Soil Sampling Process – Residents May See Crews This Week (pdf) (654.13 KB, Mar. 14, 2023)

Community Open Houses in Ohio and Pennsylvania Thursday, March 16 (pdf) (319.59 KB, Mar. 13, 2023)

EPA Approves Norfolk Southern Plan for Soil Sampling in East Palestine and Nearby Pennsylvania areas, EPA to Hold Resource Fair (pdf)
Clean-up Efforts Continue Following Train Derailment in East Palestine; Norfolk Southern Agrees to Provide Additional Financial Assistance to Residents (pdf)
EPA Continues Home Re-entry Screenings Following Norfolk Southern Train Derailment in East Palestine (pdf)
EPA Continues to Hold Norfolk Southern Accountable for Train Derailment Cleanup Efforts, Interagency Community Outreach Teams Distribute Over 2,000 Informational Flyers to Affected Residents (pdf)
EPA to Hold Public Meeting and Resource Fair on Norfolk Southern Train Derailment, Interagency Community Outreach Teams Distribute Over 1,500 Informational Flyers to Affected Residents (pdf)
EPA Administrator Regan to Visit East Palestine Tomorrow, 534 Households Reached by Federal Interagency Teams on the Ground (pdf)
Federal, State and Local Governments to Host Joint Media Briefing on East Palestine Train Derailment, CDC Conducts Door-to-Door Outreach (pdf)
Administrative Order and Directives
Sampling and Monitoring Plans 
Air Monitoring Tables and Maps
Data Validation Reports
Norfolk Southern Communication and Documentation
Work Plans