Celebrating Urban Parks During National Park Week
Wind whips our jackets. Illuminated by moonlight, we hike in the snow toward the sound of a great horned owl in a grove of dawn redwoods. As a Frederick Law Olmsted National Historic Site park ranger, I lead 36 hardy people on snowshoes through the Arnold Arboretum in Jamaica Plain, Massachusetts. I take this opportunity to share Frederick Law Olmsted's vision for all people to experience nature. From New York City's Central Park to California's Yosemite National Park, millions of people still flock to landscapes Olmsted either designed or helped protect. "Olmsted is still bringing us together, even in freezing temperatures," a woman adjusting her purple scarf says. We all laugh.
Transforming Impacted Land to Usable, Thriving Green Spaces
The memory of that hike from when I was a National Park Service ranger stays with me as a Writer and Editor at EPA nine years later. I still very much appreciate programs like Brownfields that are making a difference in communities that lack access to green spaces.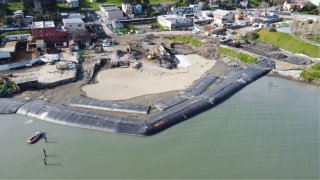 As a San Francisco Bay area resident, I'm excited about how EPA funds are supporting a one-of-kind waterfront park in the Bayview Hunters Point neighborhood. Industrial pollution has marred this historically underserved neighborhood, once the location of a shipbuilding site. Now, an effort is underway to improve this space and revitalize the community.
EPA is investing over $4 million in the India Basin project, which will transform this toxic land in San Francisco into a waterfront park. Workers have already removed and cleaned up thousands of tons of hazardous waste, with the final plan slated to connect public docks and a network of trails to existing parkland. Restoring the tidal landscape will also benefit wildlife, providing habitat for many species of birds. In the spirit of Olmsted's work, this park will bring nature to the people.
Reducing Urban Heat Islands
City parks like the India Basin project not only provide a natural refuge - they help reduce the effects of climate change. Concrete, roads, buildings, and other infrastructure absorb and re-emit the sun's energy, causing temperatures to rise 20-50 degrees higher in cities than in more rural areas. These heat islands disproportionately impact underserved communities and can harm people's health. Thankfully, trees and other vegetation absorb heat, lowering summer temperatures and reducing air pollution. EPA is working with partner agencies and community groups to reduce this heat island effect through the use of green roofs, cool pavement technology, planting trees, and many other actions.
Encouraging Children to Connect with the Outdoors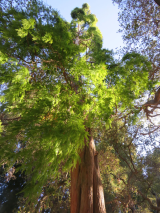 EPA recognizes that trees and green space not only reduce the effects of climate change, but also benefit people's well-being. Through our environmental education program, EPA provides funds for community organizations and nonprofits that connect kids to nature. For example, a nonprofit called Earth Team is using EPA funds to take underserved kids in Richmond, California to explore local wetlands and learn how they benefit communities and wildlife.
EPA's environmental education work means a lot to me. Working as an urban park ranger at Olmsted made me realize how some kids don't have many opportunities to get out in nature. I led groups of third graders on a tour of Olmsted's house, grounds and landscape architecture firm in Brookline, Massachusetts. Through grant funding, kids from Boston's inner city were able to visit the site and spend time sitting on the grass, drawing plants and trees.
Nature Benefits to Health
These experiences as a former National Park Service ranger and now, working for EPA's Pacific Southwest region, make me a passionate advocate for urban parks. Spending time in nature can lower our blood pressure, improve our cardiovascular health, and reduce stress. Regardless of our circumstances, we all deserve and need parks wherever we live.
Editor's Note: The views expressed here are intended to explain EPA policy. They do not change anyone's rights or obligations. You may share this article. However, please do not change the title or the content, or remove EPA's identity as the author. If you do make substantive changes, please do not attribute the edited title or content to EPA or the author.
EPA's official web site is www.epa.gov. Some links on this page may redirect users from the EPA website to specific content on a non-EPA, third-party site. In doing so, EPA is directing you only to the specific content referenced at the time of publication, not to any other content that may appear on the same webpage or elsewhere on the third-party site, or be added at a later date.
EPA is providing this link for informational purposes only. EPA cannot attest to the accuracy of non-EPA information provided by any third-party sites or any other linked site. EPA does not endorse any non-government websites, companies, internet applications or any policies or information expressed therein.