About the RAD Program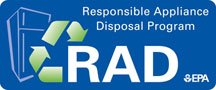 What is RAD?
The U.S. Environmental Protection Agency's (EPA's) Responsible Appliance Disposal (RAD) program is a partnership launched in October 2006 to protect the ozone layer, cut greenhouse gas (GHG) emissions, and benefit communities. The RAD program recognizes partners that commit to collecting and disposing of old refrigerated appliances using the best environmental practices available and going beyond what is required by federal law.
More about RAD

Section 608 of the Clean Air Act prohibits the release of refrigerant containing an ozone depleting substance (ODS) or substitute such as hydrofluorocarbons (HFC) during the disposal of an appliance. Federal law also requires proper management and storage of universal waste (e.g., mercury), used oil, and polychlorinated biphenyls (PCBs) prior to appliance disposal or recycling. However, federal regulations do not require the recovery of appliance foam, which contains substances that are potent GHGs and that may, depending on the vintage of the unit, deplete the ozone layer.

Further, up to 25% of disposed refrigerators/freezers are resold onto the secondary market;1 the continued use of these older, less efficient models demands more energy from the nation's grid. RAD partners collect old, inefficient refrigerant-containing appliances from consumers and work with recyclers to ensure the proper handling of all materials in compliance with federal law. In addition, RAD Partners take on the responsibility of recovering foam insulation from end-of-life appliances.
What are the concerns over appliance disposal today?
How do RAD partners help?
Partners in EPA's RAD program commit to collecting used refrigerated appliances and implementing best practices for the recycling/disposal of these units that go beyond federal laws. This means:
Recovering appliance foam
Complying with laws on the recovery of refrigerant, used oil, mercury, and PCBs
Promoting recycling of all durable goods
Promoting the permanent retirement of old, inefficient appliances to save energy
RAD partners also commit to annual reporting to track the environmental impacts of their efforts. A list of partner responsibilities can be found on the Partner Roles & Responsibilities page.
What are the benefits?
To learn more, visit the Program Benefits page or view our most recent Annual Report.
1 Based on studies published by Cadmus Group, Innovologie, NMR Group, and the U.S. Department of Energy.