The National Radon Action Plan - A Strategy for Saving Lives
Información disponible en español
On This Page:
---
National Radon Action Plan 2021-2025
The NRAP|2021–2025 sets a goal for the nation to find, fix and prevent high indoor radon levels in 8 million buildings by 2025 and prevent 3,500 lung cancer deaths per year. Under this Plan, leaders from across multiple sectors are working together to plan, guide and sustain nationwide action to prevent exposure to radon.
For more information and to learn more about the NRAP Leadership Council's goal areas, strategies for action and target outcomes, please visit NRAP|2021-2025 on RadonLeaders.org.
---
Reflections on NRAP's Progress, 2015-2020
In 2015, the NRAP partners set a bold goal to mitigate 5 million high-radon homes and save 3,200 lives annually by 2020. For the last five years, NRAP partners have made progress towards this bold goal by building radon testing and mitigation practices into the systems that govern purchasing, financing, constructing and renovating buildings; creating incentives and funding for radon risk reduction; disseminating professional standards; and raising awareness of radon risk.
Moving forward, the multisector NRAP team is focused on developing the next version of the NRAP, while maintaining momentum and increasing impacts. Industry, nonprofit and public agencies aim to achieve this by broadening the scope of work, continuing to build a stronger national partnership, and incorporating radon requirements into housing financing and codes to achieve greater impact by 2025 .
For more information, please visit NRAP Progress on RadonLeaders.org.
---
The National Radon Action Plan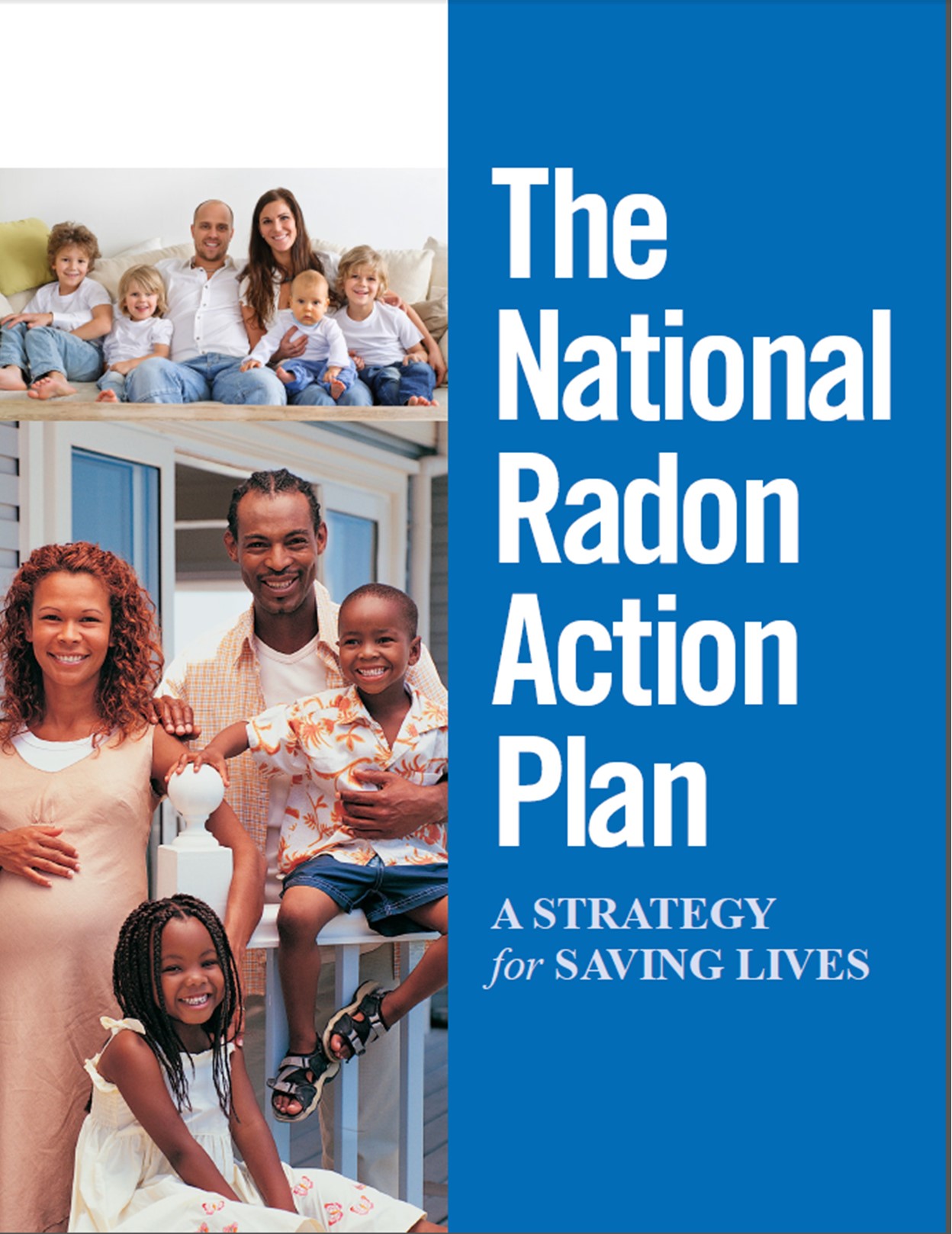 The National Radon Action Plan: A Strategy for Saving Lives outlines the framework for reducing radon risk in 5 million homes and saving 3,200 lives annually by 2020. Read the press release.
This Plan represents a collaborative effort between eleven organizations dedicated to eliminating avoidable radon-induced lung cancer in the United States. Led by the American Lung Association, the national radon workgroup agreed on a framework for action aimed at incorporating radon testing, radon mitigation and radon-resistant construction into systems that govern purchasing, financing, constructing and renovating homes and other buildings. This framework builds on early federal action that generated baseline progress by incentivizing radon action, testing for and mitigating high radon levels, and increasing visibility of the radon issue.  Visit RadonLeaders.org  to see the progress on each strategy outlined in the Plan.
To learn more about the National Radon Action Plan, please click on the link below.
---
National Radon Workgroup