EPA's SBIR and Homeland Security Programs: A Decade of Success
The U.S. Environmental Protection Agency (EPA) exists to protect human health and the environment. The Small Business Innovation Research (SBIR) program bolsters EPA's mission by supporting the innovative work of American small businesses with feasible, high-quality projects focused on EPA's goals.
The EPA SBIR program has several focus areas, one of which is homeland security, intended as a complementary program to accompany EPA's Homeland Security Research Program. Through this research program, science and technology are mobilized to protect public health from both intentional and unintentional threats, including chemical, radiological, and biological contamination. In the past decade, this program has supported numerous SBIR projects focused on water and wastewater system security, cleanup following natural disasters and contamination incidents, and the development of sample detection and monitoring systems. This work has been done through the simultaneous efforts of multiple U.S. companies.  
Since 2010, EPA's SBIR Program has supported over 15 different projects aiming to improve homeland security. One of the technologies developed addresses radiation contamination via the development of a radiation contamination visualization and mapping system by Physical Optics Corporation. This new system visualizes contamination prior to cleanup efforts to inform cleanup crew safety and remediation decisions.
The EPA SBIR program has also supported homeland security efforts to improve online water monitoring systems. For example, Syntrotek Corporation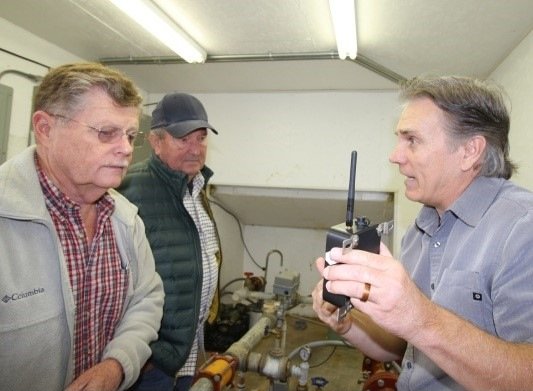 is developing low-cost multiparameter sensors that help keep drinking water supplies safe and secure by enabling real-time measurements at key distribution points between the treatment plant and customer. EPA SBIR funding allowed Syntrotek to develop working prototypes of their innovative sensors and advance them towards commercialization. The program also supported Enoveo USA, LLC, in its development of the NODE biosensor which enables continuous online detection of contaminants in stormwater. The NODE biosensor has been successfully employed in a variety of natural, urban and industrial aquatic environments. Moreover, Excellims Corporationadvanced online water monitoring technology with its compact, high-resolution electrospray ionization ion mobility spectrometer which detects toxic industrial chemicals and chemical warfare agents via direct water sampling thereby minimizing environmental impact and cutting back on sample treatment steps. EPA SBIR funding helped Excellims identify potential users and water security vendors for this novel water monitoring technology.

Other technologies have focused on decontamination of water infrastructure. For example, SurfPlasma, Inc., developed a means of decontaminating water pipes using surface plasma. In this method, diffuse electrical plasma generated from ambient atmospheric air disrupts biological agents without corroding or damaging the target pipe. Echem Engineering, Inc., established another pipe-decontamination project. This project focused on the treatment of wetted porous surfaces to remove contaminants absorbed by pipe walls via simultaneous desorption and oxidation of contaminants in pipe walls.
Surface decontamination of challenging materials has also been a focus of the EPA SBIR program. METSS Corporation developed a method to decontaminate porous surfaces focusing on viruses from CDC's Category A list of pathogens. In its method, chlorine dioxide and hot air decontamination can be used onsite to destroy viral contaminants on sensitive materials. Another method of quick and safe decontamination, radio frequency catalytic decontamination, was developed by Zeteo Tech, LLC, to decontaminate railway and subway cars by creating biocidal conditions. Since their 2017 EPA SBIR project, Zeteo Tech, LLC has gone on to receive millions of dollars in funding from the Department of Homeland Security for their innovative biothreat detection and response technologies.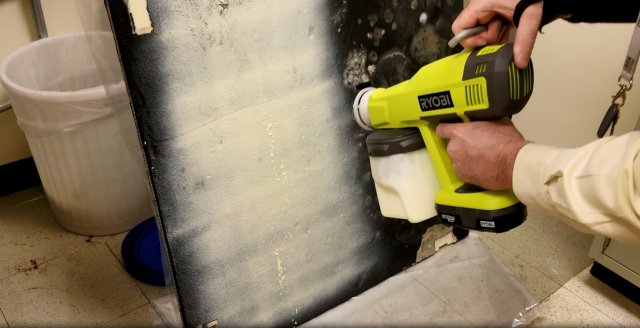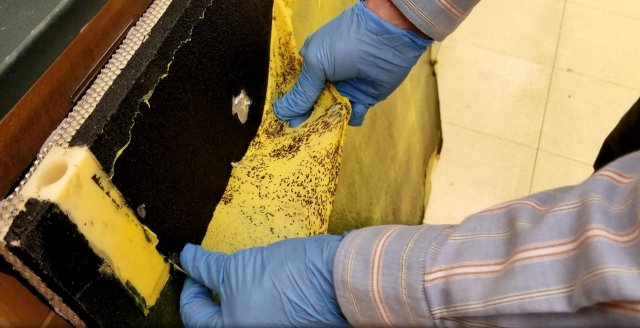 With EPA SBIR funding, TIAX LLC, established a means of decontaminating railway and subway cars, but it focused on constructing an encapsulation system for biological waste in transportation systems that reduces needed manpower and crew exposure when removing, handling and transporting materials contaminated with biological agents. TIAX's innovation allowed them to secure a $749,919 contract from the US Army, Defense and Biometrics Agency (DFBA). With EPA and DFBA funding, TIAX will explore pathways to make formulations manufacturable for their technology. An additional method for encapsulating waste was developed by TDA Research, Inc., which devised both an encapsulation method for biological and chemical waste transportation and a portable microreactor system to synthesize hydrogen peroxide for onsite decontamination.
Additional technologies concentrated low-level contaminants to detectable levels. Orono Spectral Solutions, Inc., for example, used preconcentration technology to enable infrared analysis of organophosphates in water by concentrating them into a detectable and analyzable film. Orono Spectral Solutions recently raised over $200,000 in investments from venture capitalists for their novel analysis technologies. Prior to that project, a hydrosol concentrator was developed jointly by AlburtyLab, Inc., and Page Applied Research, LLC, to improve measurement of microbial pathogens in drinking water. Their novel elution and filtration method quickly and efficiently concentrates particles in large bodies of liquid into a much smaller volume.
Other companies that received EPA SBIR funding developed additional methods of detection. Voxtel, Inc., devised a method for real-time detection and identification of chemical, biological and explosive agents with low false-alarm rates by developing sensitive and specific taggants. In addition, Operational Technologies Corporation (OpTech) developed a handheld fluorescence resonance energy transfer (FRET)–aptamer sensor to detect chemical and biological threats. This sensor combined the precision of synthetic DNA aptamers with the sensitivity of fluorescence-based detection to rapidly detect biological and chemical threats on surfaces and in liquids. OpTech has obtained 9 aptamer-related patents and sells their technology worldwide.
These projects represent EPA contracts awarded to U.S. small businesses for SBIR Phase I, "proof of concept", and for Phase II, where developed technology is supported in its path towards commercialization and introduction into the marketplace. This research to establish practical, cost-effective and safe ways to protect the health and environment of the United States has the potential to improve lives and further the essential mission of the EPA to protect human health and the environment.