CyAN Mobile App Helps Communities Detect Cyanobacteria in U.S. Water Bodies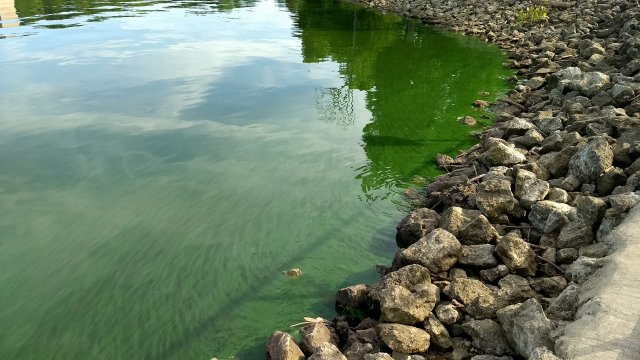 A cyanobacteria harmful algal bloom in Lake Hersha, Ohio. Read about EPA researchers new mobile app to detect algal blooms in freshwater systems. Published July 16, 2019.
Since the passing of the Clean Water Act in 1972, water quality in the United States has improved significantly, but threats to clean and safe water still exist. One of these threats is harmful algal blooms.
Certain environmental conditions in water bodies can intensify algae growth, causing algal blooms. Blooms with the potential to harm human health or aquatic ecosystems are referred to as harmful algal blooms. One type of harmful algal bloom is a cyanobacteria harmful algal bloom. These blooms produce toxins and cause nuisance odors, hypoxia, and unappealing surface scums that create a potential for adverse human health exposures and ecological impacts. These negative impacts to drinking water sources can increase drinking water treatment costs for communities. They also impact the local economy, via revenue loss from recreation and businesses that rely on safe and clean water.
The most effective way of protecting public health from harmful algal blooms is knowing ahead of time to avoid water containing cyanobacteria. However, this is hard to do because most cyanobacteria events are dealt with reactively, after the bloom has occurred in response to the visual, odor, or toxin confirmation.  That is why EPA has developed the Cyanobacteria Assessment Network mobile app, an early warning indicator system for algal blooms in U.S. freshwater systems, which will allow local water quality managers to proactively plan for cyanobacteria harmful algal blooms in their communities.
Water quality managers need access to current, inexpensive and quality data to protect water resources. In 2015, EPA, NASA, NOAA, and USGS began work on the Cyanobacteria Assessment Network (CyAN). In 2017, EPA launched CyAN as a mobile app for Android devices and it was only available to project collaborators, until now. The CyAN App is now publicly available for Android devices and can be downloaded from the Google Play Store.  ​Learn more about and download the CyANapp.
Though satellite data have been available for many years, use in decision-making has been hindered by complicated data formats and the time burden to process and access the data. The CyAN App gives water quality managers the ability to easily assess satellite derived cyanobacteria biomass concentrations occurring over larger lakes and reservoirs across the country. This app reduces the need for scientific expertise in satellite data processing, analysis and interpretation, and eliminates barriers to computer hardware requirements associated with the use of satellite data files. In this easy to use, customizable interface, managers can rapidly distill critical water quality information for their communities.
The georeferenced data in the app allow water quality managers the ability to passively monitor a specific water body without having to filter through other numerous satellite images that aren't associated with their area of interest. Simply, users open the app once a week to receive the updated imagery and monitoring data for locations of interest for the current season. The app provides approximately 70% of the monitoring information, whereas the remaining information (such as identifying site locations of interest and setting warning thresholds) is input by the user during the app settings setup process.
Several communities have beta tested and used the app to assist in water quality management. In 2017, app functionality and satellite data were successfully demonstrated against 25 state health advisories, across seven states.
Benjamin Holcomb from the Utah Department of Water Quality provided helpful feedback on the use of CyAN in his community.
"The images we've been receiving through the CyAN project have been tremendously helpful to the Utah Division of Water Quality (UDWQ), providing the foundation for a wide range of useful outputs," Holcomb shared. "It allows UDWQ to better target field sampling and more efficiently use our limited resources to protect public health. Finally, images are easily shared with response agencies as a useful visual communication aid."
Angela Shambaugh from the Vermont Department of Environmental Conservation has used Cyan to monitor the lakes in her state, saying that "large lakes like Lake Champlain have an extremely patchy distribution of cyanobacteria due to varying environmental conditions and lake shape. The CyAN App helps viewers visualize that patchiness and provides additional context for our [cyanobacteria] Tracker Map which shares data gathered by our cyanobacteria monitoring program."