EPA Researchers Investigate Impacts of Wildfires on Water Resources
Published September 7, 2021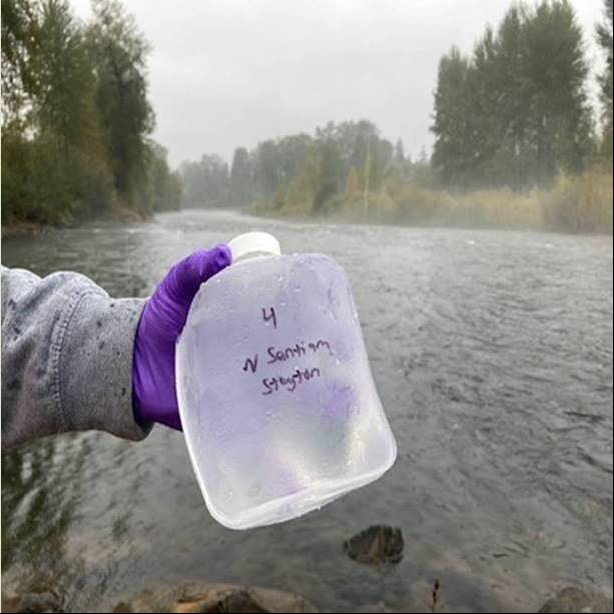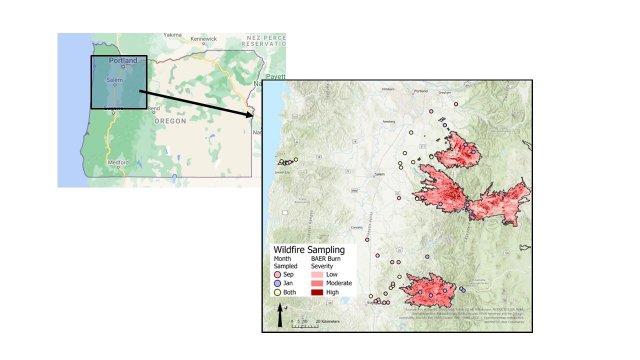 According to the latest Intergovernmental Panel on Climate Change Report, the world is getting warmer, and in the western United States, that translates into drought and significantly increased wildfire activity. In September 2020, western Oregon experienced unprecedented wildfires that dramatically affected people's lives, infrastructure, and the environment, and impacted drinking water sources.
As part of efforts to address the impacts of wildfires on health and the environment, EPA researchers are examining long-term patterns in water quality after wildfires. Water supplies can be adversely affected during the active burning of a wildfire and for years afterwards. During active burning, ash and contaminants associated with ash settle on streams, lakes, and water reservoirs. Vegetation that holds soil in place and retains water is burned away. In the aftermath of a large wildfire, rainstorms flush vast quantities of ash, sediment, nutrients and contaminants into streams, rivers, and downstream reservoirs. The absence of vegetation in the watershed can create conditions conducive to erosion and even flooding, and naturally occurring and anthropogenic substances can impact drinking water quality, discolor recreational waters, and may potentially contribute to harmful algal blooms.  EPA's lab in Corvallis, Oregon, is uniquely positioned to react in real time to deploy scientists to sample these impacted systems on the west coast.
An important first step in understanding fire effects on water quality is to establish baseline conditions by monitoring water quality before rains wash ash and sediment into the rivers. Immediately after the September 2020 fires in Oregon, EPA initiated a field program to sample the chemical composition of streams and rivers that drain fire-impacted watersheds and compare them with similar streams not affected by the fires.  EPA scientists sampled 31 stream stations selected to follow the trends after four major wildfires in the Cascade and Coast Range mountains.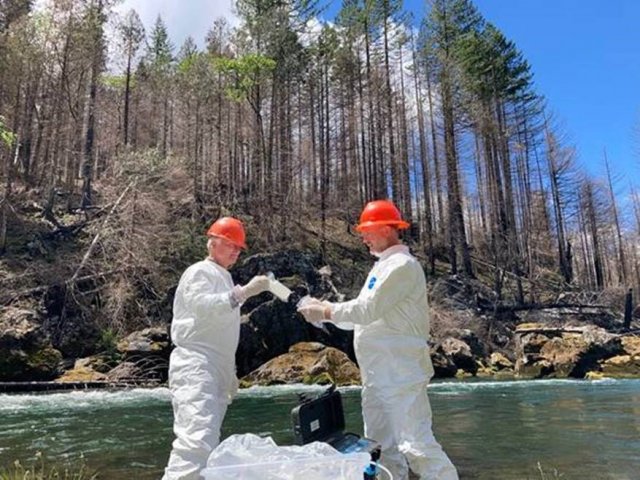 Throughout last year, and as new fires burn in 2021, EPA field crews are sampling and monitoring water quality in these watersheds. They are also measuring nutrients, sediments, metals, dissolved organic carbon, water temperature, and mercury, all of which can either impact human health or the aquatic environment. EPA scientists are also examining water quality trends in relation to burn proportion and severity. 
The data also feed different modeling programs that provide critical insight into mechanisms driving post-fire water quality changes and which can inform drinking water providers and water resource managers. For example, the models can improve estimates of the vulnerability of valued resources such as clean water and fish populations to wildfire and other climate-related events. In the future, the program will expand the network of streams sampled to characterize the nature, magnitude, and duration of changes to water quality in watersheds of different sizes that experienced catastrophic wildfires. 
Read more:
https://www.epa.gov/sciencematters/wildfires-how-do-they-affect-our-water-supplies
https://www.epa.gov/climate-indicators/climate-change-indicators-wildfires