Study Provides New Insights Into Impacts of Wildland Fires on Ozone Monitoring Equipment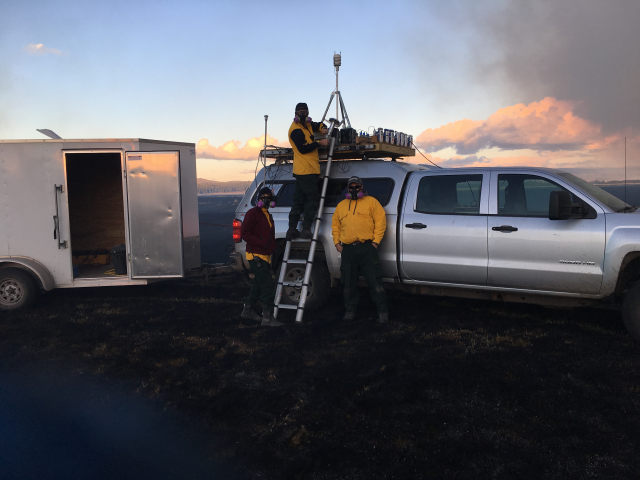 Published April 19, 2021; Updated January 3, 2022
Wildland fire smoke is harmful to people and animals, but new research from EPA shows it can also impact the regulatory monitoring instruments that measure ozone. The measurements from these instruments are needed by state, local, and tribal air quality agencies to determine if levels of the pollutant exceed the national standard.
States have observed unexplained increases in ozone from monitors near active wildfires or prescribed burns.
 To find out why this was occuring, EPA researchers investigated and evaluated a popular ozone monitoring method, called the UV-photometric. This method is widely used by state, local, and tribal agencies at national monitoring stations to measure ozone levels and implement the regulations for the pollutant.
This routine monitoring of ozone is conducted using regulatory grade instruments known as Federal Reference Methods (FRMs) or Federal Equivalent Methods (FEMs), which have met rigorous scientific review for performance. Until recently, researchers and air quality managers only had a limited understanding about the performance of these monitors under the unique conditions of significant wildland fire smoke.
To understand how the FRMs and different types of FEMs perform in wildland fire smoke conditions, EPA researchers measured newly-emitted smoke emissions from prescribed grassland fires in Kansas and Oregon in 2017 using five commercial ozone monitors simultaneously. All measurements were made in fresh emission plumes, where ozone is not expected to be detected. The study found that the new ozone NO-chemiluminescence method, designated as an FRM in 2015, did not have operational problems when used in the smoke plumes. However, the ozone UV-photometric method showed varying degrees of smoke interference and did not provide accurate results.
Following the Kansas and Oregon studies, EPA researchers traveled to the U.S. Forest Service's Rocky Mountain Fire Sciences Laboratory in Missoula, Montana, to conduct additional studies. Their observations in the grassland burns were confirmed in the laboratory burns of Ponderosa Pine. 
They discovered that smoke from fires caused severe operational interference in some of the UV-photometric models, while others were affected to a lesser degree. The instruments overestimated ozone concentrations, resulting in higher readings than actually occurred. In some cases, researchers discovered that operating UV-photometric instruments in heavy smoke events resulted in irreversible damage to instrument components.    
Researchers hypothesize the smoke interference is associated with high concentrations of volatile organic compounds (VOCs) that are emitted during the burning of trees and other vegetation. In this research effort, they identified a method that reduced the magnitude of this VOC interference, which can give monitoring agencies more confidence in their ozone measurements.
These findings were recently published in the article, "Comparison of ozone measurement methods in biomass burning smoke: an evaluation under field and laboratory conditions" in the March 4 issue of Atmospheric Measurement Techniques. The new insights improve the understanding of state, local, and tribal monitoring agencies regarding the ozone monitoring technology options during wildland fire smoke events and interpretation of ozone data collected. The work is also anticipated to be used by instrument manufacturers to understand impacts of wildfire smoke on their monitors. 
"An accurate ozone monitoring method, free of any potential interferences, will enhance the ability of the states to accurately separate true ozone concentration from other measurements at sites impacted by wildland fire smoke," says Russell Long, the lead EPA researcher on this study.
The next steps for the research team involve investigating these findings at ambient community-based sampling sites that are frequently impacted by wildland fire smoke events.  This effort is being accomplished through collaborations with state and local monitoring agencies and other federal partners under the EPA's Mobile Ambient Smoke Investigative Capability (MASIC) program.     
Regulatory monitors that use FRMs and FEMs are continuously reviewed and evaluated by EPA researchers to ensure they meet needed performance specifications and to provide states with the proper tools and information needed to address ozone National Ambient Air Quality Standards for attainment/non-attainment issues. A list of updated methods is published every six months and can be found on the FRM/FEM Research web page.
Learn More:
Atmospheric Measurement Techniques journal article