Recreation Economy for Rural Communities
On this page
---
Background
Recreation Economy for Rural Communities is a new planning assistance program to help communities develop strategies and an action plan to revitalize their Main Streets through outdoor recreation.
Outdoor activities are increasingly popular across the United States. Communities can take advantage of this trend to revitalize Main Streets. By conserving forests and other natural lands and making them available for outdoor recreation, small towns can boost air quality and water quality and focus development downtown. Promoting outdoor recreation can also create jobs and offer new opportunities for people to connect with the natural world. For more information on the outdoor economy, read the U.S. Department of Agriculture's (USDA) 2016 report Federal Outdoor Recreation Trends: Effects on Economic Opportunities.
Activities that can foster environmentally friendly community development and Main Street revitalization through conservation and sustainable use of public or private forests or other natural resources include:
Ensuring local residents, including young people, have connections and opportunities related to nearby outdoor assets to foster community pride, good stewardship, and local economic benefits.
Developing or expanding trail networks to attract overnight visitors and new businesses and foster use by local residents.
Developing in-town amenities, such as broadband service; housing; or shops, restaurants, or breweries, to serve residents and attract new visitors and residents with an interest in nearby outdoor assets.
Marketing Main Street as a gateway to nearby natural lands to capture and amplify outdoor recreation dollars.
Developing a community consensus on the management of outdoor assets to reduce potential conflicts and ensure sustainable use of resources.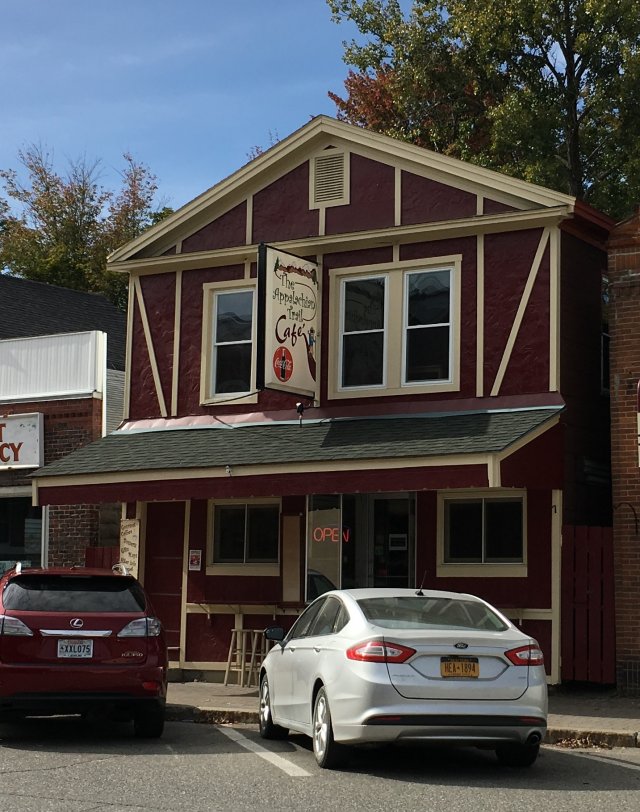 The Appalachian Trail Cafe in downtown Millinocket, Maine, capitalizes on the nearby trail to draw hikers and local residents.For example:
Forest County, Pennsylvania, was a partner in Local Foods, Local Places, a similar, EPA-managed planning assistance program. Following the community workshop and planning process, the community secured grants to renovate a historic train depot in the heart of downtown Marienville and to connect several trails that will position the town as an outdoor recreation hub for the region. Click here to see the action plan that guided Forest County (PDF, opens in new window).
Millinocket, Maine, participated in Cool & Connected, an EPA-managed program that helps communities use broadband to revitalize downtowns. The town lost a major employer and is taking advantage of the nearby natural beauty and recreational resources, including Mt. Katahdin, the northern end of the Appalachian Trail, to draw new visitors and residents. Learn more about how the Cool & Connected assistance is helping Millinocket plan for its future. Exit
Recreation Economy for Rural Communities is sponsored by the USDA-Forest Service, the Northern Border Regional Commission, and EPA.
See our Smart Growth in Small Towns and Rural Communities page to learn more about how smart growth strategies can help rural places strengthen their economies, improve quality of life, and protect the environment and human health.
---
2019 Call for Applications
The 2019 call for applications for planning assistance from Recreation Economy for Rural Communities closed on May 31, 2019. The call for applications is available here for reference only.
If you have questions about the program or the application process, please read the Frequently Asked Questions (FAQ) About Recreation Economy for Rural Communities.
---