Regional Resilience Toolkit
On this page:
---
Regional Resilience Toolkit: 5 Steps to Build Large-Scale Resilience to Natural Disasters
From 2013 to 2018, the Federal Emergency Management Agency (FEMA) and U.S. Environmental Protection Agency (EPA) helped three California regions take large-scale action for disaster resilience. Based on these technical assistance projects, FEMA and EPA partnered with the Metropolitan Transportation Commission/Association of Bay Area Governments (MTC/ABAG) to create a toolkit that helps regions plan for disasters by working across multiple jurisdictions and with non-governmental partners.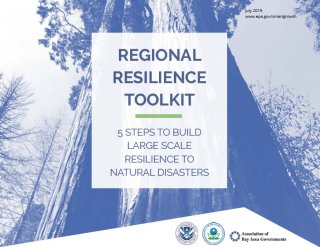 The Regional Resilience Toolkit (PDF) (228 pp, 33 MB, About PDF) focuses on the regional scale because disasters happen at a regional scale, and a coordinated process across multiple jurisdictions can result in safer communities. The toolkit is set up to allow multiple jurisdictions and levels of government to work together for regional-scale actions. It is also designed for non-governmental partners and community groups to engage in a more inclusive and holistic process so that resilience actions are guided by core community values.
Multi-hazard resilience may address risks from wildfires, drought, hurricanes, extreme heat, flooding, earthquakes, landslides, sea level rise, winter storms, and more. This toolkit can help partners across a region address multiple hazards simultaneously within the context of federal, state, and local planning requirements and funding streams. Resilience can include actions that address both immediate, pressing needs as well as decisions that protect long-term investments.
The toolkit has been used in the San Francisco Bay Area, the Central Coast region, and the Mt. Shasta area of northern California. Based on proven approaches pilot-tested in California, as well as examples and lessons learned from many other parts of the country, the Regional Resilience Toolkit could be used in any region or community — no matter the size, location, capacity, or hazard. Designed to fulfill requirements for FEMA's Local Hazard Mitigation Plan approval and updates, the toolkit also supports the National Mitigation Investment Strategy.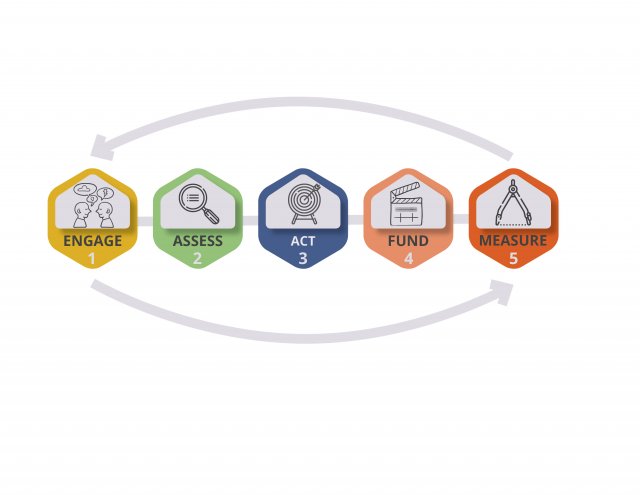 The toolkit includes five steps, shown in the image to the right, and users can jump in at any point in the process, depending on where they currently are in resilience planning. The toolkit includes two appendices organized by the five steps. Appendix A provides more detail on nearly every section of this document, as well as a list of specific outcomes and external resources for each step. Appendix B provides worksheets for use by the project team and an advisory group to help spur conversation and assist in planning.
Find more resources on strengthening disaster resilience: Smart Growth Strategies for Disaster Resilience and Recovery.
---
Building Blocks for Regional Resilience
EPA's Office of Community Revitalization is using the Regional Resilience Toolkit through the Building Blocks Program to help multiple jurisdictions come together to identify shared natural disaster risks and a common action plan for the region. Through these workshops, EPA supports communities and their partners as they set resilience goals, prioritize assets to protect, and develop resilience strategies and funding plans.
Projects Selected for 2021
The four regions selected for assistance in 2021 are:
Cape Ann, Massachusetts
Cape Ann is a region of four communities in Massachusetts: Gloucester, Rockport, Essex, and Manchester-by-the-Sea. The region has requested assistance with community outreach to address threats from sea level rise, winter nor'easters and hurricanes, droughts, flooding, and excess heat. The intended outcome will be an action plan that identifies regional priority projects and funding sources, builds on the ongoing TownGreen2025 climate work and studies, and focuses on how to fully engage the public and a wide variety of stakeholder organizations in shaping priorities and implementation strategies.
Saint Helena Island, South Carolina
The Gullah/Geechee community of Saint Helena Island and Beaufort County have requested assistance with developing a network of green infrastructure projects that will buffer storm surge and mitigate sea level rise impacts while also protecting local food production, historic sites, and cultural traditions. This project will work with community members on asset mapping of green infrastructure projects throughout the island and then act by solidifying an action plan and funding sources. The project will highlight the connections between sites, set clear resilience goals for each location, and work with the county and state to ensure culturally appropriate adaptation solutions are reflected in plans and policies.
Nolensville, Tennessee
Nolensville and the Mill Creek Watershed Association want to plan for expected explosive population growth by implementing a state-of-the-art plan that recognizes the links between watershed planning, stormwater management, and flood plain protection. This plan should identify green corridors that highlight the town's beauty, support outdoor recreation and wildfire habitat, and establish a resilient community. Partners will be able to act on updating local plans and codes with strategic growth solutions and by implementing specific green infrastructure projects.
Orange County, Florida
Orange County includes thirteen inland cities in Florida. The county wants to integrate various resilience plans, which include hazard mitigation plans, climate vulnerability plans, comprehensive plans, and economic development plans. Many economically vulnerable people in the coastal areas nearby are at risk of losing their homes due to environmental factors such as flooding, hurricanes, and sea level rise. The action plan will act on creating a streamlined county-wide implementation and funding strategy for absorbing climate refugees and increasing community resilience to climate threats. The action plan will assist in positioning the community for new grant opportunities to fund mitigation of climate impacts.
Projects Selected for 2020
All four project areas contain federally designated Opportunity Zones and will address economic resilience as part of their planning process. The projects are:
Land of Sky Regional Council, North Carolina
The Land of Sky Regional Council (LOSRC), covering a five-county region in western North Carolina, used this assistance to build on regional vulnerability assessments by conducting broader community outreach and determining clear steps toward regionwide action to reduce risks from flooding, wildfire, and landslides. LOSRC will include these actions as updates to the long-range transportation plan by end of summer 2020 and to the regional land use plan by the end of the year. In addition to the regional-scale work, LOSRC will support local and county-level resilience actions. LOSRC will do additional analysis to characterize the specific risks from flooding, wildfire, and landslides to underrepresented communities, including urban and rural low-income and minority (as well as aging) residents, who can be more vulnerable to disasters for a variety of reasons.
Southern Minnesota
Minnesota Homeland Security & Emergency Management (HSEM) and Interagency Climate Adaptation Team (ICAT) used this technical assistance to help communities think comprehensively about resilience actions that have cobenefits, so they can reduce flood risk as well as address other chronic stressors that disproportionately affect rural, agricultural areas. The project focused on the southern region of the state because of its history of flooding, which affects physical infrastructure such as roads and rural electric utilities and causes farms to lose crops and livestock, and because projections suggest more frequent and intense rainfall will continue to disproportionately impact this agricultural region. The technical assistance helps local officials and policy-makers better understand why the farming community is particularly vulnerable to floods, success stories from other farming communities, specific natural hazard mitigation actions and climate adaptation strategies, and key funding sources and partners to implement priority actions. HSEM and ICAT hope to use this assistance to figure out a replicable model of resilience technical assistance that can be applied in other rural parts of the state.
Milwaukee Metropolitan Sewerage District, Wisconsin
The Milwaukee Metropolitan Sewerage District used this project to narrow its focus on specific recommendations from its 2019 Resilience Plan,  which was developed in partnership with 55 regional stakeholders, including elected officials, private-sector representatives, and nonprofits. MMSD used this project to select priority actions from the plan's 20 recommended actions that address critical infrastructure and develop a pilot project with a detailed implementation and funding plan. MMSD intends to use lessons from this project and scale up the effort in partnership with other municipalities in the region. This project was funded in partnership with EPA's Office of Water.
Portland Metropolitan Region, Oregon
EPA worked with Oregon Metro and the Regional Disaster Preparedness Organization to convene cities and counties in the Portland metropolitan region to identify local and regional actions to mitigate impacts to public health from extreme heat and wildfire smoke.
The technical assistance resulted in a report, Extreme Heat and Wildfire Smoke: Reducing Risks to Public Health in the Portland Region (April 2021), that outlines findings from the three-part workshop series convened in January 2021. The report provides guidance for planners looking to incorporate wildfire smoke and extreme heat hazards into their local hazard mitigation plans. It includes a screening tool that will help planners use data about who lives in their communities and determine what risks these hazards pose to the community at large and to more vulnerable people or neighborhoods in the community. The report also includes a list of potential actions that local governments and regional partners can take to help protect these vulnerable people and places from extreme heat and wildfire smoke. Lastly, the report offers suggested funding sources to help pay for these actions. Click here to see the report and the list of mitigation actions.
---