Superfund Reuse Planning Support & Technical Assistance
Each year, EPA's  Superfund Redevelopment Program (SRP) provides reuse planning and technical assistance to EPA Regions in the form of "Regional Seeds" to support the productive reuse and redevelopment of Superfund sites.
The purpose of Regional Seeds is to provide EPA site teams stakeholders and communities with an initial "seed" of support and technical assistance to facilitate redevelopment, remove barriers to productive reuse, and ensure future use is well aligned with the cleanup and removal/remedial process. Sites may range from a single property to a much larger neighborhood or region, depending on the extent of contamination.
On this page:
---
Available Services
Technical assistance can include one or more of the following services. These can be structured as stand-alone, just-in-time services or as part of a longer-term redevelopment support process. EPA's Regional Redevelopment Coordinator can assist in identifying a set of services that meets the needs of the site team and local community.
---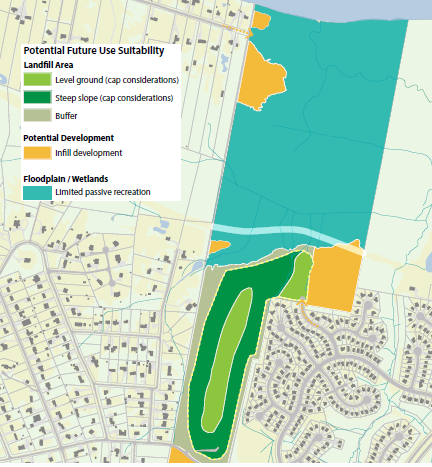 Redevelopment Planning
Includes land use research, analysis and community engagement to identify potential future uses, develop a reuse concept plan or evaluate future use compatibility with the remedy. Specific services include:
 

Reuse Situation Assessment to document preliminary reuse goals, land use context, local initiatives, key stakeholder interests, reuse considerations and recommendations for additional reuse support.
Reuse Assessment to identify reasonably anticipated future land use (RAFLU) (industrial/ commercial, residential, open space) for specific areas of the site to inform the remedial process.
Reuse Plan that integrates community goals, site analysis, land use context and the remedy into a Future Use Framework (showing geographic-specific uses of the site) or Concept Plan (showing layout of potential future use features) to guide local planning, development and the remedial process.
For communities with potential environmental justice or equity concerns, services can be tailored to build capacity for nearby residents to participate in redevelopment planning and benefit from site redevelopment. Tools are available to help build shared understanding in situations of conflict, support community leaders in sharing their visions for reuse, and place community aspirations for reuse within the context of regional planning and investments.
Reuse Reports
---
Community Engagement
Support in designing an engagement process, conducting community outreach, developing a reuse steering committee, and facilitating public meetings, working groups, charrettes and open house forums.
---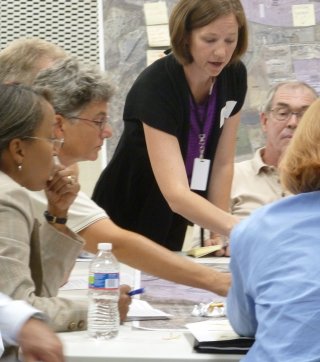 Interagency Facilitation and Coordination
Design and facilitation of inter-agency workgroups and stakeholder meetings to resolve conflicts and align site reuse and the remedial process.
---
Renewable Energy Reuse Assessments
SRP and EPA regions have provided renewable energy assessment services at more than 40 sites nationwide. Renewable energy assessments and activities typically include one or more services listed below:
Resource Screening - Through review of resource availability data provided by the U.S. Department of Energy and the National Renewable Energy Laboratory, resource screenings help identify the renewable energy sources best suited to a particular site. Typical resource screenings include evaluations of solar, wind, and biomass resources. The screening evaluations use readily available National Renewable Energy Lab's resource mapping and screening tools.  

Site Suitability Analysis - Mapping and analysis of a site's physical features, existing or planned remedial components, ownership, infrastructure, and surrounding land use considerations provides a next level of analysis.  

Site suitability analysis typically includes an evaluation of the Site using several standard renewable energy reuse site selection criteria: 

Acreage (e.g., potential solar project footprint)
Site slope and aspect
Distance to transmission lines and substations
Distance to graded roads
Remedy compatibility and site operation and maintenance requirements
Parcel configuration, ownership, and site control factors
 

Preliminary Financial Assessment - The costs of construction, operation, and maintenance along with the revenue from selling electricity and available tax incentives are also key factors in determining whether a solar project may be feasible.  

Solar energy financial assessments are a tool to help site owners and municipalities understand the financial impacts and limitations for a solar project size, ownership, and development options.  

Examples of financial assessment activities include: 

Federal, state and utility-based incentives analysis
Financial analysis to identify return on investment, using methods such as simple or lifecycle payback for a renewable energy investment at a site based on a site remedy or facility energy costs
Renewable energy trends research
Renewable energy lease information for landowners
 

Facilitation and Stakeholder Coordination - SRP provides stakeholder coordination and facilitation services as part of regional seeds. This can include larger community engagement processes, as well as targeted stakeholder workgroup formation to assist in reuse planning for sites.


For renewable energy assessments, SRP has provided facilitation to bring together key stakeholders that may be involved in decisions regarding renewable energy evaluations and investments, such as: 

EPA site teams and state agencies
EPA's Re-Power America program staff and technical assistance providers, National Renewable Energy Laboratory.
Potentially Responsible Parties
Municipal or tribal government staff
Utility representatives
Property owners
Renewable energy developers or businesses
---
Owner and Prospective Purchaser Assistance
Support in leveraging redevelopment opportunities, including:
Strategy and technical support to address considerations such as ownership, Bona Fide Prospective Purchaser (BFPP) liability protection, Superfund and windfall liens, and compatibility between any existing or future site restrictions and potential reuse.
Prospective Purchaser Inquiry (PPI) support and discussion facilitation – including strategy development, PPI checklist, stakeholder coordination and meeting facilitation.
---
Title Searches, Appraisals and Desktop Surveys
Title searches for chain of title and encumbrance information. Appraisals of property "as impaired" to determine value of property with site restrictions as a starting point for settlement negotiations, and simple property surveys based on data available by desktop.
---
GIS Analysis and Maps
Develop map datasets of site boundaries, site features and remedial components; conduct analysis for individual or multiple sites to identify potential future uses and proximity to regional assets, or other data analysis and development specific to the site needs.
---
Institutional Controls Research
Property owner research, desktop surveys to identify legal descriptions, parcel mapping and analysis, technical writing, community engagement and education, and identifying institutional controls (ICs), alternatives to ICs and Institutional Control Implementation and Assurance Plans.
---
Ready for Reuse (RfR) Determinations
Develop an environmental status report that provides a technical determination that a site is "ready for reuse" and will remain protective for that use, so long as any use limitations established by EPA continue to be met.
---
Other Support
Superfund Redevelopment can tailor technical assistance to meet the needs of specific sites, EPA site teams, stakeholders and communities. Contact EPA's Regional Redevelopment Coordinator for your area if you would like to request support.
---
Technical Assistance and Financing Programs
Communities have found technical assistance or financing to help implement their reuse plans. Some of these programs have been listed below.
Smart Growth Implementation Assistance




Direct technical assistance in policy analysis or public participatory processes to assist communities encourage growth that fosters economic progress and environmental protection.


 
American Rescue Plan Act (ARPA) State and Local Fiscal Recovery Fund (SLFRF)
Provides funding for local governments whose communities have been negatively impacted by the COVID-19 pandemic, especially communities of color. Eligible activities include costs related to rehabilitation, renovation, and securing of vacant or abandoned properties; remediation of environmental hazards; demolition or deconstruction of vacant or abandoned buildings; greening of vacant lots; conversion of properties to affordable housing, and more. For a full list of eligible activities, see the Final Rule here.
 

Brownfields Grant Funding and Technical Assistance
Provides direct funding for brownfield site assessment, cleanup, and job training, as well as technical assistance to support the safe reuse of brownfield sites.