Superfund Sites in Reuse in New Mexico
If you are having trouble viewing the map in your browser, click the 'View larger map' link below
---
AT & SF (Clovis)
The 140-acre AT&SF (Clovis) Superfund site is in Clovis, New Mexico. The site consists of the Santa Fe Lake, a natural playa lake and surrounding uplands. Since the early 1900s, stormwater and wastewater discharge from a nearby railyard contaminated surface water, sediment and soil. EPA added the site to the National Priorities List (NPL) in 1981. Cleanup activities completed in 2000 included the construction of a rainfall run-on/runoff control system, excavation and treatment of sediment, and placement of treated sediments in a capped storage facility on site. Cleanup also included bioremediation of soil and sediment, fencing, and institutional controls. EPA took the site off the NPL in March 2003. The Ogallala Aquifer, a source of drinking water for the city of Clovis, is beneath the site. The site also includes Santa Fe Lake. A playa restoration project on site includes limiting grazing, brush management, range management and earthwork. On-site areas were also restored with native grasses. They provide habitat for migratory birds.
Last updated August 2021
As of December 2021, EPA did not have economic data related to on-site businesses, or economic data were not applicable due to site use. For additional information click here.

For more information:
---
Chevron Questa Mine
The Chevron Questa Mine Superfund site is in Taos County, New Mexico. The site includes a former molybdenum mine, milling facility and tailing impoundments. The mine and mill cover about three square miles of land east of the village of Questa on State Highway 38. A nine-mile tailing pipeline runs from the mill site to the tailing facility, predominantly along State Highway 38 and the Red River. The tailing impoundments cover about two square miles of land west of the village of Questa. Mining operations began in 1919. Chevron Mining (CMI), formerly Molycorp, ceased mining operations in 2014. Open-pit mining on site resulted in over 328 million tons of waste rock, which were placed in rock piles around the open pit. Constant breakage of the tailing pipeline, from 1966 to 1991, caused tailings to spill into the Red River and its floodplain, as well as into a local irrigation ditch. Stormwater runoff also carried mining waste over land, contaminating sediments in local surface water bodies, including Eagle Rock Lake. An Expanded Site Investigation conducted in the mid-1990s by the New Mexico Environment Department concluded that releases of hazardous substances to groundwater and surface water at the site had occurred. EPA added the site to the National Priorities List (NPL) in 2011. Cleanup activities include excavating and disposing of contaminated soil and tailings deposits; regrading, covering, and revegetating waste rock piles; and covering and revegetating tailing impoundments. Activities also included installing groundwater recovery systems, treating groundwater, installing stormwater controls, dredging, providing a temporary alternate water supply, placing drilling restrictions, and dewatering the underground mine. In 2010, Chevron Technology Ventures built a solar facility on 21 acres of the site. The facility produces about 1 megawatt of energy annually, enough to power about 150 homes. The facility has been operational since 2011. Kit Carson Electric Cooperative is purchasing the electricity under a 20-year agreement. Some mine cleanup efforts include a portion of the site managed by the U.S. Forest Service (USFS), including Eagle Rock Lake. CMI and other stakeholders partnered to restore the lake, a valued community resource. The lake's surroundings offer trails, picnic areas and restroom facilities. The Red River hatchery routinely stocks the lake with trout. The USFS property has also been the focus of habitat preservation and restoration work. In September 2017, EPA Region 6 presented its Greenovations Award to Chevron Environmental Management Company, USFS, the New Mexico Department of Game and Fish, Questa, and Chevron project contractors Arcadis and ENTACT for their efforts at Eagle Rock Lake. 
Last updated August 2021
As of December 2021, EPA had data on one on-site business.  EPA did not have further economic details related to this business. For additional information click here.
For more information:
---
Cimarron Mining Corp.
The 18-acre Cimarron Mining Corp. Superfund site is in Carrizozo, New Mexico. The site includes two areas – the 10.6-acre Cimarron Mill site and the 7.5-acre Sierra Blanca Mill site. From 1960 to 1982, milling operations at the sites contaminated soil, sediment and groundwater. EPA added the site to the National Priorities List (NPL) in 1989. Cleanup activities included digging up and stabilizing contaminated soil with cement and placing it in two disposal areas on site. Activities also included capping and revegetating the disposal areas and removing and disposing of drums, tanks and associated piping off site. EPA also extracted and discharged contaminated groundwater to the publicly owned treatment works. An auto repair shop and salvage yard are located at the Cimarron Mill site, which is fenced to restrict access. The owner of the auto repair shop and property lives on site. The Sierra Blanca Mill site is fenced and available for reuse, except for the two capped disposal cells. 
Last updated August 2021
As of December 2021, EPA had data on one on-site business.  EPA did not have further economic details related to this business. For additional information click here.

For more information:
---
Fruit Avenue Plume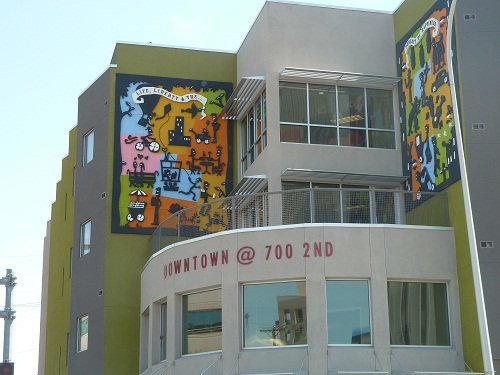 The Fruit Avenue Plume Superfund site is in downtown Albuquerque, New Mexico. Between 1924 and 1972, two laundry and dry-cleaning facilities operated on the site. In 1972, a realty company and a development company purchased the properties. The companies demolished the former site buildings to construct a bank parking lot. In April 1989, routine sampling by the city of Albuquerque (City) found that the former dry-cleaning operations contaminated groundwater in the area. EPA added the site to the National Priorities List (NPL) in 1999. Cleanup included treatment of contaminated groundwater, long-term monitoring and groundwater use restrictions. Collaboration between the New Mexico Environment Department, EPA and a local developer helped support the site's return to beneficial use as a green housing development. The development opened in 2010 and includes 72 micro-efficiency affordable housing units. These affordable housing units exceed baseline Green Communities Criteria. Green features include a water recycling system, rooftop rainwater collection systems and rooftop solar panels that generate power to heat water and some space heating. The building has an outdoor courtyard with a community garden for resident use. A hospitality center operates a coffee shop on site and provides job training for formerly homeless community members. In 2017, EPA's Superfund Redevelopment Program provided support to facilitate discussions between EPA and the City to remove or relocate groundwater remedy components to accommodate additional development. Additional development in the area of the former groundwater treatment plant is underway. A coffee shop and coffee roasting business is currently operating in a nearby building . A large-scale mixed-use development called Glorieta Station is planned for the area and will include a diner, a brewery, a distillery, housing and parking. Discussions are underway with the New Mexico Department of Transportation and BNSF Railway to develop a rails-to-trails system near Glorieta Station. EPA continues to work with the state and community members supporting reuse opportunities in the area. 
Last updated August 2021
As of December 2021, EPA did not have economic data related to on-site businesses, or economic data were not applicable due to site use. For additional information click here.

For more information:
---
Lea and West Second Street
The Lea and West Second Street Superfund site is in the city of Roswell in Chavez County, New Mexico. The Superfund site includes four locations (Operable Units 1 through 4) near West Second Street and East Second Street. At each of these four OUs, past industrial operations released hazardous substances into the soil.  The substances then migrated to groundwater. EPA added the site to the National Priorities List (NPL) in 2016. Site investigations are ongoing. The site includes commercial and residential areas near the center of downtown Roswell. These areas remain in continued use. An education facility also operates near OU 4. 
Last updated August 2021
As of December 2021, EPA did not have economic data related to on-site businesses, or economic data were not applicable due to site use. For additional information click here.

For more information:
---
McGaffey and Main Groundwater Plume
The 550-acre McGaffey and Main Groundwater Plume Superfund site is in Roswell, New Mexico. From 1956 to 1976, several dry-cleaning businesses operated on South Main Street. These former businesses used tetrachloroethylene (PCE) in their daily operations. In 1994, the New Mexico Environment Department (NMED) found contaminants in groundwater samples. Former dry-cleaning operations contaminated groundwater. NMED led immediate cleanup actions and connected affected residences to the public water supply. NMED also put in groundwater monitoring wells. EPA added the site to the National Priorities List (NPL) in 2002. EPA selected a cleanup plan in 2008. EPA's cleanup includes a vapor intrusion mitigation system to reduce chemical vapors in buildings. EPA also built an enhanced soil vapor extraction system to remove vapors from soil. Once funding is approved, groundwater cleanup will begin in the source area. The cleanup approach successfully controls human exposure to remaining contamination. Continued land uses at the site include public services, residential areas and agricultural uses. Commercial and industrial businesses on site include a family medicine practice, financial service providers and food production facilities. A former dry cleaner is now a car wash. 
Last updated August 2021
As of December 2021, EPA had data on 9 on-site businesses. These businesses employed 50 people and generated an estimated $3,814,647 in annual sales revenue. For additional information click here.

For more information:
---
North Railroad Avenue Plume
The 58-acre North Railroad Avenue Plume Superfund site is in Española, New Mexico. The Norge Town laundromat and dry-cleaning operation contaminated groundwater. EPA added the site to the National Priorities List (NPL) in 1999. The remedy consists of enhanced in-place bioremediation. It uses microbes to clean up contaminated soil and groundwater. The areas targeted for cleanup are the source area, hot spot soils, and areas of shallow and deep groundwater. Cleanup of the source area and hot spot soils finished. In 2019, the New Mexico Environmental Department (NMED) received EPA funds for operation and maintenance of the 10-year long-term response action. NEMD's cleanup of shallow and deep groundwater is ongoing. Land uses above the plume include a park-and-ride transit facility for the North Central Regional Transit District as well as many commercial and residential buildings. The city plaza and residential areas are above the deep plumes. 
Last updated August 2021
As of December 2021, EPA had data on one on-site business. This business employed one person and generated an estimated $626,000 in annual sales revenue. For additional information click here.

For more information:
---
South Valley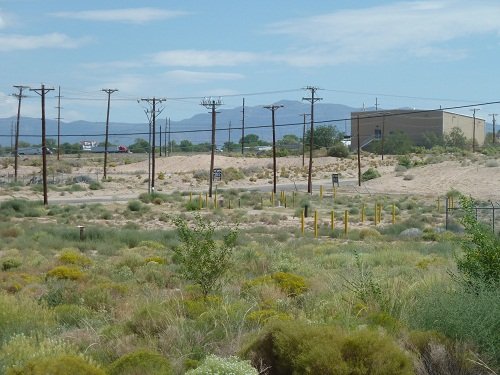 The South Valley Superfund site is located in an industrial area of Albuquerque, New Mexico. The site includes two properties – the former Air Force Plant 83 (GEA) site and the Univar site. Beginning in the 1950s, companies ran two facilities on the GEA site. General Electric Aviation took over in 1984. Companies have used the Univar site for commercial and industrial purposes since the 1960s. Since 1985, Univar USA has distributed chemicals on site. Military activities and chemical distribution on the sites contaminated soil and groundwater. EPA added the site to the National Priorities List (NPL) in 1983. Cleanup actions at the GEA site included soil and groundwater treatment. Under EPA oversight, the potentially responsible parties continue groundwater recovery treatment on the GEA site. Off-site groundwater treatment and monitoring are also ongoing. Cleanup actions at the Univar site include ongoing groundwater treatment. In 2011, after General Electric Aviation closed its jet engine component plant on site, the company committed to recycling or reusing all usable building materials. This effort kept over 14,000 tons of building materials out of local landfills and reduced demolition costs. EPA partially deleted parts of the site (operable units 1, 2 and 5) from the NPL in September 2019. In June 2020, Bernalillo County began construction of a connector road between Interstate 25 and the Albuquerque airport that crosses part of the site. Other industrial and residential uses are ongoing within the site boundary.  
Last updated August 2021
As of December 2021, EPA had data on 2 on-site businesses. These businesses employed 20 people and generated an estimated $11,975,000 in annual sales revenue. For additional information click here.

For more information: