Lake Champlain Phosphorus TMDL: A Commitment to Clean Water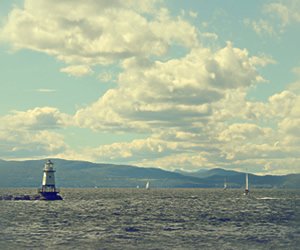 Excess phosphorus from a variety of sources has impaired the water quality of Lake Champlain. In 2002, Vermont prepared a plan to reduce phosphorus loadings by developing a Total Maximum Daily Load (TMDL). A TMDL places a cap on the maximum amount of phosphorus that is allowed to enter the Lake and still meet Vermont's water quality standards. EPA disapproved the Vermont 2002 Lake Champlain Phosphorus TMDL in 2011.
On June 17, 2016, EPA established new phosphorus TMDLs for the twelve Vermont segments of Lake Champlain. The TMDLs were developed in collaboration with the Vermont Agency of Natural Resources, Department of Environmental Conservation and the Vermont Agency of Agriculture, Food and Markets.
The phosphorus TMDLs for the Vermont Segments of Lake Champlain and supporting documents can be accessed at the links below. The supporting documents include appendices, a response to comments received on the proposed TMDLs, and a summary of changes from the proposed to final TMDLs.
Since TMDL issuance, EPA has been tracking the State of Vermont's progress toward TMDL implementation goals. EPA report cards and related correspondence between EPA and the State are provided below.
TMDL Implementation Progress Reports, EPA Report Cards, and Related Correspondence between EPA and the State of Vermont
The 2016 Lake Champlain Phosphorus TMDL document includes an Accountability Framework with milestones for the State of Vermont to meet by certain dates. The items below include Vermont reports on meeting these milestones, EPA report cards evaluating this progress, and related correspondence between EPA and the State of Vermont.
Total Maximum Daily Load Document and Appendices
August 2015 Proposed Total Maximum Daily Load Document and Appendices
Vermont Lake Champlain Phosphorus TMDL Phase 1 Implementation Plan (Draft, August 2015)
Public Meetings, Press Releases and Presentations
2002-2011 TMDL documents
Technical Reports