National Nonpoint Source Pollution Control Program - Basic Training
This training module is designed to provide a high-level overview of the Clean Water Act Section (CWA) 319 Nonpoint Source (NPS) program for State and Territory NPS Programs.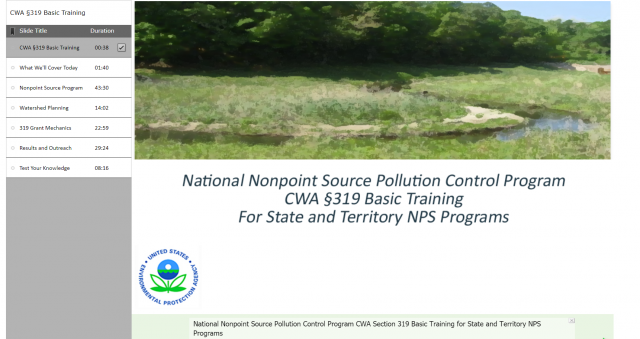 The Section 319 program is an essential source of support for state, territorial and tribal efforts to control NPS pollution, the prevailing cause of the nation's water quality problems. The course contains four sections and will take about two hours to complete. This module is recommended for the Watershed Academy Certificate Program. 
Launch Course -  This course is best viewed in Google Chrome.
Note: Some features of the module may be unavailable on mobile devices or some web browsers. A transcript of the audio can be found on the Closed Captioning (CC) tab within the course player itself.