About the Administrator for EPA's Mountains and Plains Region (Region 8)
Kathleen (KC) Becker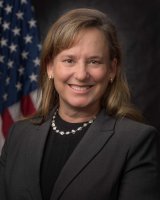 Kathleen (KC) Becker is a passionate public servant with over 18 years of experience in both federal and state organizations.  Recently, she served in the Colorado State Legislature for 4 terms, including two years as House Majority Leader and two years as the Speaker of the House – at the time, one of only seven female speakers in the United States.
During her 4 terms in the legislature, KC sponsored important and high-profile legislation including passing nationally leading climate change legislation that requires the state to meet greenhouse gas emissions goals; led comprehensive reform of state regulation of the oil and gas industry; and passed state public lands day that has become a model in other states.
Starting in 1997, KC worked as an attorney-advisor in the Solicitor's Office at the US Department of the Interior, a role she held for over six years.  She served for 4 years on the Boulder City Council, in Boulder, Colorado.
She was appointed as the Regional Administrator for EPA's Region 8 office on November 29, 2021.
KC graduated from the College of William and Mary with a with a B.A. in Government and earned her J.D. from Lewis and Clark Law School with a certificate in environmental law, where she served on Law Review. She also earned an M.S. in Real Estate Development from the University of Denver's Daniels College of Business. Before and during law school, she worked for environmental and outdoor organizations, and camped throughout the western U.S.
Other than working to improve the quality of the environment, she likes to read, ski and hike.  KC lives in Boulder, Colorado with her husband and two sons.