Evoqua
Evoqua Water Technologies LLC (Evoqua) operates a carbon regeneration facility located on the Colorado River Indian Tribes (CRIT) Reservation near Parker, Arizona. (See below boxes for a map and a description of Evoqua's process). Evoqua annually receives over 5,000 tons of spent carbon from across the United States. About 11% of this spent carbon is considered hazardous waste and is regulated by EPA.
Under the Resource Conservation and Recovery Act (RCRA), EPA is responsible for permitting facilities that manage RCRA-regulated hazardous wastes on tribal lands. Starting in 1991, EPA required new carbon regenera­tion furnaces to obtain hazardous waste permits. At that time, the Evoqua facility (then known as US Filter/Westates) was already undergoing construction of a carbon regeneration furnace which meant it was eligible to operate under "interim status" RCRA regulations while applying for a RCRA hazardous waste permit.
The first part of the permit application for the Evoqua facility was submitted to EPA in 1995. There have been several sets of comments and requests for information from EPA that Evoqua addressed. As a result, several revisions to the permit application have been submitted by Evoqua to EPA. EPA also conducted a review under the National Historic Preservation Act (NHPA) as part of the RCRA application review process. EPA assessed potential impacts of the permit decision on historic or culturally significant properties and made a finding of No Adverse Effect. For more information, please see our fact sheet, which summarizes this finding and its relationship to the hazardous waste permit decision-making process.
On May 9, 2016, EPA found that the permit application – signed by both the operator, Evoqua, and the beneficial landowner, CRIT – was complete. On September 28, 2016 EPA announced a draft hazardous waste permit.
Click to View Map of Evoqua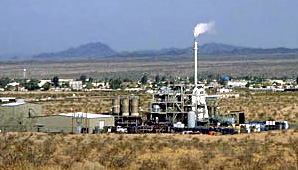 What is "Carbon Regeneration"?
Activated carbon is a granular material used in air and water filtering systems to remove contaminants. Over time, activated carbon loses its ability to capture contaminants, resulting in "spent" carbon. At Evoqua, spent carbon is heated to high temperatures in a "carbon regeneration" furnace. This process removes most of the contaminants and reactivates the carbon, which can then be sold as a commercial product to be reused in filtering systems.
Other Names
Evoqua Water Technologies has previously been known as Siemens, US Filter, and Westates. The facility is now referred to as Evoqua, but the prior names remain in older documents attached to this web page.